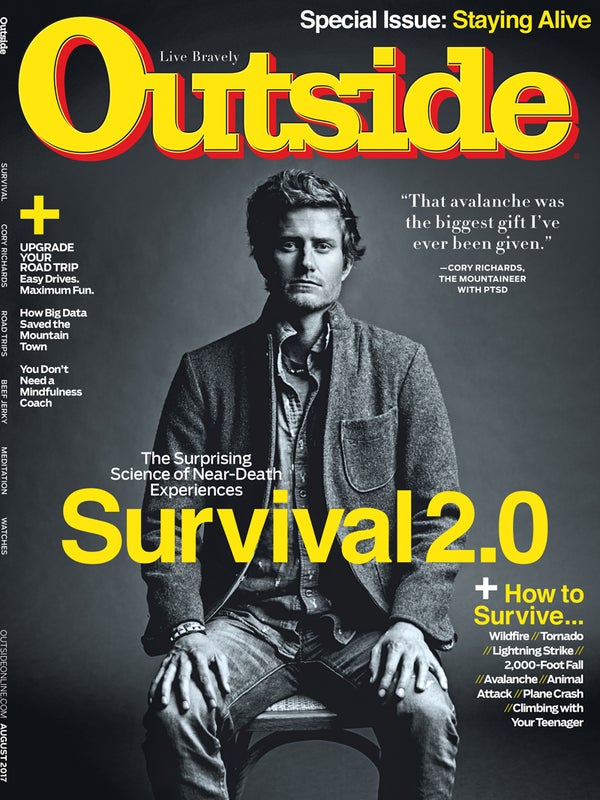 Outside Magazine, August 2017
---
Dispatches
Charging Cross-Country: Electric cars are the future for commuters, but can they go the extra mile on a road trip?
Water Works: The best brewers know that good beer starts at the source.
Stranger than Fiction: The summer's hottest documentaries take on conservation, climate change, and doping.
The Scenic Route: An ultrarunner takes a winding path across the U.S.
Destinations
Summer Blockbusters: Pack the cooler. From surfing in Rhode Island to fishing the newly reborn Elwha River in the Northwest, these are the season's quintessential road trips.
Essentials
Soft Cells: Chill out with these versatile coolers.
Trippin' Out: Look good on the road with these essentials.
Float On: Summer's best SUP gear.
Bodywork
Instant Karma: Upscale meditation studios are bringing mindfulness to the masses. Are they also diluting the practice?
Joint Custody: Simplify your mobility routine with these moves.
Science of Survival
Near-Death Case Studies: Making it through a catastrophic event is just the first step. Presenting five true case studies in survival.
Live or Die: Tips on self-defense, BASE jumping, and how to make it out of a plane crash alive.
Overexposed: When alpinist and photographer Cory Richards dug himself out of an avalanche in 2011, he emerged alive but scarred—an ascendant star in a community that tends to shun the very idea that trauma can have lasting effects. As his profile climbed ever higher, his career and personal life imploded. Six years late, one of the world's best artist-adventurers comes clean about the panic attacks, PTSD, and alcohol abuse that nearly killed him.
Handing Over the Sharp End: When Daniel Duane was a kid, his father taught him how to climb in Yosemite. Two decades later, when his teenage daughter wanted a valley education of her own, he realized that the old beta no longer applied.
Living in the Cloud: How does a town go from logging and livestock to bits and bytes?