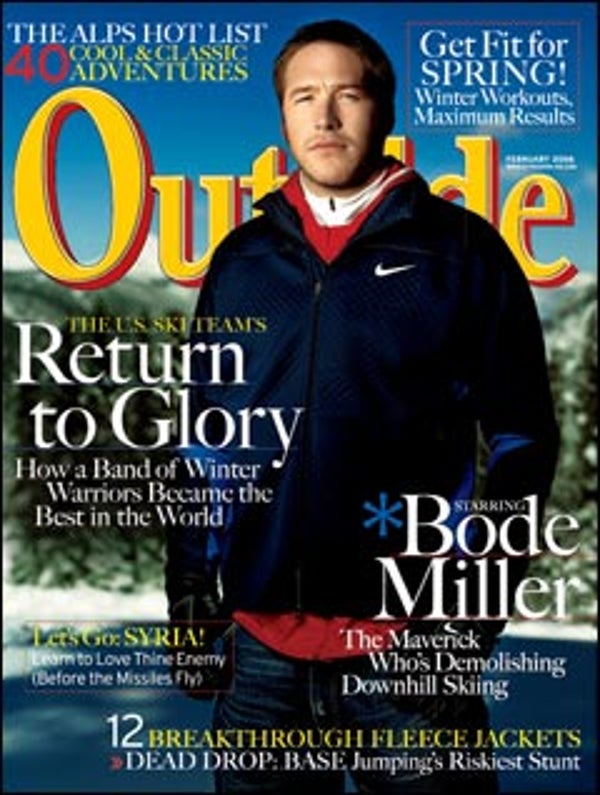 Outside Magazine, Feb 2006
---
F E A T U R E S
2006 WINTER OLYMPICS
AMERICAN FLYERS
Starting February 10 in Turin, Italy, Bode Miller and Daron Rahlves will lead a fired-up U.S. Ski Team that has a real shot—at long last—at toppling the mighty Austrians. In an exclusive backstage report, we look at the training breakthroughs, smart coaching, corporate megabucks, and peerless talent that have turned the Yanks around.
BY BRUCE BARCOTT
DESTINATIONS
THE NEW ALPS HOT LIST
No place evokes the high life like the Alps. Starting at the newly crowned gold-medal capital of Turin and heading north, we've dug up the best digs, greatest trips, deepest powder stashes, finest food, wildest nightlife, and more. Plus: Olympic venues of the past, revisited.
DEPARTURES
THE SWEETEST VILLAINS
Don't let Syria's penchant for evildoing fool you: Politics aside, the food's great, the discos are thumping, and spectacular antiquities are perched on every cliff. PATRICK SYMMES hits the road to Damascus one step ahead of the smart bombs and finds a land and people far more disarming than the bad guys who are in charge.
PROFILE
HUGE
Standing 500 feet above Idaho's Snake River Canyon with a parachute on his back, Miles Daisher shouts "Ready, set, see ya!" and throws himself off a bridge. Then he climbs up and tries to do it 49 more times. Meet BASE jumping's wildest star, the valedictorian of a whole new class of crazy.
BY TIM SOHN
D E P A R T M E N T S
D I S P A T C H E S
» All hail the debut of America's newest stage race: the thrilling, grueling, and odds-defying TOUR OF CALIFORNIA.
» BILL McKIBBEN explains how supertough diabetic athlete KRIS FREEMAN could win the United States its first nordic-skiing medal since 1976.
» Team Turin: Our guide to the U.S. stars in the 2006 WINTER OLYMPICS, including snowboarder Shaun White, badass bobsledder Todd Hays, and short-track speed-skating star Apolo Anton-Ohno.
» Wanna RIDE A BOBSLED? Sling some curling rocks? We tell you where to try your favorite Olympic events.
» Pop open a bottle of SAKE: Japan's favorite libation tastes great, spares you a hangover (usually), and wards off sunburn.
» In Eat, Pray, Love, ELIZABETH GILBERT makes the ultimate epicurean odyssey; Erik Reece pops the top on summit-removal mining in Lost Mountain; and more.
» Disney's Eight Below chronicles the true saga of a brave sled-dog team FIGHTING FOR SURVIVAL in the Antarctic.
» THE WILD FILE explains why we cook with white gas, debunks the alleged health benefits of drinking urine, and shares the secrets of long-lived plants.
REVIEW
FLEECE JACKETS are getting a new image from fresh technology and cutting-edge designers, turning frumpy old fuzz into hot and stylish layers
BODYWORK
Skiers and boarders, take note: To make a SMOOTH TRANSITION to warm-weather sports, you'll want to mix smart workouts with your powder days. Get tuned with a tailored regimen from former U.S. Ski Team coach Steve Higgins. PLUS: THE PULSE explores the positive power of anger, the latest on training at altitude, lies for weight loss, and what's in CHRIS CARMICHAEL's powerful yellow pepper soup.
OUT THERE
With action sports at critical mass, kids on bikes and boards are making millions. But who makes the deals that make them rich? Meet Steve Astephen, the SoCal SUPERAGENT who keeps clients' caffeinated dreams alive.
BY JOSH DEAN