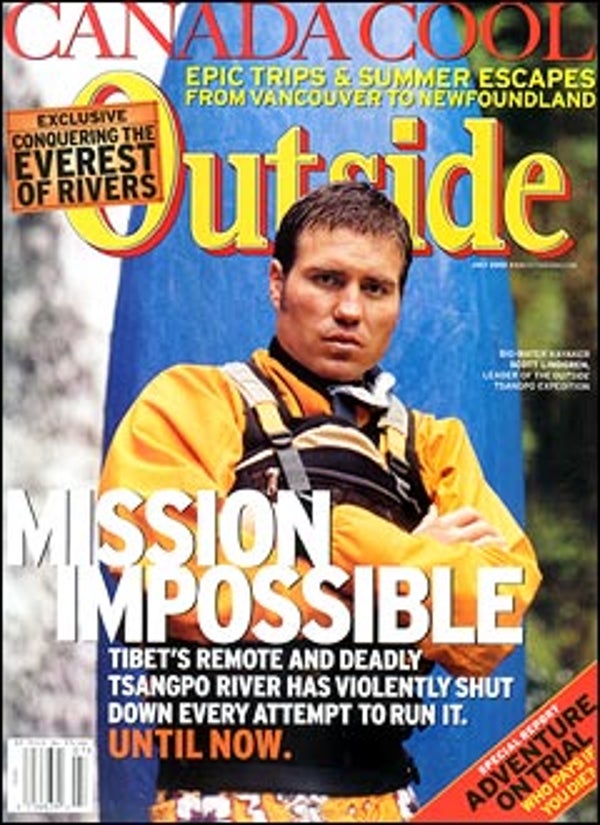 Outside Magazine, Jul 2002
---
F E A T U R E S
LIQUID THUNDER
Every attempt to run Tibet's unimaginably violent Tsangpo River has ended in defeat or death. Last February, the Outside Tsangpo Expedition, led by extreme kayaker Scott Lindgren, decided it was their turn to pit themselves against the torrent that paddlers around the world call "the Everest of Rivers."
By Peter Heller
WARNING: This Article Is About Million-Dollar Lawsuits Prompted by Accidents, Injury, and Death in the Outdoors…
Who's responsible when things go really wrong in the wild—when the raft flips or the belayer lets go of the rope? A disturbing look at wilderness liability and the crisis now brewing among lawyers, insurance companies, guides…and you.
By Bruce Barcott
RACING FOR THE HELL OF IT
Each year, a pack of heroic African road racers on beater bikes gets thrashed by slick European amateurs pedaling flashy new rigs in West Africa's Tour du Faso. And each November, the citizens of Burkina Faso hold out hope that they will yield up a champion who will bring their nation glory. A down-and-dirty salute to the miracle of breaking away.
By Bill Gifford
D E P A R T M E N T S
DISPATCHES
Tour de France 2002:
Could a 28-year-old Montanan upstart UNSEAT LANCE ARMSTRONG? Also, a first look at high-tech tour strategy and the USPS lieutenants who could deliver Lance a four-peat. PLUS: A guy named CAVE DOG goes on a peak-bagging binge; the Great Outdoors GOES TO THE MALL; IVAN THE IRRITABLE halts the Ice Challenger Expedition across the Bering Strait; THOR HEYERDAHL reaches the last horizon; Outside puts its EAR TO THE GROUND; new BOOKS by Eric Scigliano and Heather E. Heying. And this month's RADAR.
THE WILD FILE
How high can the oceans rise before there's a GLOBAL CATASTROPHE? Why do so many different animals have tails? And more.
By Brad Wetzler
DESTINATIONS
CLEARLY CANADIAN
Discover 169 million acres of wild, watery adventure north of the border, including sea kayaking in BRITISH COLUMBIA, expedition canoeing in SASKATCHEWAN, and pike fishing at MANITOBA's most exotic lodge. PLUS: Your essential guide to the Great North's NEWEST PARKS.
THE HARD WAY
On a mythic granite wall deep in Mexico's Sierra Madre Occidental, our recon agent puts his life in the hands of America's most controversial climber.
By Mark Jenkins
REVIEW
With all the new options in TRAIL RUNNERS, choosing the right shoe is tougher than an off-road marathon. We sort through the choices to find you the perfect fit. PLUS: SUNGLASSES get sport-specific; RLX Polo Sport introduces KEVLAR JEANS; and more.
BODYWORK
Flex Time: The third installment of THE SHAPE OF YOUR LIFE, our five-month fitness plan, introduces flexibility to your regimen through the ancient practice of Ashtanga yoga.