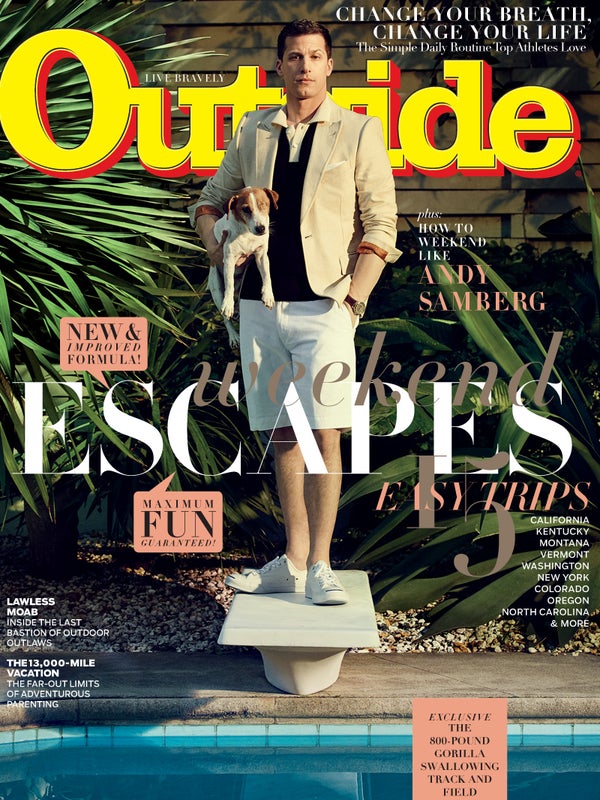 Outside Magazine, June 2016
---
No Restrictions Apply
Anything goes in the red-rock country outside Moab, Utah, where a motley collection of slackliners, off-roaders, mountain bikers, rope swingers, and BASE jumpers have established a playground of anarchy on public land. By Grayson Schaffer
What Has Dad Got Us Into?
Here's one way to avoid helicopter parenting: pack the kids onto a cargo ship, trek deep into the Indian Himalayas, and spend three months living in a monastery. Oh, and hey, why not bring a film crew? By Bruce Kirkby
Watch the Birdie
Since it was created in 2007, the fledgling women's running brand Oiselle has lured some of track's most beloved athletes to its stable, stormed New York Fashion Week, and—not least—created an alterative to poochy shorts. Now can it take on Nike? By Elizabeth Weil
Aftershock
Nepal might have been fine if the $4.4 billion in aid pledged by donor countries had ever made it to the victims of last April's earthquake. But in a nation as famous for corruption as it is for towering peaks, improvement is coming slowly. By Patrick Symmes
​DISPATCHES
First Look: Yukon singletrack gets world-class.
Drawing Board: A memorial to extinct species.
Media: Anthony Doerr on Annie Proulx's new eco-masterpiece.
Outsider: Andy Samberg will now go birding.
DESTINATIONS
Weekend Escapes: Plotting your summer can be stressful—so we planned all your weekends for you, packed with fly-fishing, mountain biking, and beer festivals. You're welcome.
ESSENTIALS
Road Bikes: Disc brakes have finally made it to the peloton—and the latest adventure rigs.
Spectrum: Cushy trainers for hitting the road.
Upgrade: The nuts and bolts of a day at the beach.
BODYWORK
In the Lead: A breath exercise for peak performance.
Tools: Next-gen recovery aids.
Fuel: Get watered by plants.
Active Cities: Portland, Oregon.
STYLE SPECIAL
Creative casual in Honolulu's new art hub.
Plus
Exposure
Parting Shot