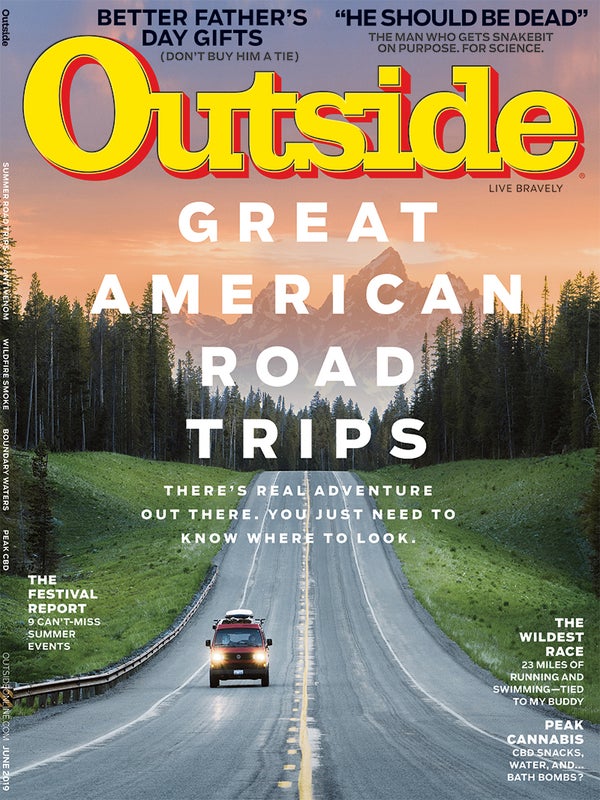 Outside Magazine, June 2019
Stories
Photographer Christian Vizl documents the ocean's beauty to show us what we're ravaging
---
Features
It's Not About the Bike: Ötillö Swimrun is a grueling race series alternating long passages of open-water swimming with rugged runs of up to 40 miles. But unlike a triathlon, there's no biking. That's great news for W. Hodding carter, a former collegiate swimmer who's trying to qualify for the world championship. At age 56.
Bite Me: Tim Friede has endured some 200 snakebites and 700 venom injections as part of a quest to immunize his body and offer his blood to scientists seeking a universal antivenom. For nearly two decades, few took him seriously. Then an immunologist became convinced that he was the key to conquering snakebites forever. —Kyle Dickman
The Shape of Water: At 1.1 million acres, the Boundary Waters Canoe Area Wilderness is one of the largest and most popular backcountry destinations in the U.S. and a longtime proving ground for adventurers. But now the region is facing the threat of sulfide-ore copper mining. Stephanie Pearson paddles into the wild.
A Supposedly Fun Thing I Just Might Do Again: There was something about Primland that made Emily Nunn see red—a lavish and expensive outdoor Xanadu near her beloved Virginia hometown. Then she went there and had… a pretty good time. Blame the trout stream and the 400-thread-count linens.
Dispatches
Big Idea
Up in Smoke: The West is taking baby steps to address megafires. But we've done nothing to prepare for an even greater hazard. —Marc Peruzzi
Exposure
Portfolio: Christian Vizl captures life beneath the ocean's waves.
Media
Beach Reading: The season's hot new books. Plus, a documentary explores an all-female sailing team's historic feat.
Gear
Father's Day: He's a good man. Get him gifts that will last.
Women's Backpacking: Gear to keep you comfortable, whether you're out for two days or ten.
Trail Running Shoes: Kicks for all your off-road pursuits.
Mountain Bikes: From cross-country to enduro, 29ers are dominating the trail.
Style
Sunglasses and Shoes: Perfect pairs.
Travel
North American Road Trips: From the Canadian Kootenay Rockies to southwestern hot springs, these are the best stretches of road for adventure.
Summer Festivals: These nine events are a guaranteed blast.
Fitness
Fuel: The days of veggie burgers that taste like cardboard are over.
Health: Should fit, active adults be concerned about their blood sugar?
Laird's Laws: Rules for maximizing your rest days.
Wellness: CBD-infused bath bomb, anyone?
Heroes: After a crash, skier Roy Tuscany created the High Fives Foundation to support seriously injured athletes.