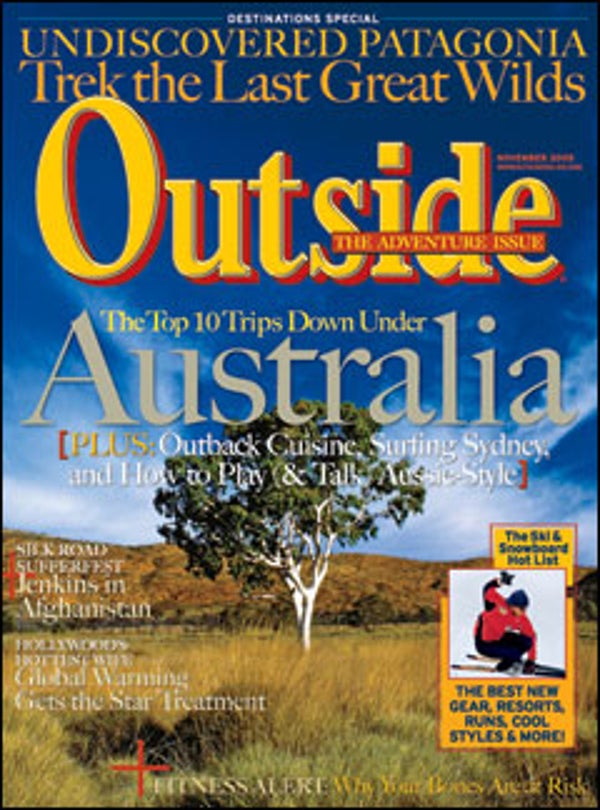 Outside Magazine, Nov 2005
---
F E A T U R E S
ADVENTURE
A SHORT WALK IN THE WAKHAN CORRIDOR
Ride along as three American adventurers (plus assorted opium-puffing horsemen and trail-hardened guides) travel the hard way through the wildest corner of Afghanistan, where ancient tribes, unclimbed peaks, and looming geopolitical intrigue add up to a classic Silk Road adventure—as long as you make it to the other end.
By Mark Jenkins
COVER STORY
THE GREAT AND POWERFUL OZ
Everybody loves Australia—and why not, mate? It's a traveler's jackpot of fantastic terrain, sparkling surf, cool lodging, exotic wildlife, and charming, bush-toughened rogues. JANE SMILEY kicks off the show with a report on horseback-riding through Queensland, setting you up for our top ten do-it-now dream trips, from the outback to the Great Barrier Reef, from Sydney to the Never Never. PLUS: Our instant guide to Australia, locals' favorites, and more.
FRONTIERS
MAGNETIC SOUTH
Trekkers on the cutting edge are buzzing about the majestic Aysé;n region of southern Chile, the last, best place in Patagonia—South America's legendary dreamscape of ice-blue glaciers, beckoning wildlands, and skyscraping peaks. Now a risk-loving Coloradan-turned-gaucho has carved out a new route through its scenic sweet spot. It's the ultimate trip to the rugged paradise at the bottom of the world.
By Elizabeth Hightower
D E P A R T M E N T S
DISPATCHES SPECIAL: 2006 SKI & SNOWBOARD HOT LIST
» When the boys wouldn't let her play, KRISTI LESKINEN decided to start her own game: women's park-and-pipe skiing
» Skip the high-rise hotels for five of our favorite CLASSIC LODGES
» The best-decked SLOPESIDE BARS are perfect for revelers and hecklers
» Nordic novelty ANDREW NEWELL is a skinny-skiing freestyle badass
» With sprawling blues, 50-degree chutes, and a lift ticket also good at Big Sky, MOONLIGHT BASIN , Montana's newest resort, is a secret paradise
» REAL SKI PORN has nothing to do with face shots and meaty hucks. Or does it?
» Meet DANA FLAHR , Canada's next gravity-violating superstar
» Bean buzz: We suss the best ski-hill JAVA SHOPS
» The new, new thing in resort terrain parks: A TERRAIN-PARK RESORT
» Atypical SKI-TOWN JOBS , from chaplain to surgeon to brewmeister
» TIPS FROM BODE MILLER: The world's greatest alpine racer has an opinion on just about everything, including the best Rx for your turns
» Say it with us: "I've got a little place up in Aspen." We dish the TIME-SHARE 411 .
» Forget the tickets to Turin; the perfect place to WATCH THE OLYMPICS is a rough-edged Gem State watering hole
» STYLE: We hit the streets and peaks of Sun Valley, Idaho, mixing aprè;s and play in mountain-ready technical wear and town-tested casual threads
» REVIEW: The best new boards and skis, from Salomon, K2, Burton, Arbor, Ride, Atomic, and others
BODYWORK
Why are low-impact athletes like cyclists and swimmers ending up with bones as brittle as a 70-year-old's? Turns out YOUR SKELETON NEEDS A GOOD POUNDING to build mass. We lay out a sound plan for strong bones. PLUS: What makes a good skier? In our newest column, we reveal what it takes to CARVE LIKE A CHAMP .
OUT THERE
Can Laurie David, TV producer and wife of Seinfeld creator Larry David, harness the power of glitz to STOP GLOBAL WARMING? Hitting up Hollywood and D.C. stars, she's launched a campaign to rally a million virtual marchers for Earth Day 2006.
By Amanda Griscom Little