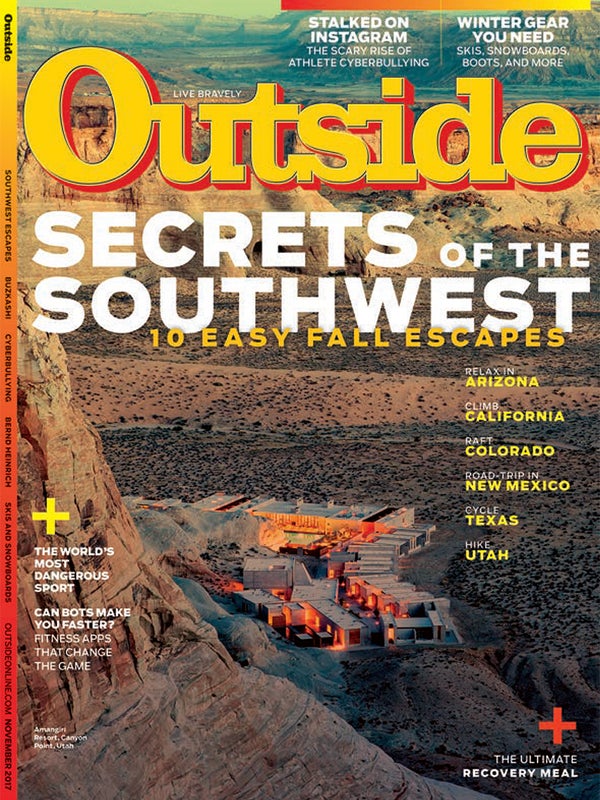 Outside Magazine, November 2017
Stories
As mountain towns in the West struggle with the soaring cost of real estate, tiny Stowe, Vermont, remains an affordable bastion of outdoor living. It's a place where ski bums aren't an endangered species, good food and beer are plentiful, and everyone puts a premium on playing outside. Welcome home.
---
It's Like the NFL. But with Horses and a Headless Calf: Warlords 1, carcass 0. In the ancient Afghan game of buzkashi, there is more at stake than just the score. For a country where conflict is now woven into everyday life, the sport serves as a proxy battlefield to decide who holds power—and for how long. —Jason Motlagh
Braveheart Couldn't Handle This: Bow down to the intrepid backcountry skiers of Scotland, who never let a little mud, rain, or fog get in their way. They buckle up their boots, shrug off gale-force winds, and tromp over heather and up rock to shred tiny ribbons of snow. —Simon Akam
"You're a Joke." "She's a Pretty Face, That's Her Paycheck." "No One Really Cares." "STFU You Dumb Ass.": What is it about Instagram photos of a beautiful skier on the steeps that inspires such venom? Cyberbullying victim Caroline Gleich isn't the only adventure athlete who wants to know. —Kate Siber

The Last Naturalist: Bernd Heinrich is a legendary biologist, a record-breaking ultrarunner, and a man whose daily existence has become inextricable from the birds, trees, and rhythms of his beloved Maine woods. In other words, a model for those of us looking for meaning in our fragmented lives. —Bill Donahue
Style Special
The Wild East: Good music, ripping trails, and a local vibe. Life as a ski bum in Stowe, Vermont, is plenty chill.
Dispatches
First Look: Teens are getting schooled in backcountry safety as junior avalanche education takes off.
Media: American Wolf offers a riveting family saga of Yellowstone's most famous pack. Plus, fiction from Bill McKibben and a fat Himalayan history.
Tech: The nature-inspired robots revolutionizing search and rescue.
Icon: Why Lindsey Vonn is the greatest American skier of all time.
Epic: A gang of climbing superheroes take on Antarctica.
Destinations
The Southwest: Now is the time to light out for red-rock territory, with its warm, crowdless days and cool desert nights. Float the free-flowing Yampa River, get lost in New Mexico's empty Gila Mountains, bike the Arizona Trail, and bed down in cowboy cabins and luxe lodges along the way.
Essentials
Wanted: A bombproof coffee maker for the road.
Skis: Our hard-tested roundup of carving sticks, fatties, and one-ski quivers.
Snowboards: Presenting the best decks for speed, stability, and powder.
Upgrade: Get-warm gear for deepest winter, from expedition sleeping bags to shearling hats.
Bodywork
In the Lead: Fitness apps powered by artificial intelligence may one day replace your coach—and your workout buddy.
Moves: Full-body strength training at the climbing gym.
Performance Enhancer: How running phenom Allie Ostrander ditches the competition on the track and in the mountains.
Fuel: Powerfully versatile Crock-Pot porridge.