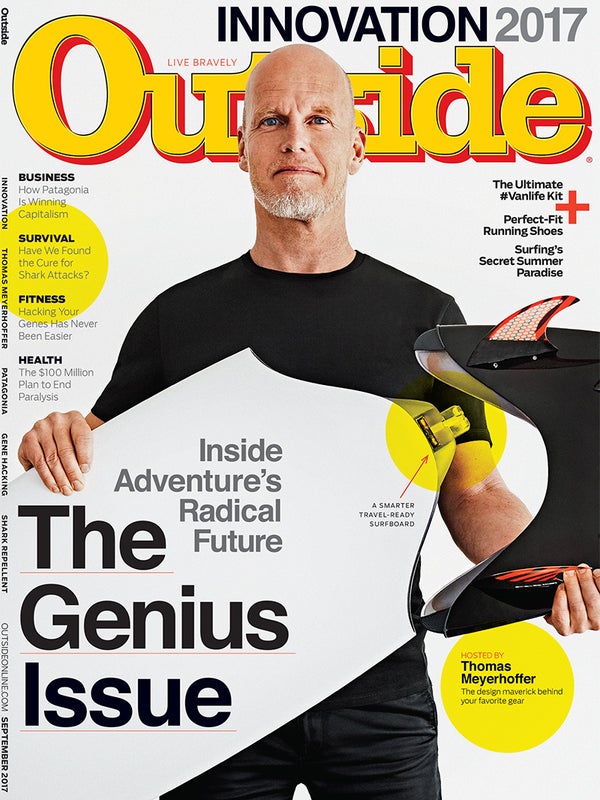 Outside Magazine, September 2017
Stories
While the word may be out about Tofino, on Canada's Vancouver Island, the incredible setting and eclectic locals still make it one of the best surf towns in North America
---
Innovation 2017
The Creatives, Playmaker: Thomas Meyerhoffer is obsessed with simplicity, whether it's in his industrial designs or the surfboards he rides in California. We talked to him about the importance of always exploring—and had him speak with four more visionaries building an ingenious new world. —Michael Roberts
The Big Business of #Resist: Patagonia has long made a point of putting the planet before profits (while raking in the dough). Now it's taking that mantra into politics, spur­ring the outdoor industry into battle over public lands. —Abe Streep
"It Just Consumed Me": The idea, not the shark. Chemist Eric Stroud has devoted years to the quest for a reliable shark repellent. Charles Bethea dives in as a group of entrepreneurs test their latest creation on great whites. —Charles Bethea
The Ultimate Life Hack: The frontiers of genetic engineering aren't in some elite lab. They're in basements and garages all over the world, where DIY science buffs are tinkering with the building blocks of life. Rowan Jacobsen visits Josiah Zayner, king of the biohackers. —Rowan Jacobsen
The Biomechatronic Man: Biophysicist Hugh Herr—a double amputee who revolutionized prosthetics—wants to find remedies for everything from Parkinson's disease to paralysis, bringing hope and mobility to people who long ago gave up. Todd Balf, who lost partial use of his legs, seeks answers from the master. —Todd Balf
Style Special
Swell City: Surrounded by whales and waves on Vancouver Island, Tofino is the best little surf town north of the border. —Erin Berger
Dispatches
First Look: Veteran cyclist Kathryn Bertine is giving a boost to women athletes struggling to make ends meet.
Gear: Salomon puts its best foot forward with fully customizable running shoes.
Icon: Big-wave (and paddle- and foil-boarding) legend Laird Hamilton.
Travel: The right stuff for overlanding, our new favorite way to see the world.
Media: The surprising YouTube stars bringing the great outdoors inside. Plus, Bones and This Blessed Earth.
Destinations
2017 Adventure Bars: We're pretty sure the best part of any hike, ski, paddle, or bike epic is the beer at journey's end. So we rounded up a dozen perfect watering holes, from a stone hut in the Andes to the perfect California beach hangout—dogs allowed.
Base Camp: Bedding down in the treetops at Dominica's Secret Bay.
Essentials Special
Wanted: Heimplanet's inflatable tent.
Design and Tech: Our picks for the game changers—helmet, wetsuit, jacket, sunglasses, shoes, and more—upending the gear world.
Upgrade: Scrambling up high peaks requires elevating your kit.
Spectrum: The best Bluetooth speakers for rocking outside.