The Hydration Pack You Need
Nathan's Zeal race vest packs a lot of hydration into one small, efficient must-have.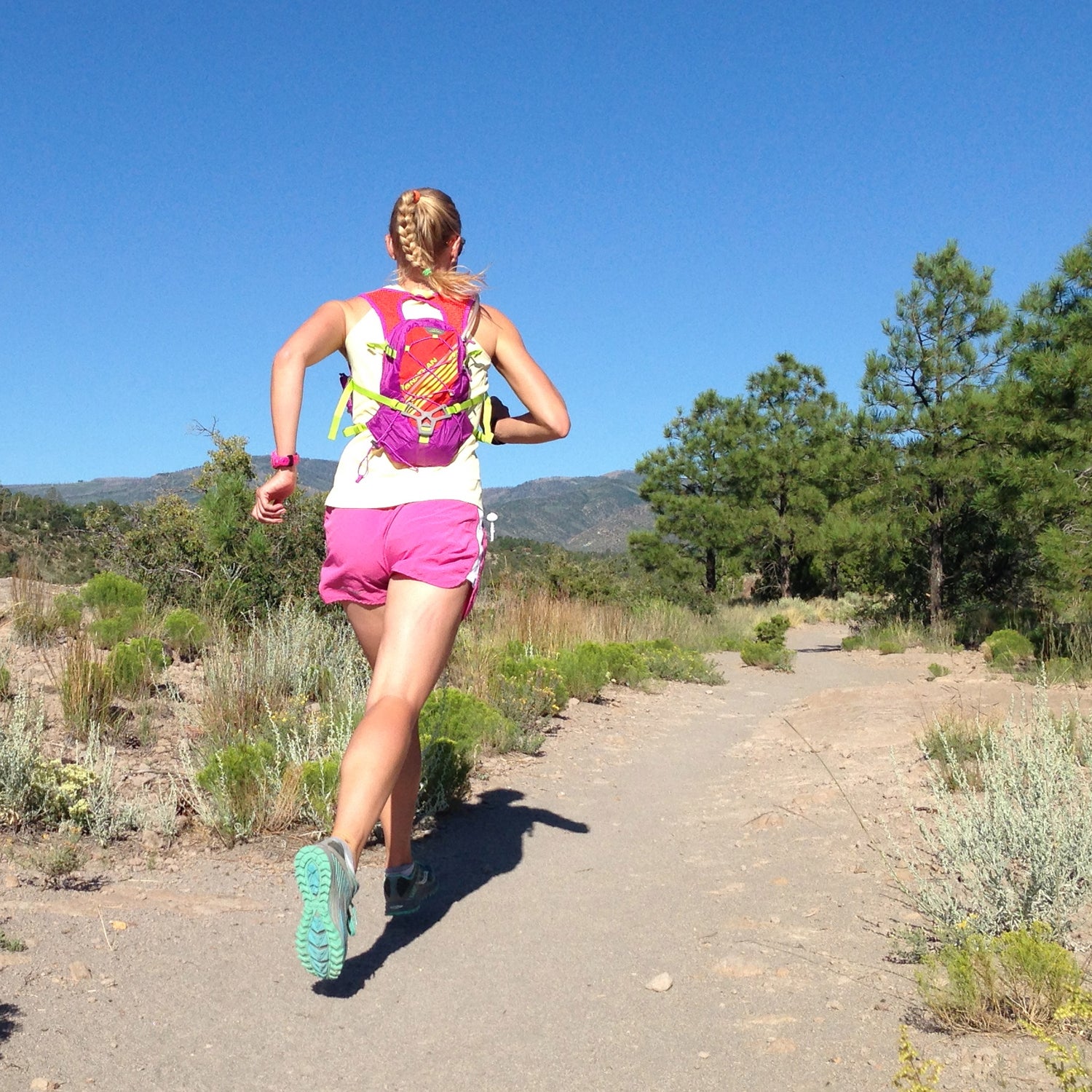 Heading out the door? Read this article on the new Outside+ app available now on iOS devices for members! Download the app.
My Sunday mornings usually involve trail running with my friend Rose in the mountains and canyons surrounding Los Alamos, New Mexico. Rose is training for the Mount Taylor 50K, and because I'm such a sucker good friend, I keep her company during long runs.
I recently tested women's hiking gear for the 2014 Summer Buyer's Guide and acquired a hiking pack I thought might do the trick for two, three, four-plus hour runs in the Jemez. About six miles into a 12-mile run, I realized what a fool I was. To prevent bounce, I'd cinched the front straps tight enough to dig uncomfortably into my chest and stomach, but not snug enough to prevent chafing on my shoulder blades. By the end of the run, I'd developed what looked like giant hickies on each scapula. 
Lesson learned. No more hiking packs for running. Rose, coincidently, owns a running store, and mentioned her Nathan hydration systems had been selling really well. So I decided to to try one out.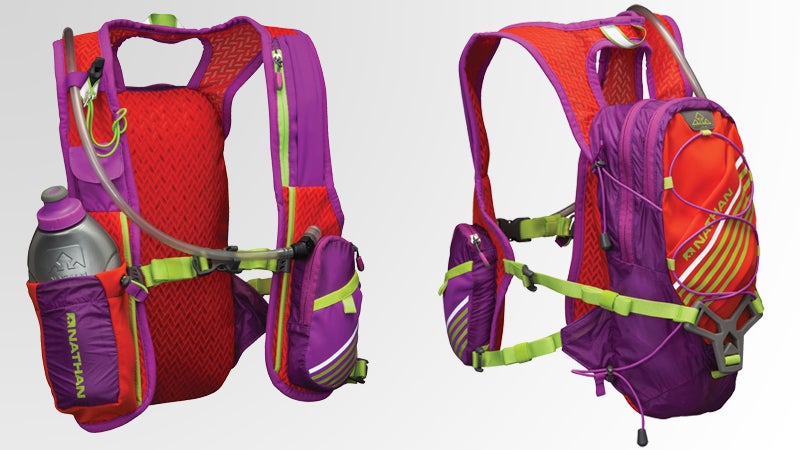 I went with the Zeal ($140), which debuted this year and is among the company's—and the entire market's—best selling packs. Specifically designed for women (guys, you'll want to check out the men's version, the Nathan Zelos), the lightweight race vest has everything you need for a morning in the mountains, including: 
Plenty of Water Capacity
 The pack comes with an easy-to-fill two-liter reservoir and an 18-ounce hand-held bottle that fits perfectly in the front-right pocket. Use one for water and the other for electrolytes, and you should be good to go for at least three hours. The hose runs from the bladder over your right shoulder and easily clips in and out of the sternum strap for on-the-go hydration.
Storage
The Zeal is designed to keep you light and fast, but there's plenty of room—about seven liters—for a shell and snacks, even when the bladder is full. A small internal pocket and key clip ensure that valuables stay safe, too. If that's not enough, an external bungee cord holds extra layers, a hat, or even post-race flip flops.
Front Pockets
There are five of them—a zippered pocket for your smartphone, two for gels, one for the above-mentioned hand-held, and a smaller one for salt tablets or other pills. Basically, anything you might need easy access to can be carried across your chest (this pack is essentially the same size and shape as your rib cage; everything you carry up front hangs fairly high—between the top of your shoulder and your 10th rib—not down around your waist area).
A Whistle
Yes, a whistle. Which I plan to use next time I encounter a bear. It's tiny and gray and unobtrusive—except if it's not secured properly, in which case it will bounce right up and hit you in the teeth. Ouch.
No Chafing
No one likes to head out for a run knowing that no matter how much Body Glide is applied, some spots will still end up raw. Thankfully, this is not an issue with the Zeal, which uses a magic combination of external shock cords, a three-way Propulsion Harness, and side straps that can be adjusted on the fly to ensure that the pack does not bounce. The sternum strap is adjustable and can slide vertically to wherever is most comfortable (i.e. adequately above or below the breasts). Combine that with breathable mesh shoulder straps and a perforated back panel, and your on-the-go comfort—no matter how much you're carrying—is pretty much ensured.
All this in just 1.1 stylish pounds? Excuse me while I lace up my running shoes.
$140, nathansports.com
Lead Photo: Courtesy of Whitney Dreier