Cool, Healthy Recovery Meals and Snacks for Hot Days
When it's too hot to cook, opt for refreshing salads, noodle bowls, and smoothies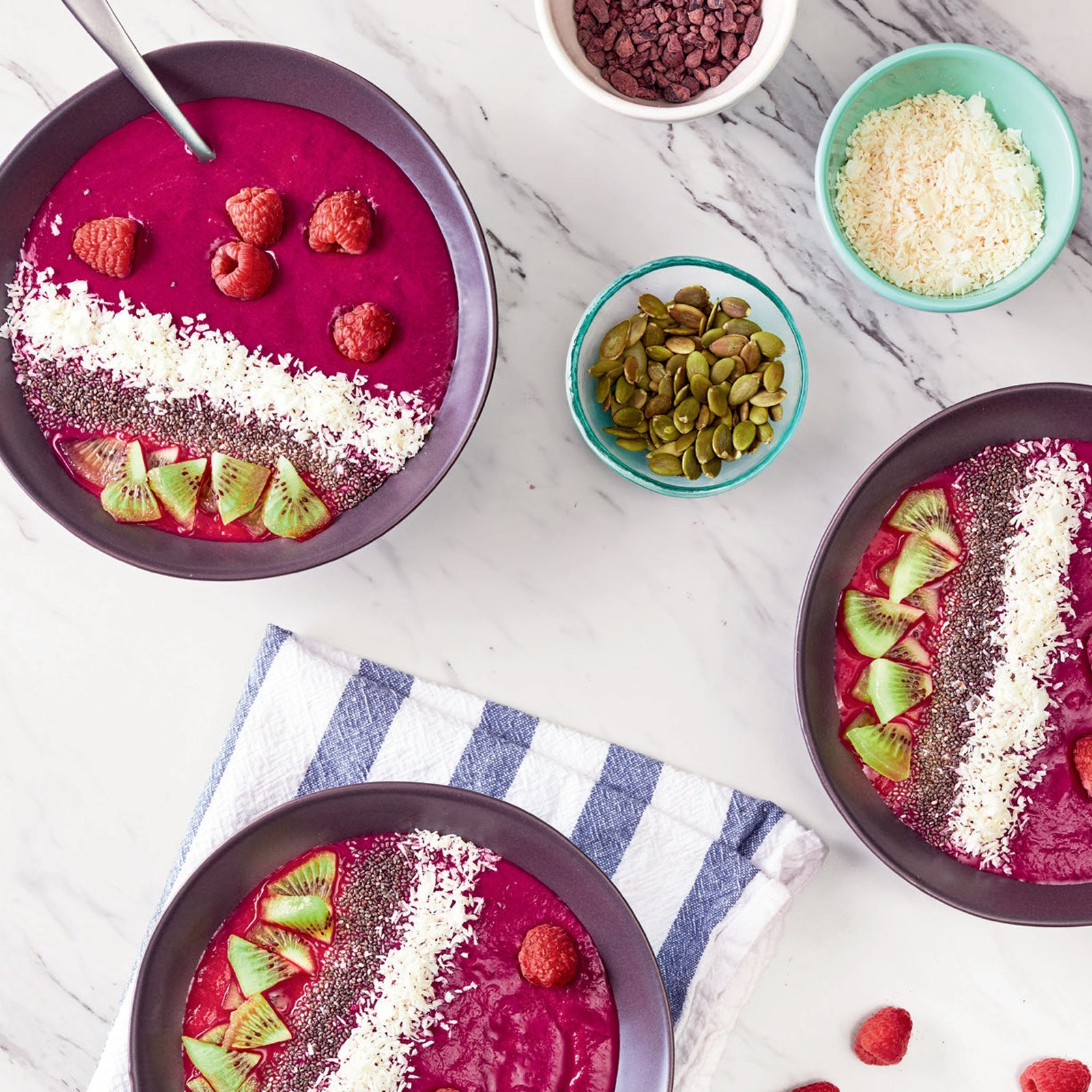 Alan Weiner(Photo)
Heading out the door? Read this article on the new Outside+ app available now on iOS devices for members! Download the app.
Turning on the stove to make a healthy snack is probably the last thing on your mind after a blistering midsummer workout. When you're trapped in a heat wave, opt for a recovery meal that helps you cool off. Below, a few pros share their favorites. These recipes are still rich in muscle-building protein and glycogen-store-replenishing carbohydrates, but they're crisp, cold, and refreshing. 
Thai Quinoa Salad 
When Shalane Flanagan traveled to Bend, Oregon, to kick off recipe testing for Run Fast. Cook Fast. Eat Slow, her second book with Elyse Kopecky, this was the first recipe to come out of the kitchen. "It was love at first bite," says Kopecky. "We continued to tweak the recipe, not because it needed much work, but because we secretly wanted an excuse to make it time and again." Prepare this salad on a Sunday night and enjoy it for work lunches all week long, or serve it as a side dish with a protein like steak or salmon.
Salad Ingredients
1 cup quinoa, rinsed and drained
2 cups (about two large) grated carrots
2 cups thinly sliced purple cabbage
3 sliced green onions, both the whites and greens
1 cup packed mint leaves, chopped (cilantro works, too)
1 cup packed basil leaves, chopped
1 jalapeño or serrano pepper, seeds removed, minced (optional)
1/2 cup roasted peanuts, chopped
Dressing Ingredients
1/4 cup extra-virgin olive oil
1/3 cup fresh lime juice (two to three limes)
2 tablespoons soy sauce or tamari
2 tablespoons honey or maple syrup
1 tablespoon fish sauce (optional)
Directions
In a medium saucepan over high heat, bring one and a half cups water and the quinoa to a boil. Reduce the heat to low and simmer, covered, for 15 minutes or until all the water has been absorbed. Transfer to a large salad bowl, fluff with a fork, and set aside to cool. Meanwhile, prepare the dressing: put all of the ingredients in a glass jar or bowl, and stir to combine. Once the quinoa is cool, add the carrots, cabbage, green onions, mint, basil, and pepper to the bowl, and toss to combine. Add the dressing and toss again. Add more fish sauce and soy sauce to taste. Top with the peanuts. Chill in the fridge for at least one hour or until ready to serve. This salad will stay fresh in airtight glass containers in the fridge for up to five days. 
Hearty Tuna Salad
At age 25, Rally UHC Cycling's Nigel Ellsay might be one of the youngest riders on the team, but he's one of its top chefs. "My recovery salad hits all the marks," he says. "It's full of the vitamins and protein my body needs, plus it's nice and cold." Ellsay makes this salad after easier endurance rides. After high-intensity efforts, he'll add a smoothie featuring tart cherry juice for a faster hit of carbohydrates and protein. 
Dressing Ingredients 
1 tablespoon olive oil
2 tablespoons balsamic vinegar
2 teaspoons cocoa powder
1 teaspoon Dijon mustard
1/2 teaspoon honey
Black pepper
Salad Ingredients
Fresh greens of choice
Grated carrot
Canned tuna
Sliced tomato
Thawed frozen corn
Sliced green onions
Chopped cooked beets
Cranberries
Nutritional yeast
Directions
Blend dressing ingredients. Build salad. Enjoy in the shade—at least, that's how Ellsay does it.
Smoked Tofu and Soba Noodle Bowl
Professional mountain biker Sonya Looney specializes in long stage races, so she needs a hefty way to refuel fast after rough days on the bike. The vegan cyclist's favorite postworkout meal can be prepared the night before a big ride to save on cooking time. And during the summer, it's best served cold. 
Bowl Ingredients
Buckwheat soba noodles
Smoked tofu
Olive oil
Shiitake mushrooms, sliced
1/2 cup edamame
Bean sprouts
Shredded carrots
1/2 red or orange bell pepper, chopped
Black sesame seeds
Peanut Sauce Ingredients
4 tablespoons peanut butter
2 tablespoons tamari or soy sauce
1 lime, juiced 
2 teaspoons chili-garlic sauce
2 tablespoons water
Directions
The night before: Cook your soba noodles according to the package's directions, then refrigerate overnight. Blend ingredients (in a blender or by hand) for peanut sauce; Looney recommends making three to four times the recipe amount and storing it in the refrigerator to use with other meals.
Postworkout: Slice and fry the smoked tofu in a pan with a small amount of olive oil. Sauté mushrooms in water. Layer noodles, tofu, edamame, bean sprouts, carrots, and bell peppers into a bowl. Top with peanut sauce. Garnish with black sesame seeds.
Simple Sardine Sandwich
Professional triathlete Lesley Paterson's favorite quick snack is a simple cracker sandwich with salty sardines. They're ideal when you need a little boost, offering protein, carbs, and healthy fats, and they make an easy on-the-go meal whether you're snacking at the office post lunch run or at the campsite after a long hike. If sardines aren't your thing, try canned wild salmon or trout.
Ingredients
Spinach
Tinned sardines
Sliced avocado
Organic rice crackers
Whole-grain mustard
Salt and pepper
Directions
Layer spinach, sardines, and avocado onto crackers. Top with drizzle of mustard. Salt and pepper to taste. 
Cured Salmon and Beet Salad
Olympic runner Alexi Pappas doesn't have a lot of free time to cook, so she often relies on ingredients she can prep ahead of time, like Instant Pot–cured salmon and roasted beets. When she finishes a workout around mealtime, she'll toss together a salad from the fridge and wash it down with a glass of matcha tea boosted with collagen.
Ingredients
1 or 2 servings of wild salmon (about two to three ounces) 
1 tablespoon soy sauce
1 teaspoon sugar
Fresh beets
Olive oil
Balsamic vinegar
1 handful fresh dill
1 handful fresh mint
Greens and microgreens (choose your favorites)
Cherry tomatoes
Optional:

Sliced avocado
Tzatziki sauce
Sourdough bread
Watermelon
Tajin seasoning
Directions
The night before: Cure the salmon in an Instant Pot on steam mode for 15 minutes with soy sauce, sugar, and a bit of water. (You can opt to cure salmon without heat if you prefer.) Cube beets, toss them in olive oil, and roast in the oven at 400 degrees for 30 to 40 minutes until tender. Toss beets with more olive oil, balsamic vinegar, and chopped dill and mint leaves. Refrigerate.
Postworkout: Create a base of greens and tomatoes, then top with salmon and beet salad (use the dressing on the beets to dress the entire salad). Pappas typically adds avocado chunks and tzatziki sauce on top and eats the salad with a chunk of sourdough bread to refill her glycogen stores. For a simple, hydrating side dish, she adds watermelon sprinkled with Tajin seasoning, which is a blend of chili powder, lime, and salt.
Avocado Smoothie
After a long day in the mountains, professional rock climber and guide Leslie Timms blends up this smoothie, packed with healthy fats, muscle-rebuilding proteins, and creatine. Timms points out that, as a Canadian, she's obligated to include maple syrup—but you can flavor the smoothie with your sweetener of choice.
Ingredients
3/4 cup almond milk
10 ice cubes
1/4 to 1/2 avocado
1 scoop protein powder of choice
5 grams creatine powder
Maple syrup to taste
Directions
Blend until smooth. 
Coconut-Mango Smoothie
If you spent your workout craving a piña colada, mix up professional cyclocross rider Ellen Noble's refreshing tropical smoothie. Creamy, satisfying coconut milk and fresh cilantro and mint make for a zestier drink than the standard berries-and-whey-protein blend.
Ingredients
1/2 cup coconut milk
1 cup frozen mango chunks
1 handful cilantro, chopped 
1 handful mint, chopped
Squirt of lime
1 handful frozen spinach
Optional:

6 ice cubes or a frozen banana, sliced
Protein powder
Directions
Blend until smooth.
Lead Photo: Alan Weiner