Do You Need a Customized Sports Drink?
Personalized drinks and shakes are the latest innovation in the quest to boost performance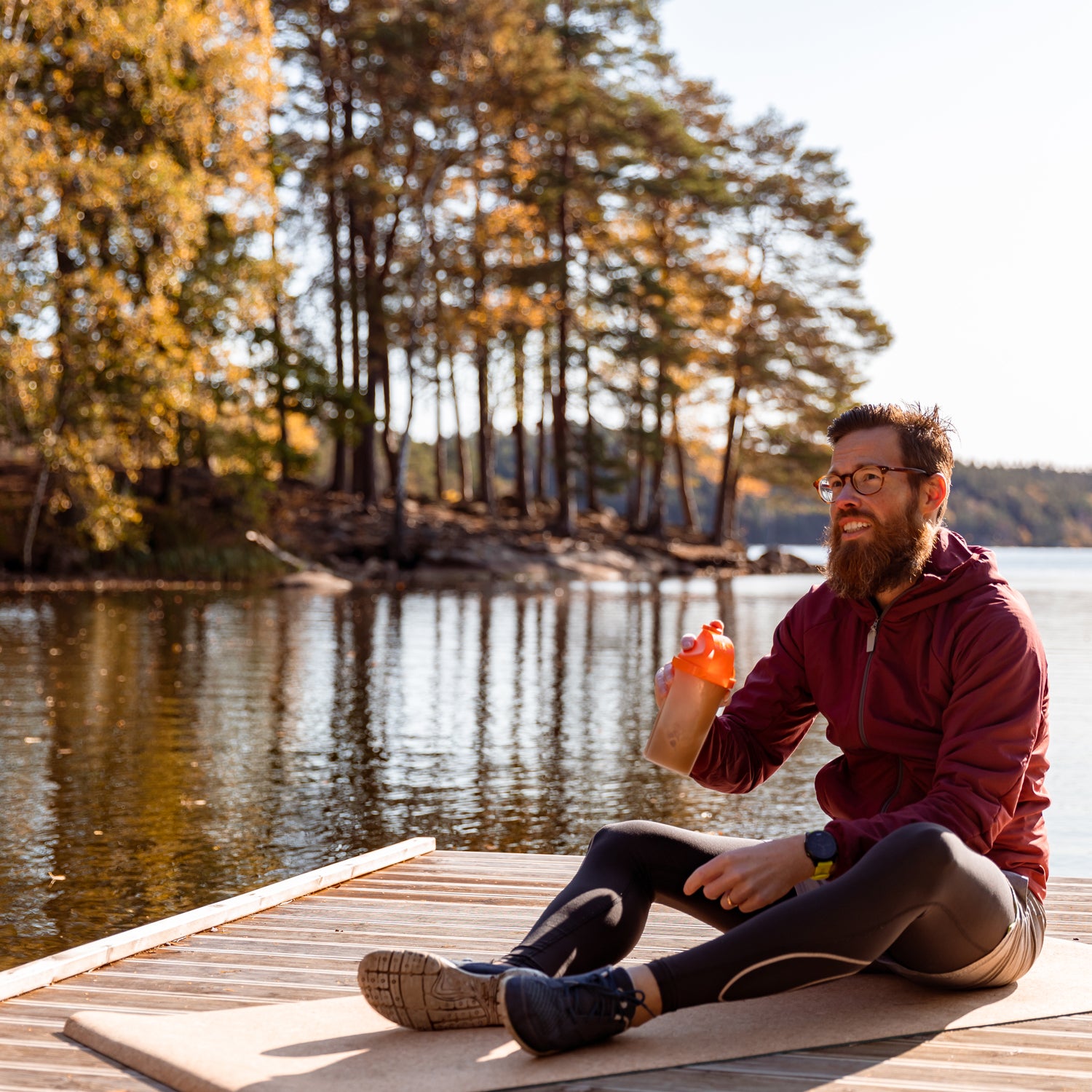 Heading out the door? Read this article on the new Outside+ app available now on iOS devices for members! Download the app.
I've just finished a grueling 30-mile bike ride, and I'm sipping a recovery shake mixed from a sleek black packet. It has 27 grams of protein, because I'm trying to gain muscle, and omega-3 fatty acids to keep me feeling full. Beetroot boosts my endurance, and anti-inflammatory green bell pepper keeps me from getting sore. The mix was designed specifically for me by Kyoku, a California-based startup that launched in 2018.
Kyoku is one of many companies offering tailor-made performance fuels. In addition to Kyoku's, I tested products from four others, including meal-replacement shakes from iFit Nourish and sports drinks by Infinit Nutrition. Each begins its personalization process with a survey: Kyoku and iFit focused on my lifestyle and diet, asking questions like how many servings of fruit and hours of sunlight I get each day. Infinit took things a step further: customizing my drink involved a short phone call with a nutritional consultant. Most of these companies operate on a subscription-style model. So, after perfecting my special mix, I could sign up for monthly shipments that cost roughly $40 to $85.
There's reason to believe that these new companies are just the beginning of a bigger boom. The personalized nutrition and wellness market reached $25 billion in 2017, and San Francisco consulting firm Grand View Research estimates that it will see 9 percent annual growth through 2025. More established brands are also entering the game: global food manufacturer Mars (the company that makes M&M's) recently acquired Berlin-based Foodspring, which sells individualized combinations of dietary products—including supplements like protein powder, creatine, and aminos—geared toward customers' lifestyle and fitness goals. 
High-level athletes have always tinkered with their nutrition for optimal performance. But I was curious about whether these products would benefit someone like me, a casual cyclist with a Strava addiction who rides or runs daily to destress. Travis Thomas, a professor of nutrition at the University of Kentucky, says there's plenty of science to suggest that an individualized nutrition plan could help a weekend warrior, too. It can be as simple as adding extra protein to your diet, or it might be more nuanced. After all, a trail runner who lives at high altitude will likely have different needs than a gym rat grinding away in New York City. That's where the quizzes come in.
In my daily life, I generally don't pay much attention to nutrition. I often skip breakfast and tackle long rides with just 16 ounces of water and a Clif Bar. Unsurprisingly, I also frequently bonk or get cramps. According to Infinit founder Michael Folan, this makes me his target consumer. "If you ask a room of 100 triathletes how many calories they should consume during an hour of exercise, 98 of them won't know the answer," he says. Folan started Infinit 15 years ago to address this problem, aiming to provide athletes with an all-in-one drink to fulfill their particular caloric, sodium, and hydration needs. 
I tested my custom Infinit mix for a month to see if it could keep me from petering out, carrying a 16-ounce bottle of the pink, lemonade-flavored drink during workouts lasting longer than an hour. The difference was palpable. I wasn't bonking and wasn't even hungry after runs and rides, which Folan attributes to the added protein in my mix. 
Of course, it's hard to know if this transformation happened because of the just-for-me drink or whether a general heightened awareness of my diet was the salient factor. Nancy Clark, a registered dietitian and the author of the Sports Nutrition Guidebook, says she's concerned that many of these new companies may succeed more as a result of powerful advertising than good science. And it's easy to be seduced by the idea that I'm special enough that my performance shortcomings warrant a customized solution.
Thomas also points out that a product built around a quick online assessment probably won't be truly personalized—and might be reductive. "Most of the one-time quizzes these companies provide take a snapshot assessment of how people eat," he says. "It oversimplifies nutrition and the complexities of eating for performance." While most of these companies' questions are similar to ones you might answer during an initial assessment with a dietitian, the real benefit of seeing a professional is in the follow-up appointments. "That's when the dietitian truly comes to understand your lifestyle and goals and develops a plan that will work," Thomas says. (One personalized nutrition startup, Gainful, aims to address this problem by offering e-mail access to dietitians in addition to its tailored protein drinks.)
Sure enough, not all the products I tested were slam dunks. The iFit shake had too much whey and gave me stomach cramps, while my mix from Kyoku resembled my wife's. (The company attributes the overlap in ingredients to our similar lifestyles and goals, but it may also reinforce Thomas's point that it's difficult to get a truly individualized product based on a quick quiz.) And because dietary supplements aren't regulated by the FDA, the responsibility falls on the athlete to do the research. Thomas suggests looking for products that have been tested by a third-party company like ConsumerLab. 
But if, like me, you're not ready to invest in a professional consultation, or can't be bothered to count the number of vegetables you eat every day, these products could provide some real performance benefits. And dabbling with a personalized shake should help jump-start an all-around healthier approach to fueling. Just don't call it a silver bullet.
The Price of Performance
Here's how much the leading personalized nutrition options will run you.
Foodspring 
A mix of supplements (including whey protein, powdered aminos, and creatine) and instant oats, personalized to your fitness goals. 
Cost: About $60; available in Europe, coming soon to the U.S.
iFit Nourish
An individualized protein shake made with veggies and 25 vitamins and minerals. 
Cost: $80 a month for two bags of formula
Infinit Nutrition 
Sports drinks with an optimized mix of protein, carbohydrates, and caffeine, crafted by the company's nutritional consultants. You can also add extras, like CBD.
Cost: $20 for five servings
Gainful 
Meal-replacement drinks, plus unlimited e-mail access to the company's team of registered dietitians. 
Cost: Around $50 for 14 servings
Kyoku 
Protein-based recovery shakes tailored to your chosen activity, body composition, and goals.
Cost: $5 per serving (standard is 14 servings per month)
Registered Dietitian 
In-person consultation for meal plans, nutrition strategies, and recommendations based on your lifestyle and goals. 
Cost: Between $100 and $200 for the initial face-to-face, slightly less for follow-up visits