What Laird Hamilton Eats in a Day
How to fuel for an action-packed 24 hours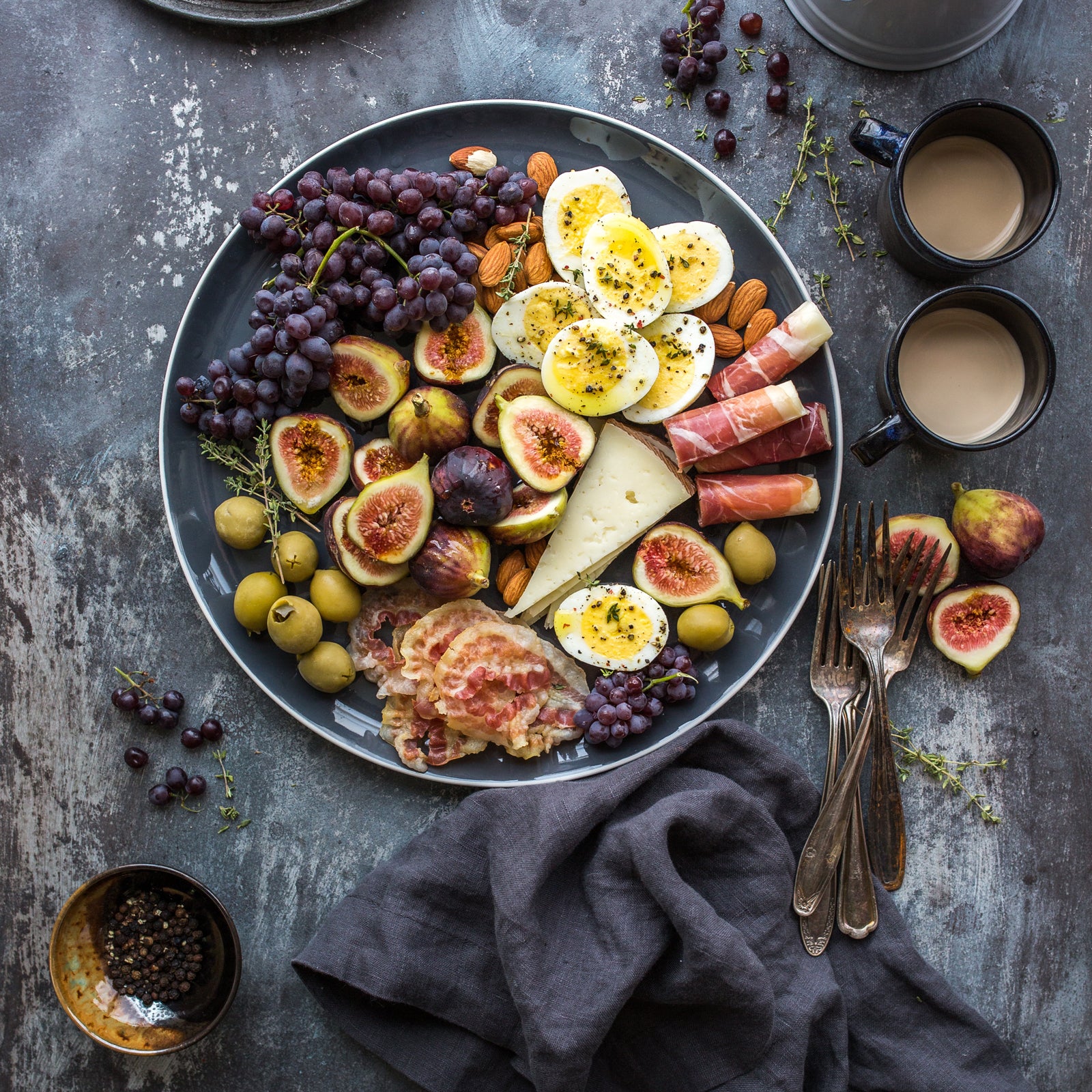 Brooke Lark/Unplash
Heading out the door? Read this article on the new Outside+ app available now on iOS devices for members! Download the app.
Pleasure is definitely a part of my diet, and I regularly eat delicious whole foods. But my main priority is to eat in a way that nourishes and protects my body and the planet. Everyone's dietary needs are different, and it has taken me decades to develop nutritional habits that work for me. Here's what I eat and drink in a typical day.
Breakfast
I wake up early and start my day by turning my coffee into a meal. I'll pull three or four shots of dark-roast espresso and add one scoop of my custom-blend coconut-milk creamer, one scoop of turmeric creamer, a teaspoon of ghee or raw butter, a half-teaspoon of fair-trade red palm oil, a teaspoon of raw coconut, and a mushroom blend that includes shiitake, maitake, lion's mane, and cordyceps. I emulsify the combination until it's smooth and drink it before I head out to my morning surf or training session.
There are enough calories—about 200—to hold me over until lunch. Plus, it tastes great.
Lunch
Midday I usually eat enough for two, because I haven't had solid food since the evening before. I build my lunch around a serving of high-quality animal protein, like sustainable local fish or chicken. I'll eat it on a bed of lettuce, cabbage, or kale, topped with avocado or crushed macadamia nuts and dressed with olive oil and vinegar. If it's available, I'll add raw-milk cheese to the salad. I try to get my carbs mostly from vegetables. When I'm in Hawaii, I'll indulge in mashed purple sweet potatoes with coconut milk. While traveling, I do my best to enjoy what's seasonal or indigenous to that particular location.
Dinner
I always eat dinner with my wife, Gabrielle, and on most nights we have a smoked or roasted meat like lamb with a lot of veggies. My favorites are broccoli and brussels sprouts drizzled in olive oil, or cabbage and butternut squash tossed with coconut oil. You want to have diversity in your diet. Too much red meat can leave me feeling sluggish, and sometimes my body will clue me in to the fact that I need to take a break from animal protein and go big with the greens. A classic meat-free meal is a one-pot slow-cooked stew with plenty of seasonal veggies, served over quinoa. We keep it simple but pump up the flavor with turmeric, curry, or ginger.
Fluids
Drinking enough water helps me in every way: performance, recovery, flexibility, even sleep. I pay close attention to my body, because my hydration needs vary depending on my diet, my activities, and the climate. For instance, if I do a recovery session in the sauna, I make sure to hydrate with coconut or mineral water to replenish my nutrients.
Snacks
I'm not much of a snacker, but I will grab a handful of nuts if I get hungry between meals. I seldom eat dessert and find I don't miss it unless I just didn't get enough calories or good fat that day. The less sugar I eat, the less I crave it. The same goes for alcohol—I used to be a big wine drinker but gave it up for San Pellegrino almost 12 years ago. If you're going to cut something out of your diet, it's helpful to find a substitute so kicking the habit is manageable.
Trending on Outside Online