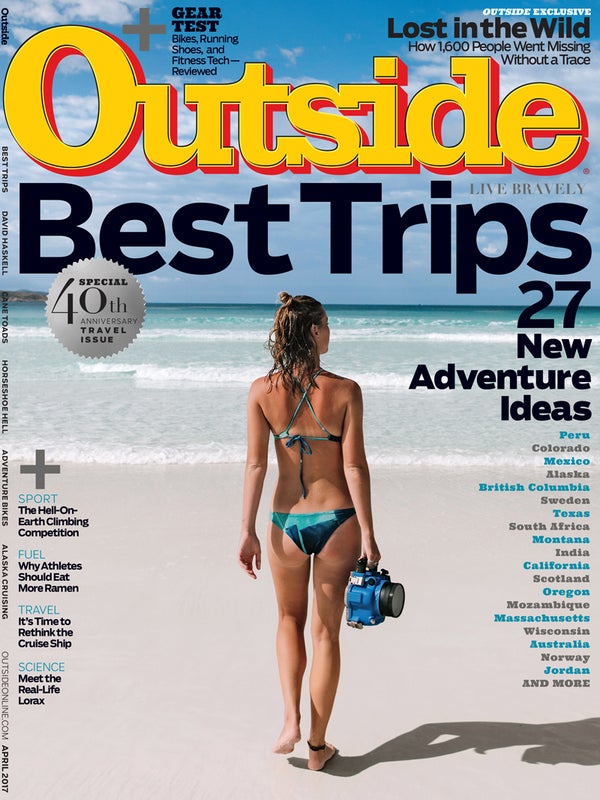 Outside Magazine, April 2017
---
Features
Leave No Trace: When 18-year-old Joe Keller vanished from a dude ranch in Colorado's Rio Grande National Forest, he joined the ranks of those missing on public land.
Headbangers Wall: The wildest rock-climbing event in the world happens each year in the Ozarks of Arkansas.
David Haskell Speaks for the Trees: His story reveals the surprising and fascinating arboreal secrets hiding in the canopies of extraordinary trees.
Frogpocalypse Now: In South Florida, cane toads are so numerous that they seem to be dropping from the sky. Why the surge?
Dispatches
Cruise Control: As Arctic Sea ice melts, business for Alaskan passenger ships is booming. Can the fragile region handle the traffic?
America's Next Top Hooch: Whiskey and hops. A marriage we can all get behind.
The Hot 100: Paul Hawken presents a bold plan to beat back climate change based on solutions already within our grasp. Do any of them stand a chance?
Destinations
Best Trips 2017: Whether you're looking to push your physical limits with freediving in British Columbia or just lean back and cast on Montana's greatest river, these 26 trips are guaranteed to make this your best travel year yet.
Essentials
Map My Riding Jacket: A spiffy commuting shell lets you wear your pride on your sleeve—literally.
Gait Keepers: Match your shoe to your stride.
Fury Road: Looking for extra adventure? Your wish is granted with these faster, go-anywhere bikes.
Bodywork
Mission Barely Possible: Sometimes setting an unreasonable goal is the best way to jump-start your fitness.
Noodle Cure: Your next recovery meal comes in a bowl…and is beyond delicious.
Track Stars: A new fleet of wearables meet the data needs of all kinds of players.
Office Maxed: A new building standard has your health and fitness in mind.
Plus
Between the Lines
Parting Shot