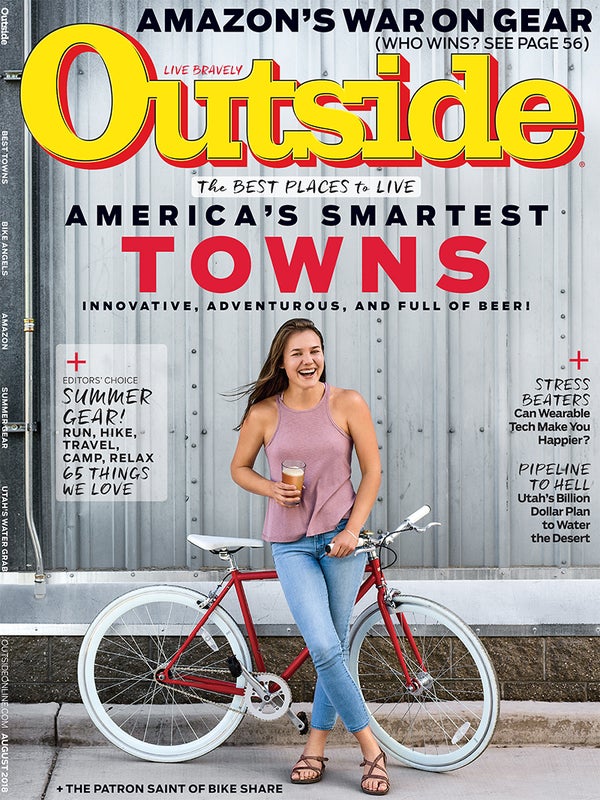 Outside Magazine, August 2018
Stories
What it takes to document one of the world's most treacherous races. Words by Marley Walker.
---
Features
Amazon Is the Future of Gear! Amazon Is the End of Gear! Jeff Bezos's empire has been called a monopoly in plain sight and a wrecking ball to America's retail economy. With Amazon grabbing a larger share of gear sales every day, outdoor stores face an existential crisis. Can they do what it takes to hang on? —Mya Frazier
The Monk's Tale: Who among us hasn't fantasized about moving to a little French village to sip Beaujolais as the Tour de France passes by on cobblestone streets? That's what Bill Donahue's uncle did in the 1980s, renouncing the priesthood for a life of gardening and scholarship. —Bill Donahue
The Purest Form of Bike Angel: Bike-share programs are great—until your pickup station is bone-dry or you get dock-blocked at the drop-off. New York City is solving these problems with a heavenly army of volunteers who earn points for relocating bikes. Tom Vanderbilt rides along with the undisputed champ. —Tom Vanderbilt
The Green Green Grass of Home: Imagine several hundred thousand residents moving to southwestern Utah, SUPing on man-made lakes and whizzing down a seven-story waterslide. To realize this vision, the state plans to suck 86,000 acre-feet per year from the Colorado River through a billion-dollar pipeline. —Mark Sundeen
Dispatches
Big Idea
End the Campground Monopoly: Reserving a campsite on public lands has been a painful experience for way too long, a consequence of the data-hoarding private companies in charge of book­ings. Marc Peruzzi wants a bigger tent.
Exposure
Portfolio: Jen Edney on what it takes to shoot sailing's round-the-world Volvo Ocean Race.
Best Towns
The Dream Town Blueprint: How does a city become a thriving adventure destination, the kind of spot where people long to move? According to America's favorite cities, you'll need a spruced-up waterfront, some craft beer, and a commitment to recreation.
Covet
Sunglasses: We can see clearly now with Oakley's Flight Jacket shades.
Editors' Choice
Essential Summer Gear: Our curated collection of all the right stuff to elevate your adventure game, whether camping, hiking, running, traveling, or making a splash.
The Process
Kelly Slater: How the champion surfer built his sustainable clothing brand Outerknown.
Fitness
Wellness: Does your fitness tracker hold the key to beating stress?
Laird's Laws: Don't go it alone—you need a workout partner.
Grooming: Skincare for the burning season.