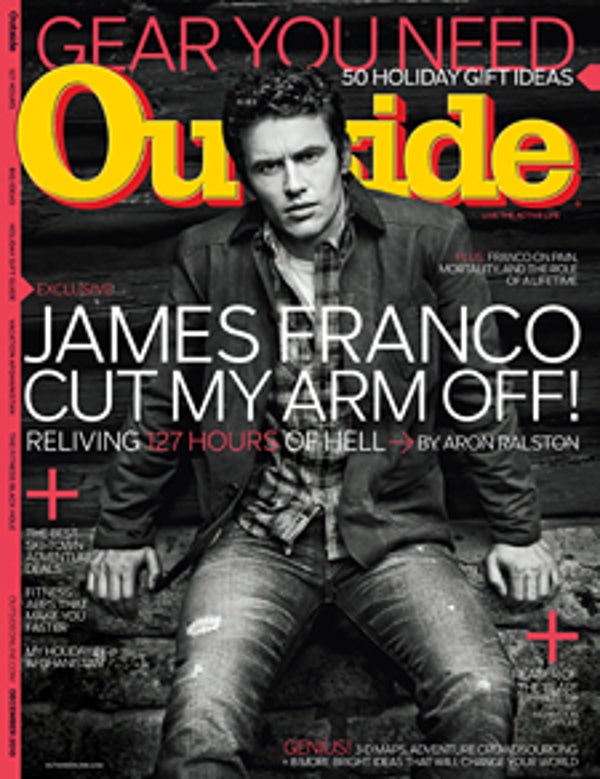 Outside Magazine, Dec 2010
---
ROUGH CUT
Aron Ralston sawed through his own flesh to escape a fallen boulder in 2003—then relived it on the set of the new film 127 Hours.
PLUS: Alex Heard interviews star James Franco.
Big Ideas 2010
SOMETHING RADICAL THIS WAY COMES
A velo village, green surfboards, 3-D maps—we're celebrating our favorite new concepts and the minds behind them.
PLUS: Louie Psihoyos, director of The Cove, shakes up the documentary.
UNSTOPPABLE
Our 2011 Reader of the Year, Ryan Levinson, has a form of muscular dystrophy that doctors said meant an end to his favorite outdoor sports. He disagreed. Read Levinson's inspiring story—and those of our six runners-up.
IF IT'S TUESDAY, IT MUST BE THE TALIBAN
Damon Tabor joins an intrepid group of travelers led by Englishman Geoff Hann as they head deep into some of the diciest corners of Afghani­stan to explore the brave new frontier of adventure tourism.
The guide
THE SEVEN DEADLY SINS OF GIVING
Thirteen glorious pages of the best holiday presents for those who lust for adventure. Watch your wallet.
Departments
DISPATCHES
First Look: Surfer Jordy Smith has the brashest mouth in the lineup—and the chops to unseat Kelly Slater.
News from the Field: Andrew Moon prepares for a drive to the South Pole; the latest equivocal records.
XX Factor: Last spring, Christy Mahon became the first woman to ski all 54 Colorado fourteeners. More impressive: She didn't feel the need to brag about it.
Milestones: It took his untimely death for people to recognize the unparalleled athletic brilliance of ultracyclist Jure Robic.
Media: Why did Greg Stump take 22 years to debut a follow-up to his 1988 cult ski hit, The Blizzard of Aahhh's?
Books: Abducted by the Taliban and a pictoral history of climbing's last 30 years.
DESTINATIONS
Ski Resorts: Twelve rules of winter to help you score the best lodging, rowdiest nightlife, and lightest powder on the planet.
BODYWORK
Are you in the fitness black hole? Why those middle-of-the-road workouts might be bringing you down.
Columns
OUT OF BOUNDS
Eric Hansen takes on his most disturbing assignment yet—a quiet examination into his own mind via sensory-deprivation chamber.
NATURAL INTELLIGENCE
Even with the ever-increasing availability and use of GPS and Google Maps, we still manage to get lost. Tom Vanderbilt investigates.
THE LAB RAT
Can a smartphone really make you faster? Our guru surveys the latest fitness apps.
By Nick Heil
Plus
EXPOSURE
BETWEEN THE LINES
LETTERS
PARTING SHOT