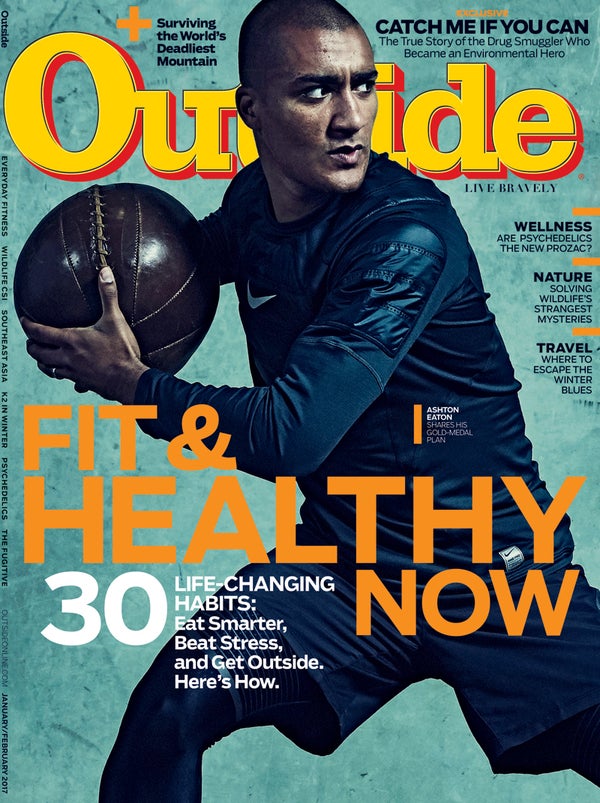 Outside Magazine, January/February 2017
---
BODYWORK SPECIAL
24-Hour Fitness
The secret to wellness? Maximize all those daily choices—walk or drive? log in or work out?—that can make or break your health. By Gordy Megroz
Long Gone
In the 1970s, fisherman Raymond Stansel lived large as one of Florida's biggest pot smugglers. When he got caught and skipped bail, a strange adventure began—life on the lam as a conservationist. By Rich Schapiro
Exit Stage Left
As the Trump administration prepares a very different agenda for public lands, departing Interior Secretary Sally Jewell sits down with Christopher Keyes to talk about her legacy and the changes to come.
Feel the Noise
Ah, wilderness, where the wind whispers through the pines and the iHome rechargeable mini speaker cranks out Drake and 38 Special. This is bliss to Chuck Thompson, who makes no apologies (well, maybe a few) for bringing tech into the woods.
Tinier Than Thou
Once the cult vision of hipsters and design freaks, the tiny-house movement has grown downright huge. Mark Sundeen joins the faithful to see if the simple dream is still alive.
A Healthy Dose
These days, Americans are taking psychedelics like ayahuasca not to get high, but as part of a new self-help craze. Grayson Schaffer dismissed it, ridiculed it, and then tried it. He's never felt better in his life.
The Detective of Northern Oddities
In a mammalian version of CSI: Alaska, Kathy Burek is a veterinary pathologist who slices open whales and polar bears to determine cause of death. What her necropsies reveal is a truly disturbing picture of the warming North. By Christopher Solomon
DISPATCHES
First Look: A 22-year-old from the Netherlands has a bold idea for getting plastic debris out of our oceans. It just might work.
Media: The radical quest to live a simpler life.
Mountaineering: Climbing the world's most dangerous peak. In winter.
Epic: Seven marathons on seven continents—what does it take to survive the greatest running event on the planet?
Icon: Jimmy Chin's tricks for staying way ahead of the curve.
ESSENTIALS
Wanted: A motorized big-wheel for grown-up kids.
Outfitted: Ski setups for big days at the resort and in the backcountry.
Spectrum: Footwear that's part boot, part sneaker, and all beautiful.
Upgrade: Tailgate like a pro.
Style: Women's cold-weather fitness apparel.
DESTINATIONS
Southeast Asia: Get off the backpacking trail with these wild escapes, from cycling among forgotten temples in Laos, to free­diving with whale sharks in Indonesia, to surfing and yoga in Sri Lanka.
Base Camp: Kicking back in the olive groves on the edge of California's Los Padres mountains.
Go List: Dog-friendly lodging, and a ski bag way better than its name.
Plus
Exposure
Between the Lines
Parting Shot