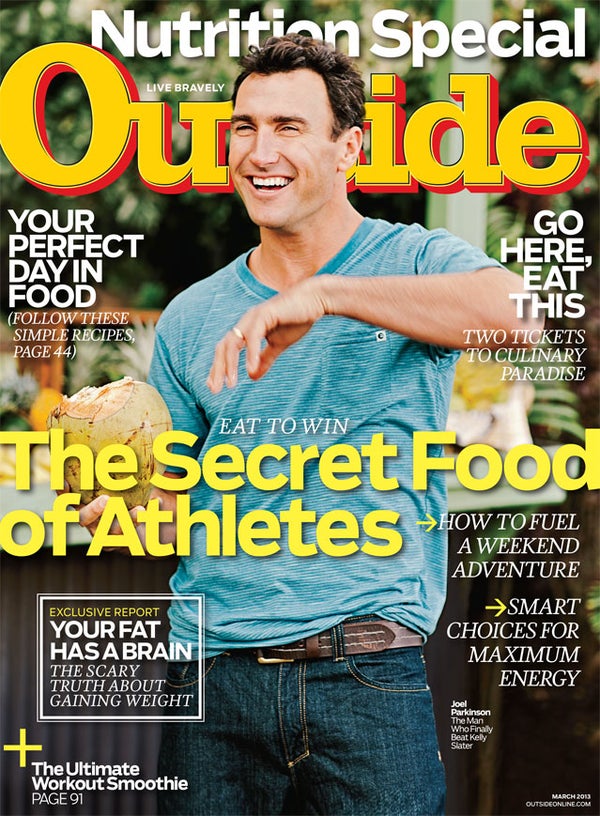 Outside Magazine, Mar 2013
---
Real Men Love Kale
Bestselling food columnist Mark Bittman reveals a simple and delicious new plan to fuel your active day. Surprise: it's mostly vegan.
Eating the Island
People are flocking to Washington's remote Willows Inn, where 26-year-old chef Blaine Wetzel creates feverishly creative tasting menus fished, farmed, and foraged out his back door. By Rowan Jacobsen
Stranglehold
Your fat has a brain. Seriously. And it's trying to kill you. The only thing that can save you is fat's worst enemy: muscle. Bill Gifford reports from the front lines of the battle for control of your body.
Hunger Is the Best Sauce
When you're hunkered down in a tent in bone-chilling rain, damn if freeze-dried grub isn't some of the tastiest cuisine you'll ever try. An ode to the modern foodie's worst nightmare. By Steven Rinella
Cold Fusion
Meltwater from ancient glaciers: that's how Alaska Distillery iceberg cowboy Scott Lindquist starts his vodka recipe. And to get it, he uses ropes, climbing screws, and a hockey stick to lasso-car-size cubes in Prince William Sound. By David Kushner
departments
DISPATCHES
Self-Reliance: Apparel designers are creating gear for a new generation of athletic hunters—and making a killing.
Crisis Response: Mapping the urgent work of hunger relief.
Q&A: Restaurateur Kristofor Lofgren breaks down the challenges of sustainable sushi.
Drink: Craft distilleries and the craze for hometown hooch.
Media: The only four cookbooks you'll ever need.
Epic: Bagels, pizza, knish. A food marathon in New York City.
DESTINATIONS
Eat Here Now: From Spain to Vietnam, the best trips for hungry adventurers.
Go List: Getting exotic treats through customs; Alta's anniversary ale; great airport dining.
Base Camp: Slow food meets tropical living in Belize.
Weekend Plan: Five perfect pit stops after a day of climbing, surfing, hiking, or canyoneering.
BODYWORK SPECIAL
The nutrition fueling America's best athletes is as important as their exercise regimens. Nick Heil goes behind the scenes at the Olympic Training Center.
ESSENTIALS
Grills: Your guide to going whole hog come barbecue season.
Buying Right: Why manual coffeemakers are best.
Spectrum: Our mashup of the burliest blenders.