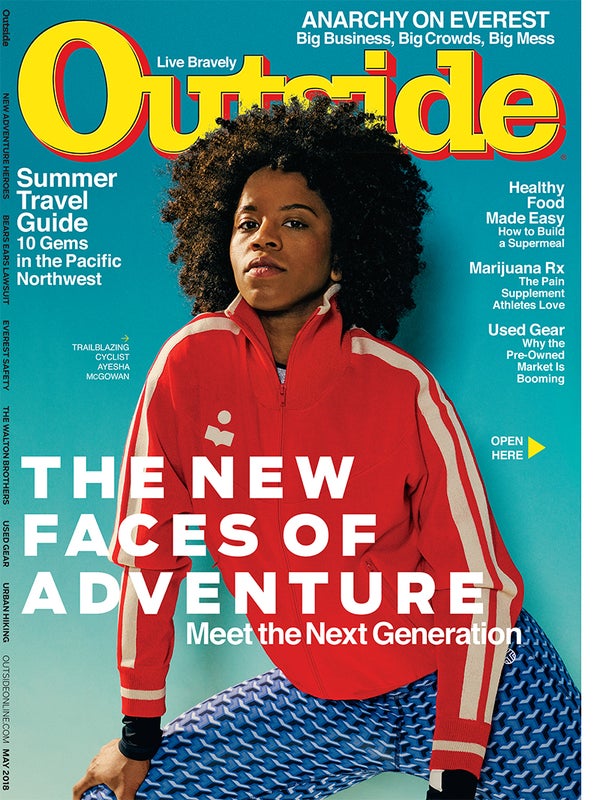 Outside Magazine, May 2018
Stories
Thanks to a bold movement led by activists and athletes, the outdoors at last is on its way to becoming a more inclusive playground. It's about damn time.
---
Features
Faces of Change 2018
This Is What Adventure Looks Like: From Ayesha McGowan, who is vying to become the first female African American pro cyclist, to Elyse Rylander, a travel expert facilitating outdoor experiences for LGBTQ youth, these 12 rising leaders are building a more inclusive adventure community. —interviews by James Edward Mills
We're Here. You Just Don't See Us.: "Black people don't like the outdoors." Latria Graham has confronted this wrongheaded belief her entire life. She argues that diversity outside has nothing to do with desire and everything to do with opportunity. —Latria Graham
The Tribes v. Donald Trump: For anyone concerned about the current administration's decision to shrink Bears Ears National Monument, meet your new heroes: a crack team of Native American attorneys waging a legal battle that could shape conservation for generations. —Abe Streep
The Survivors: Wilderness therapy has benefited everyone from wayward teens to combat veterans. Can it help heal victims of sex trafficking? Florence Williams embarks on a backcountry expedition with Atlanta-based She Is Able and returns with some surprising conclusions. —Florence Williams
Like the Appalachian Trail, But with More Stoplights: Ready for a through-hike that strings together city parks, concrete stairways, and underground tunnels? Fall in with distance trekker Liz "Snorkel" Thomas, unofficial captain of a fledgling movement aimed at reinventing urban recreation. —Erin Berger
Dispatches
Big Idea
No Safety in Numbers: Nepal instituted new regulations on Mount Everest. Will they actually change anything? —Alan Arnette
The Outsider
Tom and Steuart Walton: The Walmart heirs are transforming Bentonville, Arkansas, into a mountain-biking mecca.
Media
Rural Reads: Books about families surviving and adapting in ranch and farm country. Plus, the new documentary Mountain.
Travel
Pacific Northwest: Rediscover the Big Green, from British Columbia's surfing to Oregon's best brewery.
24 Hours: Secret adventures in New Orleans.
Gear
Used Gear: Why outdoor brands would love to sell that old puffy in your closet.
Spring Jackets: The best line of defense against shoulder-season showers.
Women's Workout: Everything to pack for a hardcore lunchtime gym session.
The Process: Kelli Jones of apparel-repair upstart Noso wants to patch you up.
Fitness
Recovery: Athletes are using CBD, extracted from the marijuana plant, as an anti-inflammatory and to manage pain. Is it the new wonder drug?
Laird's Laws: Tips for lifelong health and fitness from the big-wave legend.
Nutrition: Grain bowls packed with power.
Tools: From an ingenious anti-snoring device to a guided breathing system, sleep is the new life-hacking frontier.