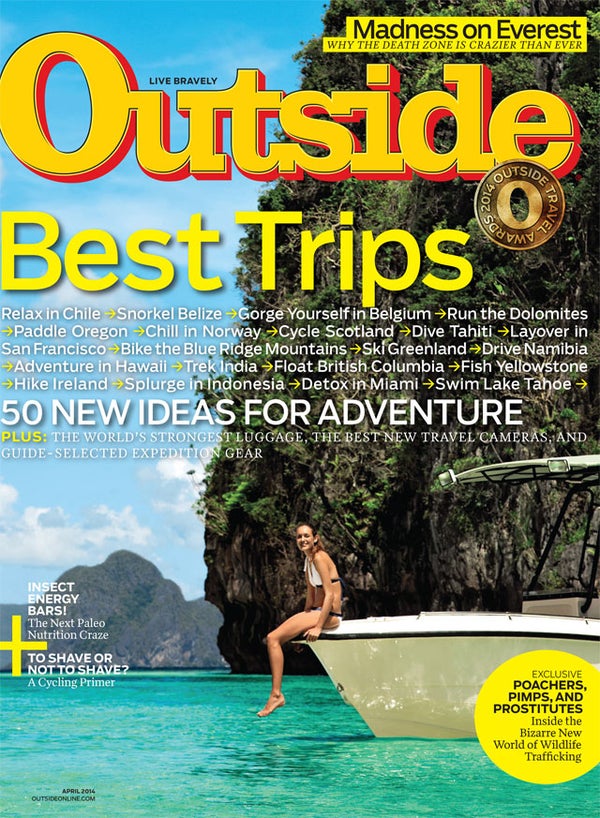 Outside Magazine, Apr 2014
Best trips and 50 new ideas for adventure
---
2014 TRAVEL AWARDS
Planet of Escapes
The votes are in, and our 50 winners reflect the best trips, deals, destinations, and adventures on earth, from island-hopping in Indonesia to tracking wolves in Sweden. Your life list just got longer.
Waiter, There's a Lionfish in my Soup!
A new front has opened up in the war on invasive species: the plate. With chefs like Bun Lai serving
up jellyfish rolls and feral-hog sashimi, the dinner bell has rung on America's invaders. By Rowan Jacobsen.
The Flat-Tire Project
When his marriage ended after 18 years, cyclist Andrew Tilin crash-landed into loneliness, anger, and sorrow. Then he turned to the one thing he could count on to get him back on the road to life: his bike.
Young Man in a Hurry
Can a 25-year-old photographer remake the flailing Lonely Planet guidebook brand for the digital age? It's complicated. By Charles Bethea
Hornswoggled
A bizarre poaching scheme in South Africa started with lion bones and ended in wholesale rhino slaughter, with plenty of partying, gambling, and prostitution along the way. Paul Kvinta digs into one of the world's strangest cases of wildlife crime.
DISPATCHES
Everest 2014: The climbers who will grab headlines at the top of the world. Plus, the tech and stunts that will make this year one for the ages.
Covet: The perfect sunglasses for spring skiing.
Media: Peter Stark and Carl Hoffman retrace historical adventures gone awry; James Cameron tackles climate change.
Rising Star: Hawaiian surfer Alessa Quizon.
Drink: Eating local has reached its natural apex—foraged beer.
BODYWORK
Nutrition: Are athletes ready to embrace energy bars made from crickets? Some upstart nutrition companies say yes.
Grooming: To shave or not to shave—a cyclist's primer.
Active Cities: Los Angeles
ESSENTIALS
Travel Cameras: Slimmed-down shooters that don't skimp on image quality.
Pro Picks: The gear that guides don't leave home without.
Spectrum: Luggage for every trip and purpose.
STYLE
Travel: The art of looking good on the road.
plus
Exposure
Between the Lines
Parting Shot