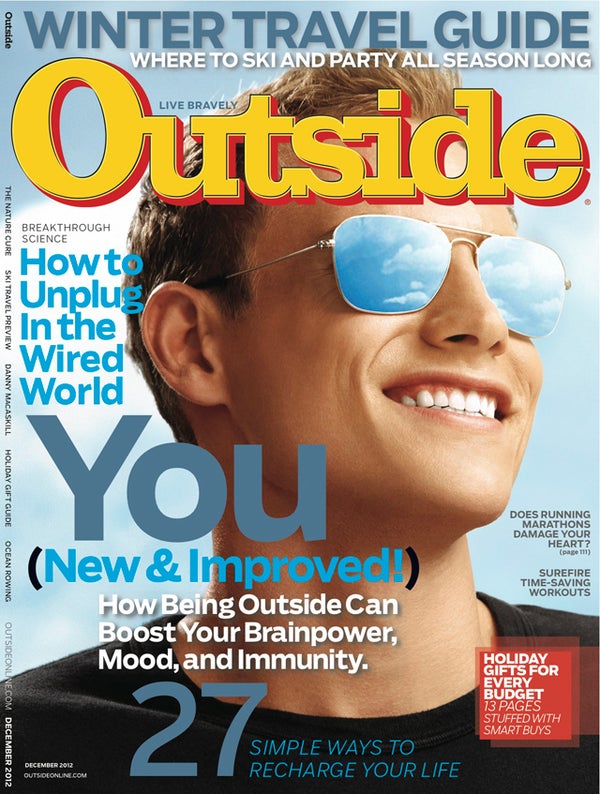 Outside Magazine, Dec 2012
---
Take Two Hours of Pine Forest and Call Me in the Morning
With everything we want only a click away, scientists are discovering the benefits of the thing we need most: time spent outside. Florence Williams goes forest bathing.
Plus: Six ways to naturally recharge in a wired world. By Gretchen Reynolds
Danny MacAskill Can't Ride a Bike
Clips of the Scottish trials phenom throwing flips and 360s in city streets made him YouTube famous. Then he got hurt—bad. Nick Heil catches up with the two-wheeled king of viral video as he prepares to relaunch.
War and Piste
In the Hindu Kush lies a range of 12,000-foot peaks with some of the rawest skiing on the planet. Elliott D. Woods heads for the mountains of Afghanistan and finds locals isolated from the conflict, welcoming to Westerners, and hungry for powder turns.
For Love or Money?
Just because you're on a budget this holiday season doesn't mean you can't knock the socks off the adventurers on your list. From ultrawarm jackets to craft moonshine, here are 67 of our favorite things for under a grand. (Plus one absurdly expensive electric car.) By Ali Carr Troxell
departments
DISPATCHES
First Look: Open-ocean rowing is growing fast thanks to new technologies that make record-setting crossings more attainable than ever.
Competition: A behind-the-scenes look at pro surfing's ultimate proving ground, the Pipe Masters.
Books: Life hacker Tim Ferriss wants to teach you how to hunt, harvest, and cook dinner in (wait for it) four hours.
Tech: Heads-up displays are coming to adventure sports. But do we need them?
Media: An insanely dangerous whitewater-kayaking race might be just the thing to reboot the flagging sport.
DESTINATIONS
Ski Resort Special: North America's top spots for powder hounds, park rats, and parents seeking kid-friendly slopes.
Plus: Missouri entrepreneur Tim Boyd turns modest Midwestern rises into full-blown ski slopes.
BODYWORK
In the Lead: According to an alarming new study, endurance athletes may be running themselves to death.
Moves: Your interval training isn't as intense as it should be.
Tools: Next-gen stationary bikes up the realism factor with strain gauges, magnetic flywheels, and Google Maps integration.
Pulse: Skin care for the mountain man, why training reduces anxiety, and the all-time greatest protein bar.
columns
FIELD NOTES
An FBI informant nails an environmental activist who seemed only a bathtub bomb away from ecoterrorism. It looked like swift justice—except that the agent paid for the explosives. By Dean Kuipers
plus
EXPOSURE
BETWEEN THE LINES
FEEDBACK
PARTING SHOT
EDITOR'S LETTER