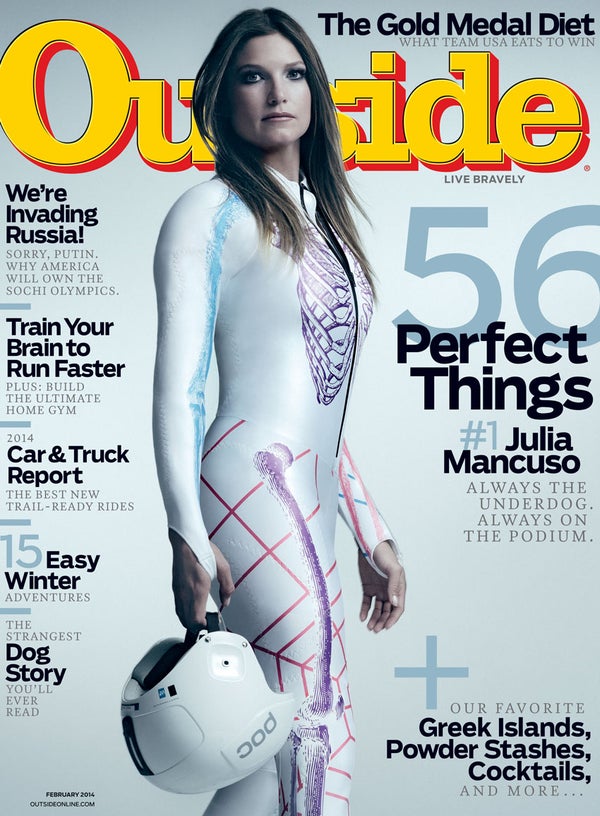 Outside Magazine, Feb 2014
---
A Superb Meteor
In 2007, Lance Mackey did the impossible: he won Alaska's two most brutal dogsled races, the Yukon Quest and the Iditarod. Then, in 2008, he did it again. Six years later, the toughest musher in the sport's history is learning a new kind of resilience. By Josh Dean
The Devil Made Me Do It
The empty wilds of Tasmania -boast some of the rawest playgrounds on earth. Stephanie Pearson goes way, way Down Under to sample Class V whitewater, turbulent seas, primeval forests—and some fine local pinot.
Blood in the Sand
The inky darkness of Costa Rica's desolate Caribbean coast is ideal for the leatherback turtles that crawl ashore to lay their eggs. It also provided perfect cover for the men who, on one black night last May, murdered an environmentalist trying to save the endangered giants. By Matthew Power
The Right Stuff
There are some things in life just too good not to share—things we can't help but celebrate. So here's a toast to the Yukon Territory, slope-side bloody marys, and a rolling cabin you can take with you almost anywhere. Plus: Julia Mancuso, the Olympian next door.
DISPATCHES SPECIAL
2014 Winter Games: We're ­invading Russia! And with a troop of young freeskiers, the fastest bobsled ever invented, and a secret cross-country weapon known as the Kikkanimal, we'll be taking our plunder in gold, thanks.
Exposure: America's new Olympic-darlings, the U.S. women's ski-jumping team, have already overcome their biggest hurdle—getting their sport into the Games.
DESTINATIONS
Lodges: Whether you want to surf unspoiled El Salvador or fat-bike the woods of Washington, these eight hideaways put you on top of the season's best adventures.
Go List: Cat-skiing deals, eating farm-to-table at the Denver airport, and a new way to rent skis.
Journeys: Leave the Andes to the extreme types. For empty beaches and candlelit villages, enter the relaxed state of Uruguay.
BODYWORK
Brain Training: New research is showing everyday athletes how to rewire their neural networks to perform like the pros.
Tools: Essential home-gym equipment to keep you strong through winter.
Pulse: Beef jerky, the original energy bar; and why cleanses are a waste of money.
Fuel: The U.S. Ski Team's favorite meal.
ESSENTIALS
Cars & Trucks: SUVs, wagons, crossovers, and hybrids—we rate the best and burliest of 2014's adventure-ready vehicles. Plus: trip-saving apps and gear to outfit every driver.
plus
BETWEEN THE LINES
PARTING SHOT