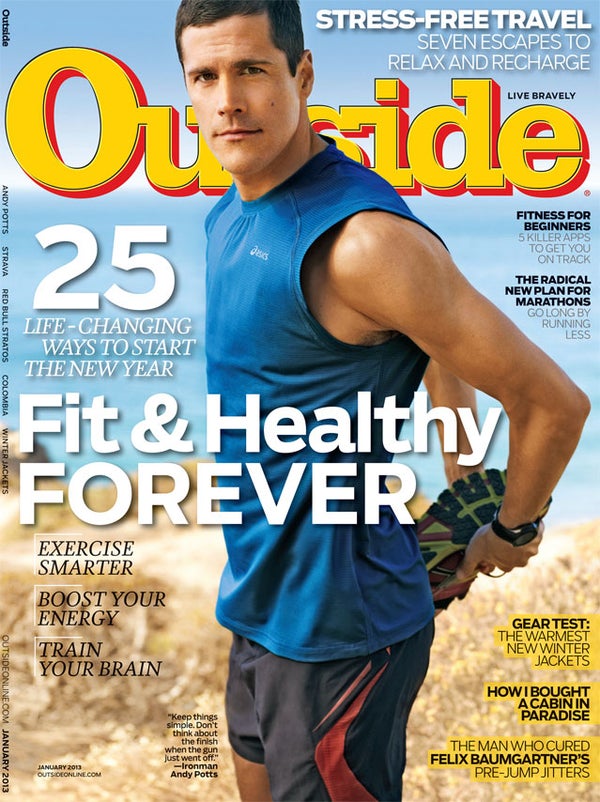 Outside Magazine, Jan 2013
---
The Agony and the Heresy
Brian MacKenzie says he can mold better distance runners with a regimen of short, intense ­effort instead of endless brain-numbing miles. Christopher Solomon grabs a kettlebell, does a couple thousand wind sprints, and prepares for one very painful marathon.
Stravalocity
The popular social-­fitness app lets you log data from bike rides and share it with friends. It also turns even casual outings into hammerfests. Tom ­Vanderbilt on how Strava is transforming millions of amateur cyclists into fevered number crunchers.
Get Your Head in the Game
What do Olympian Kerri Walsh, daredevil Felix Baumgartner, and the ­Seattle Seahawks all have in common? Their shrink, ­Michael Gervais, who helps them perform at their best by setting loose their demons. By Brian Mockenhaupt
Disappearing Act
Photographer and climate-change ­researcher James Balog wants to document the world's glaciers and snowfields before they're gone forever. A new film about his efforts, ­Chasing Ice, is stunning—and ­terrifying. Will it succeed where An Inconvenient Truth failed? By Sam Moulton
Love in the Time of Coca
For decades, the drug ­cartels kept adventurers away from ­Colombia's ­empty beaches and ­soaring peaks. With the violence receding, Stephanie Pearson returns to a country of ­untrammeled beauty.
Plus: The Tune-Up
Look for proven race, nutrition, and ­recovery strategies from ­Olympic triathlete Andy Potts and other fitness pros throughout the issue.
departments
EXPOSURE SPECIAL
In October, Felix Baumgartner jumped from the edge of space, shattering the sound ­barrier and the record for the highest ­skydive. Ryan Krogh goes behind the scenes at the Red Bull Stratos launch.
DISPATCHES
First Look: To save his crew, Ernest Shackleton rowed 800 miles across the Southern Ocean. Can an ­Australian explorer do it 97 years later with period gear?
News From the Field: Utah's contro­versial plan to combine seven ski areas into one European-style megaresort.
Feuds: The discovery of a potential new source of the Amazon River has two watermen racing to claim the first descent.
Media: A guidebook to surviving the apocalypse, and how to fake that you read Jared Diamond's latest doorstop, The World Until Yesterday.
DESTINATIONS
Get Lost: From yoga on the Yucatán to surfing in Hawaii, seven trips to restore your mojo at the start of the New Year.
Weekend Plan: Want endless powder? These four cat-skiing operations deliver.
Journeys: Wildlife safaris that help ­protect the animals.
THE ESSENTIALS
Spectrum: The year's warmest—and most comfortable—winter jackets.
Slight Ride: Three-fingered gloves, ­ultra-stiff backcountry boots, and four more upgrades to help you ski better.
STYLE
Flannel gets technical.
columns
FIELD NOTES
There's no electricity or plumbing, and the only luxury is a cattle-trough hot tub. But there's no place Steven Rinella would ­rather be than his shack in the Alaskan wilderness.