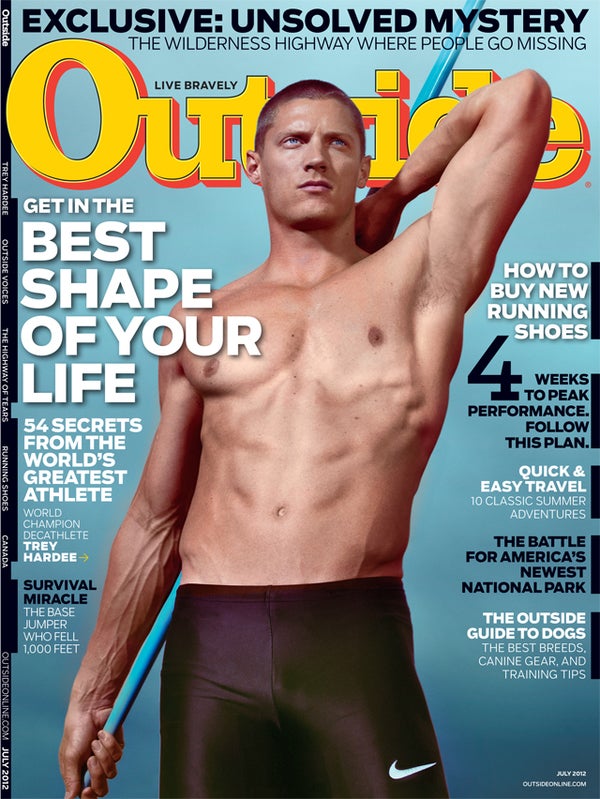 Outside Magazine, Jul 2012
---
NOW HEAR THIS
For our second annual Interview Issue, we asked 21 of the most colorful, engaging voices of 2012 to sound off.
featuring
SPRINTER JUSTIN GATLIN ON MAKING A COMEBACK
Interview by Abe Streep
BASE JUMPER JEB CORLISS ON LUCKY CRASHES
Interview by Matt Higgins
CYCLIST ANDY SCHLECK ON TOUR DE FRANCE DESTINY
Interview by Andrew Hood

SWIMMER RYAN LOCHTE ON BEATING MICHAEL PHELPS
Interview by Ryan Krogh
DIRECTOR LUCY WALKER ON FILMING CATASTROPHE
Interview by David Holbrooke
AUTHOR CHRISTOPHER MCDOUGALL ON GOING BAREFOOT
Interview by Christopher Keyes
ADVENTURER ROBERT YOUNG PELTON ON DANGEROUS PLACES
Interview by Sam Moulton
CLIMBER SASHA DIGIULIAN ON BREAKING INTO THE BOYS' CLUB
Interview by Adam Roy
FILMMAKERS ROBERT AND JAMIE REDFORD ON SAVING OUR RIVERS
Interview by Abe Streep
Plus: Getting politicians to speak candidly about the environment, and questions for James Cameron, Christo, and Bobo the Sasquatch tracker.
bodywork + exposure special
NOTES FROM AN ALCHEMIST
Champion decathlete Trey Hardee breaks down his training, diet, and recovery into a customizable formula that will have you in the best shape of your life. By Ryan Krogh
HIGHWAY OF TEARS
Since 1969, at least 18 women have vanished from a remote stretch of road in northern British Columbia. Bob Friel takes a long drive through a mysterious landscape to ask some frightening questions.
departments
DISPATCHES
First Look: Huge crashes, blazing bikes, no clear favorite—just a few reasons we can't wait for the Tour de France.
Drawing Board: After a 125-year ban, a tightrope walker takes on Niagara Falls.
Quests: Why the race to find Amelia Earhart's plane is heating up. Again.
XX Factor: Meet the new and beautiful first lady of fly-fishing.
Feuds: California plans to shutter 70 of its recreation areas. Is this the death knell for state parks as we know them?
DESTINATIONS
Invade Canada! Our neighbor to the north claims some of the world's best adventure playgrounds. From mountain biking in Quebec to climbing in British Columbia, these are your prime targets.
Journeys: Four awe-inspiring trips in one (very safe) Middle Eastern country.
STYLE
Watches that pop and sunglasses with woodsy appeal. Plus: Enough with the sport-specific eyewear in public.
THE ESSENTIALS
Covet: From slo-mo video to razor-sharp stills, the latest DSLR does it all.
Road Runners: Shoes for every type of pavement pounder.
Race Tech: Post your best triathlon with these nine ultralight, aerodynamic, fatigue-fighting tools.
the guide
THE ULTIMATE OUTDOOR COMPANION
All you need to know about going wild with man's best friend, including training tips, canine gear, and wilderness etiquette.
columns
NATURAL INTELLIGENCE
Burt's Bees cofounder Roxanne Quimby wants to give the federal government 74,000 acres for a national park. Why do so many locals have a problem with that? By Brian Kevin
DROPPING IN
Ten summits. Three days. One nagging case of Lyme disease. Nothing can stop aspiring hardman Christopher Solomon from totally surviving one of the most difficult guided climbs in America.