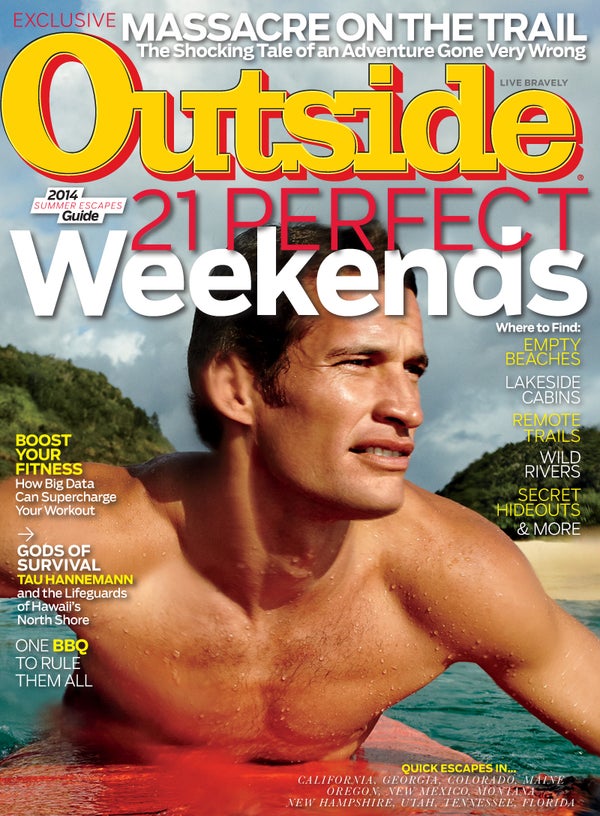 Outside Magazine, Jun 2014
---
Tiptoe Through the Three-Footers
Hanging ten is hard enough if you're a pro. But for an amateur surfer with a nerve disorder hampering his every step, inching even a single piggy in the right direction is an exercise in grit. By Erik Hedegaard
Payback
Last fall, a trekking group was setting up camp on a remote trail in Papua New Guinea when three men wielding machetes attacked their native porters, killing three and maiming six. Was the motive robbery? Or a deeper, more ancient grudge? By Carl Hoffman
Five Hundred Pounds of Stealth
You may not see them, but they almost certainly are watching you. As Caroline Alexander has learned through her own rugged exploration, the man-eating tigers of the Sundarbans rule their marshy corner of India and Bangladesh with an invisible iron paw. Here, kitty kitty…
Europe Has a Secret
It's called Albania, and it's made for adventure, with 9,000-foot peaks, Class III whitewater, and plenty of ancient Roman ports to park your sea kayak. Join Tim Neville on a joyful mission to a post-Communist playground full of smoking, dancing, drinking Muslims who like Americans—a lot.
DISPATCHES
Public Space: A backlash threatens to curb one of the fastest-growing movements in fitness—group workouts in city parks.
Rising Star: Waterman Kai Lenny is a prodigy across the board.
Community Rights: In the first-ever countywide fracking ban, the little guys are taking on Big Energy.
Covet: The god of backyard fire.
Media: Brawny tales from the wilderness. Plus, a flock of online travel shows take off.
The Outside Q&A: Chelsea Clinton's war on elephant poaching.
DESTINATIONS
Weekend Escapes: You've got 14 chances to get away between Memorial Day and Labor Day. We've got your plans: biking through wine country, chilling lakeside in Arkansas, getting marooned in the Florida Keys, and more.
Active Cities: Chicago
BODYWORK
Data Mining: Researchers are busily sifting through the mother lode of performance stats generated by our fitness trackers and training apps—and changing how we think about working out.
Moves: Why the fitness tools you need this summer are at the hardware store, not the gym.
Fuel: USA Soccer's game-day huevos.
Tools: Running gadgets to boost your personal best.
My Body: Team Garmin-Sharp cyclist Andrew Talansky.
ESSENTIALS
Road Bikes: From sleek climbers to all-around dream machines, the perfect ride for every pedal pusher.
Spectrum: Hiking boots for every kind of terrain.
Sunglasses: Shades that reveal more of what you want to see—and less of what you don't.

Plus
Exposure
Parting Shot