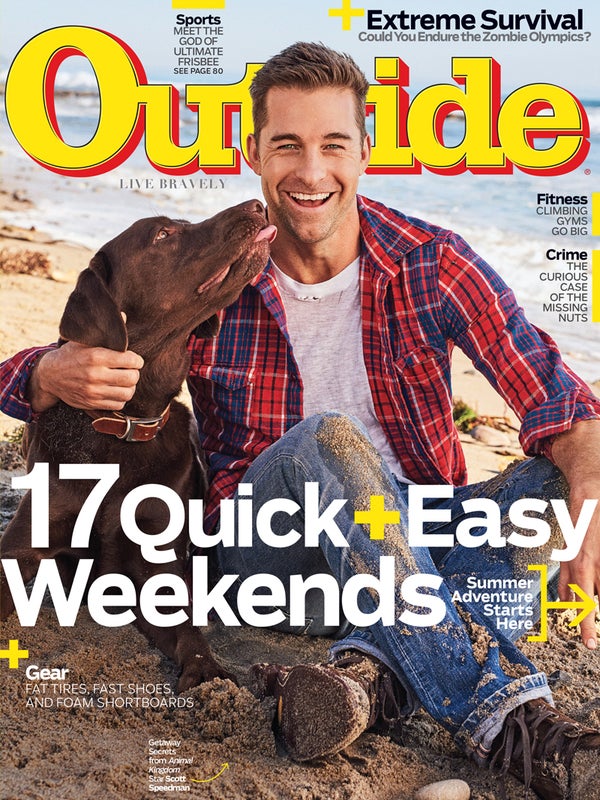 Outside Magazine, June 2017
---
Dispatches
All Over the Map: A new meetup group is helping hordes of young urbanites get into nature
Eye in the Sky: NOAA's new satellite will make forecasting devestating storms (and epic power days) more accurate than ever
Going Soft: We asked pro surfer Jamie O'Brien his secret for having more fun in the waves. His answer? A foamie.
Flight Club: A Brit's quest for four world wingsuiting records
Bodywork
Getting the Band Back Together: Everything we know about treating ACL and tendon injuries is wrong.
Power Plants: How athletes can get the most from a vegan diet.
Destinations
24 Hours in Minneapolis: The frozen tundra isn't frozen year-round.
Weekend Escapes 2017: Make the most of summer with these 48-hour ­adventures, from surfing in Texas to tasting your way through Oregon's wine country.
L.A. Wild: Where Animal Kingdom star Scott Speedman goes to blow off steam.
Essentials
Life in the Fat Lane: Oversize tires are the best thing to happen to trail riding in years.
5 Seconds with Alex Honnold: Your guide to the United States of climbing. Plus, tips to stay injury-free and some inspiring words from the world's best big-waller.
Features
Nut Job: In California, millions of dollars' worth of almonds, walnuts, and pistachios are disappearing. Farmers are perplexed, the cops are confused, and the crooks are getting richer.
Superiority Complex: A famously cold and frighteningly massive Lake Superior contains 10 percent of the world's surface freshwater, holds the remains of 6,000 shipwrecks, and offers a lifetime of adventure.
No Disc-Respect: After decades of being thought of as a pseudo-sport for longhairs, ultimate Frisbee is attracting elite athletes who are landing professional contracts. The hero of this new breed is Beau Kittredge.