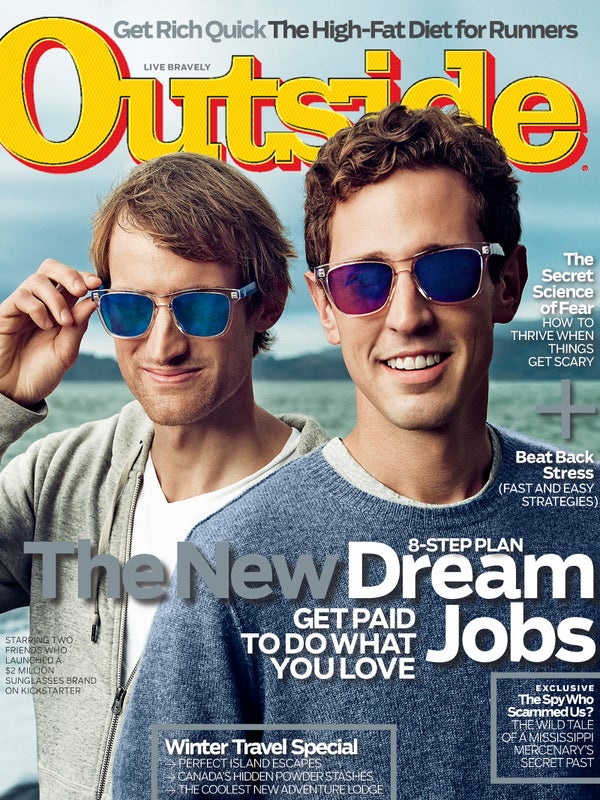 Outside Magazine, Nov 2014
---
Work, Play, Live
We can't all be marine biologists, but there are ways to turn your career into an adventure. Outside's guide to thriving in the 21st-century workplace shows you how. PLUS: Seven masters of reinvention share their wisdom. By Abe Streep
The Soul of Skiing in the Great White North
Imagine a winter wonderland of endless powder and open bowls, where the locals are friendly, you can afford the hamburgers, and a limousine consists of a king-cab pickup truck. Christopher Solomon found that place.
Yellow Streak
Fear can energize us—or shut us down. Now neuroscience is revealing how we can use our worst nightmares for peak performance. By Florence Williams
Secret Agent Man
CIA operative. Blackwater cofounder. Special-operations expert. In an upcoming memoir, spook Jamie Smith chronicles a life in the shadows. But is his story for real? By Ace Atkins and Michael Fechter
DISPATCHES
First Look: Daredevil Nik Wallenda has walked a high wire across Niagara Falls. Now he's going to tiptoe above the Windy City—without a net.
Obstacle Course Racing: Can the sport overcome its infighting?
Primer: Cyclists chase the hour record.
Food: The new maple syrup.
Rising Star: How Instagram yogi Rachel Brathen took over the world.
DESTINATIONS
Islands: Start planning your winter island escape. One of the wildest—St. John—is closer than you think. Plus: seven more surprising getaways.
Base Camp: A new adventure hub on Peru's Lake Titicaca.
BODYWORK
In the Lead: Could a high-fat diet fuel endurance performance? Say it's so.
My Body: Marathoner Meb Keflezighi runs on routine—and strawberry cheesecake.
Grooming: Save your skin this winter.
Tools: Smart watches.
Moves: The best stress busters, whether you've got ten seconds, ten minutes, or ten years.
ESSENTIALS
Wanted: Line's newest sticks make carving turns a work of art.
Skis: Our Snowbird, Utah, test revealed the best picks for powders, groomers, and everything in between.
Snowboards: A week of testing boiled down to these sweet three.
Accessories: What the snow pros won't leave home without.
STYLE
Cold Front: This winter, leave the long johns and oversize puffies at home.
Plus
Exposure
Parting Shot