John Huston on Polar Expeditions and Polar Bears
Huston just left the country for his expedition to Ellesmere Island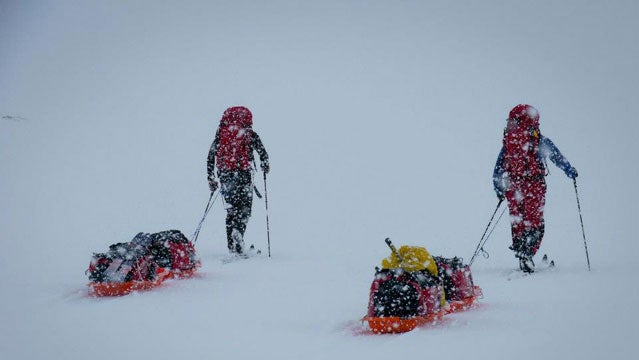 Kyle O'Donoghue/New Land 2013(Photo)
Heading out the door? Read this article on the new Outside+ app available now on iOS devices for members! Download the app.
John Huston is a pretty common name for a pretty uncommon man. The Huston that I talked to has just left for the Canadian Arctic. He is on a three-month expedition on the remote Ellesmere Island, where he will see more polar bears than people. Huston spoke with us about what it takes to make it in one of the wildest places on the planet.
Why do you go on polar expeditions?
It's not easy to be concise about this. I like expeditions because they challenge me in ways I like—to solve problems, work with people around the globe. I like the long-term challenges you face and that you have to commit to it. I love the simple life. It goes beyond beauty and thrill, which fade. I love forced creativity. You develop a special camaraderie that takes work and time to create. You never know exactly what is going to happen until you get on the ice, and I love that.
How do you train for a three-month journey?
Our loads are going to be about 150 pounds. It's really important to do a lot of core-strengthening multi-joint exercises to avoid injury. My body is not as forgiving as it was in the past, but I have changed my training to accommodate that. I lose my pectoral muscles quickly as my body starts to burn calories more quickly in the cold.
The other part of my training is for endurance. I walk around on the grass and snow on the shore of Lake Michigan and pull tires. This basically simulates the motions of pulling my sled. It's super-boring, but it also preps me psychologically. You can go crazy out there pulling for hours, but with training you just let your mind go.
That ties into the last part of my training, the mental side. I have to think of problems that we may encounter and how we can solve them. If you're not training, I doubt your commitment.
What do you eat while you train?
I eat a mostly vegetarian diet, but I put butter on everything. I need to gain as much weight as possible in order to not starve out there. I will make milkshakes with peanut butter and fudge, but it can be a lot of stress just to eat enough.
Why do you travel to the Arctic in general?
I'm a cold-weather specialist and I love the brisk weather. The Arctic is incomparable to anywhere else, but it's kind of like a desert. I want to see the changes occurring because of climate change before this beautiful biome disappears.
The starkness of the Arctic has isolated humans for centuries. I get to visit places that have been untouched by man. It can be very abstract to most people who don't go there.
How did you get excited about this? What is your inspiration?
I was inspired by the experience of polar explorers, not the glory. I read Shackleton as a kid and the most interesting thing was the journals full of positive experiences and success even though many were sailors with no expedition experience.
That's expedition life. The home logistics are gone. You can dial in and focus because time moves at a different pace. We live in a fast-paced society. Although I'm not trying to find it, I find the whole experience meditative.
Ellesmere Island is like a mythical jewel of Arctic wilderness. There are huge glaciers and deep mountain valleys with icy fjords.
We want to celebrate the last major expedition there by Otto Svedrup. He is an unsung hero and I want to bring his story to life. We are going to create a documentary about how an expedition works, to advocate for climate change education and to celebrate him.
What are you most excited about for this trip?
Ellesmere is extraordinarily remote. There's very minimal human presence. You can travel for two months and never see people. The wildlife is also less afraid of humans; they're much more curious because they've never been hunted before.
I want to get to know the land and the ice. The world up there is constantly shifting in a dance with the Arctic Ocean. It gives you a sense of your humanity.
What are you most nervous about?
I'm nervous about two things: our mode of travel and our route. No one has ever kite-skied on Ellesmere Island before and there are a lot of propulsion variables. There aren't specific destinations we want to reach. I'm also nervous about route stress. This isn't like going to the North Pole where I had a set goal.
Ellesmere also has the densest polar bear population in the world. I don't have any experience with bears yet, and you can get comfortable and then next thing you hear a bear. That's why we are bringing the dogs; they are the best bear-alert system possible. They will run free while we are ski-sailing and then hunker down with us at camp.
What's the hardest aspect of an expedition for you?
Food stress always gets me. I spend all my time daydreaming about food on the ice. I'm going to miss avocados so much.
What's your favorite moment when you're out in the wilderness?
It happens at the end of a long ski day. The sun doesn't go down all the way, but the light is constantly shifting on the ice. It's the most beautiful thing I've ever seen. You get your camp set up and the exhaustion and the emptiness just get to you. You sit and watch the sun float on the horizon for hours.
To follow along with Huston's journey, check out his website, Facebook, and Twitter.
Lead Photo: Kyle O'Donoghue/New Land 2013