The 28 Best Trips of 2016
From epic skiing in Antarctica to a lazy beer-fueled canoe trip in North Carolina, these are the best places to visit this year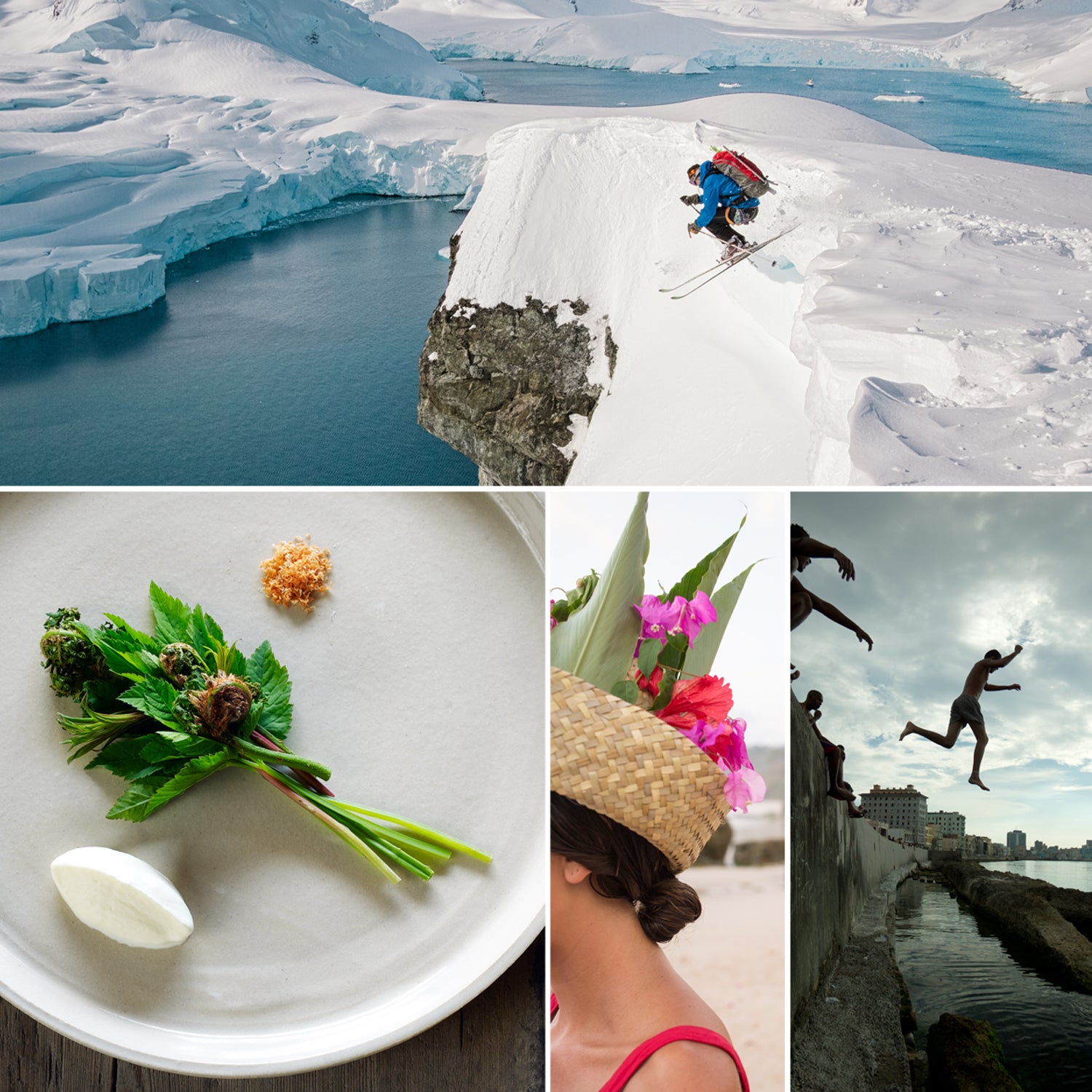 Michael Turek; Courtesy of San Lorenzo Lodges; Jim Harris; Chris Burkard; Erik Olsson
Heading out the door? Read this article on the new Outside+ app available now on iOS devices for members! Download the app.
Each year, we send our editors and writers on a mission to find the destinations on the vanguard of the travel. The major takeaway from our 28 favorites of 2016? The entire world is getting more adventurous. Travelers are pushing boundaries, from seeking out newly accessible Cuban bars to touring North Carolina breweries—by canoe. In years past, a cruise around the Antarctic involved lots of gawking at icebergs. Today, the same cruise has you booting up and ripping untouched snow with mountaineers Andrew McLean and Chris Davenport.
But don't think for a second that this trend is limited to far-flung and expensive trips: small towns like Bentonville, Arkansas, are investing in world-class mountain bike trails—maintained by professional crews!—and innovative, hard, and fun-as-hell races like Quincy, California's Grinduro are popping up just about everywhere. There's never been a better time to get out there—and this is the definitive guide to a year well traveled.
---
1. Jamaica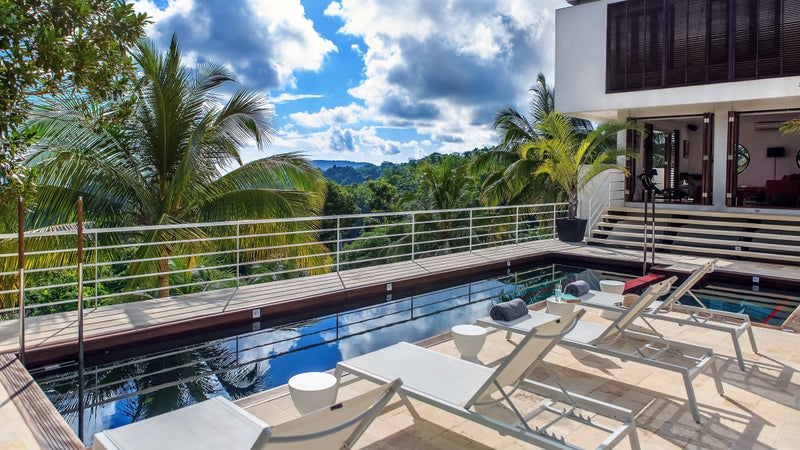 We know what you're thinking—reggae and ganja. But there's another reason to head here: Blue and John Crow Mountains National Park just earned World Heritage Status in 2015. This 65,000-acre tropical rainforest's two mountain ranges are a Caribbean biodiversity hot spot, with 1,357 species of flowering plants plus endangered birds like the yellow-billed parrot. On the clearest days, 7,402-foot Blue Mountain Peak offers views of Cuba, 130 miles to the north. Arrange an overnight or long-haul backpacking trip with Kingston-based Sun Venture Tours (from $230). For easy access to the park, book the brand-new, six-bedroom Cocosan villa (from $2,750), which sits on a lush hilltop near the northeast beach town of Port Antonio. —Stephanie Pearson
---
2. Bentonville, Arkansas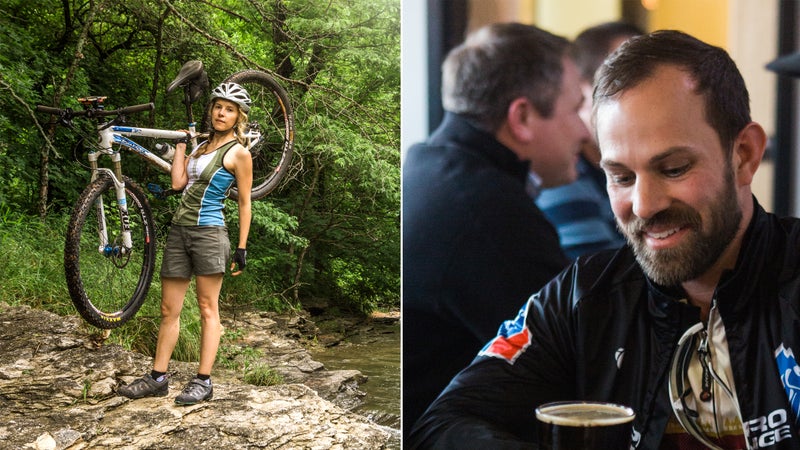 Yes, the home of Walmart's corporate headquarters. The retail behemoth's presence means the town is flush with cash, and a lot of it has gone toward creating a premier mountain-biking destination. There are now some 23 miles of singletrack just three miles from downtown. Even better: Arkansas employs the only professional mountain-bike-trail maintenance crews in the U.S. But don't just take our word for it. The International Mountain Bicycling Association booked it for this year's World Summit in November. —Bryan Rogala
---
3. Basecamp Hotel, Tahoe City, California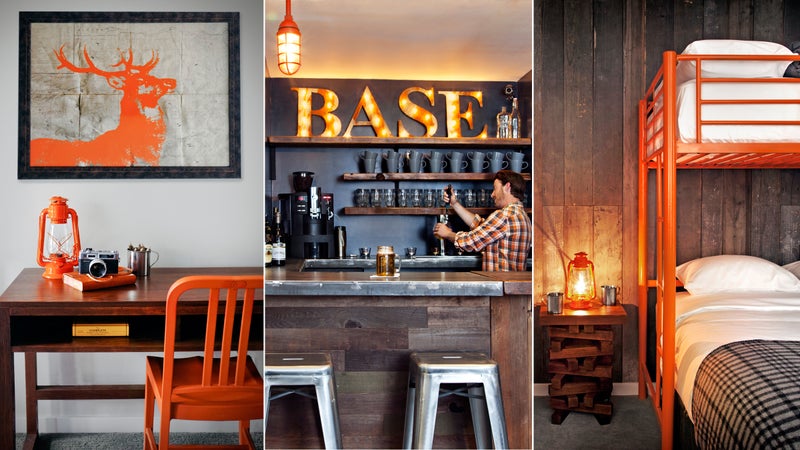 In 2012, Christian Strobel turned a decrepit motel in South Lake Tahoe into Basecamp, a boutique lodge for adventure travelers, with fire pits and GoPro screenings. Now he's giving Tahoe City a Basecamp of its own, with a yoga studio, in-room bike racks, and concierges with climbing beta—all located less than 20 minutes from the slopes. —Megan Michelson
---
4. Iran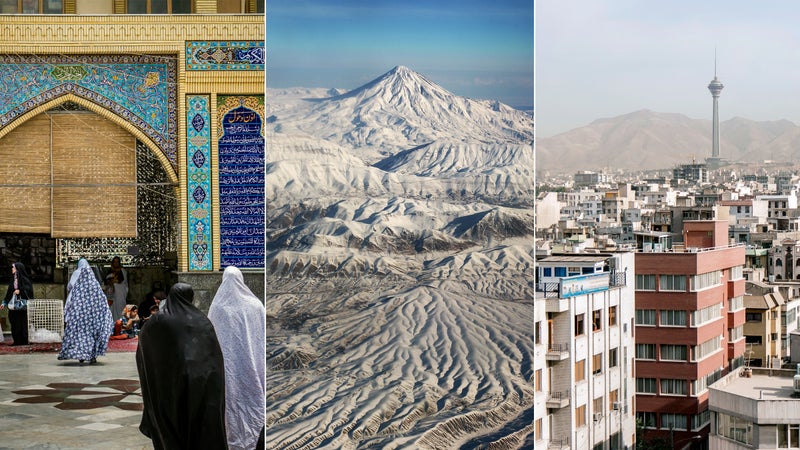 Look past the complicated politics and the dark image of the country's leadership; intrepid travelers who've trailblazed here come back with tales of lively culture and the overwhelming friendliness of the people. Skip the canned tours and start with a DIY circuit of Tehran's museums, cafés, mosques, and the Unesco World Heritage site of ancient Persepolis, in Shiraz. Then hook up with British outfitter Exodus to summit Iran's highest peak, the 18,464-foot, still-active volcano Mount Damavand (from $3,675). Located just 45 miles northeast of the capital, Damavand is a nontechnical but demanding five-day ascent, with views of the Caspian Sea to the north and barren desert to the south. "Damavand has the challenge of other more famous treks like Kilimanjaro but without the crowds," says Exodus's Emma Garrick. "Not encountering other groups for the entire route is practically guaranteed." —Graeme Green
---
5. Ladder Ranch, Gila Mountains, New Mexico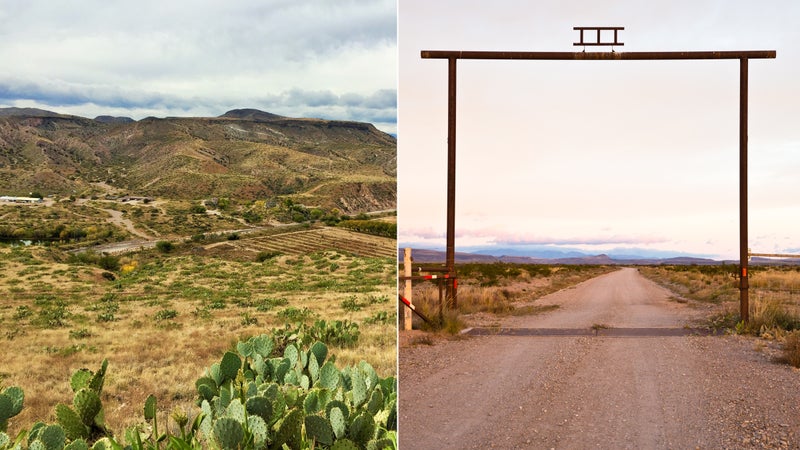 Media mogul Ted Turner has impeccable taste in real estate. Take Ladder Ranch, a remote five-bedroom home that opened to guests in September and sits on 160,000 acres of Turner's private land on the edge of the Gila Mountains and the Chiricahua Desert. Guests spend days mountain-biking, spotting bighorn sheep and elk, and visiting ancient petroglyphs. $6,000 for four people, all-inclusive. —Kate Siber
---
6. Nihiwatu, Sumba Island, Indonesia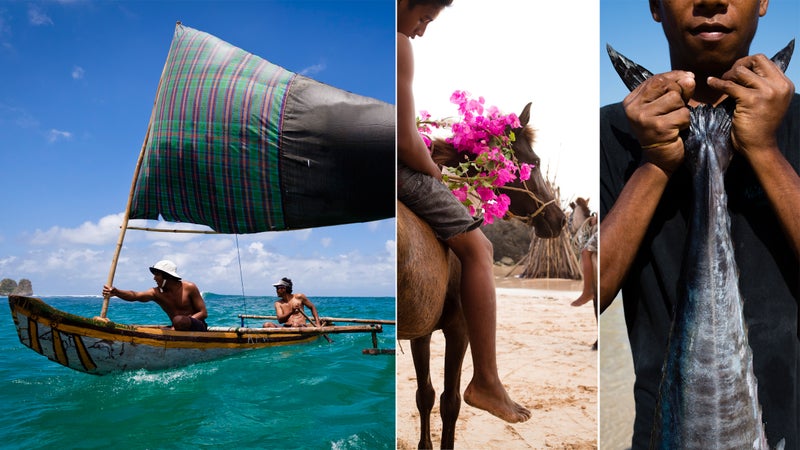 After a long search for the perfect surf spot, Claude and Petra Graves knew they were finished when they saw the reef break 100 yards off Nihiwatu Beach. The couple built the Nihiwatu eco-resort by the wave—it's an hour's flight east of Bali and comes complete with spear-fishing guides and an equestrian center. But the focus is still on surfing, and less than 80 guests per day means you won't have to battle for a spot on the huge, hollow left. From $1,000, all-inclusive. —Jen Murphy
---
7. Quincy, California
Think of the Grinduro as a soulful gran fondo for mountain bikers on hardtails and gravel-grinding nuts on cross bikes. The folks at Giro invented it as a new kind of race, combining the timed segments of endurance mountain biking with the luxe food of a century ride and inviting everyone to camp at a fairgrounds high in the Sierra Nevada. And while the resulting vibe is laidback, the course—held on fire roads in the Plumas National Forest—is definitely not: riders gain 7,500 feet in 60 miles, half of which comes in a brutal five-mile dirt climb that averages 12 percent and reduces many to walking. October 8. —Scott Rosenfield
---
8. Pemberton Music ­Festival, British Columbia
Picture Bonnaroo without the sweltering heat and mosquitoes and you've got Pembyfest. Last year 115,000 people saw Kendrick Lamar and the Black Keys headline, and things got weird. (Think: an adult-size ball pit and waterslide.) Plan to stay a couple of extra days to ride Pemberton's abundant singletrack, which you can roll to directly from the village. July 14–17; passes from $295. —Graham Averill
---
9. Ethiopia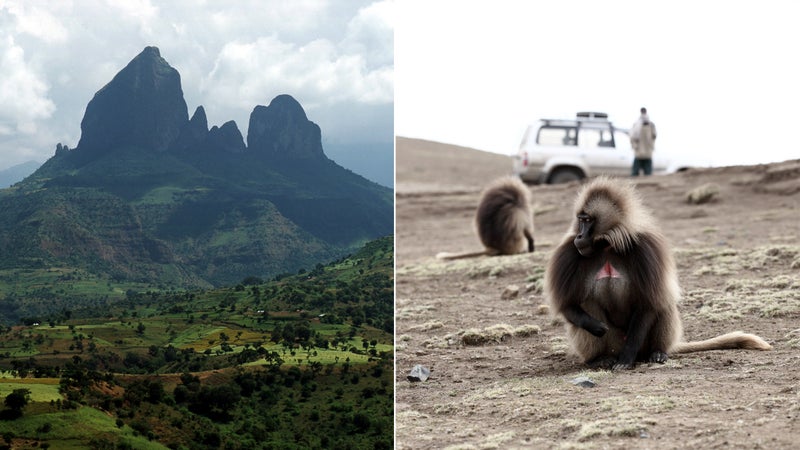 Ethiopia is an outlier. It follows a calendar different than the rest of the world. It harbors some of the world's last subsistence tribes, one of the harshest deserts on the planet, and (if you believe the locals) the Ark of the Covenant. It's also one of the fastest-growing economies in Africa, and recently it has made efforts to improve conditions for visitors. So tackle the Northern Historical Route, a rugged overland trail that leads past ancient stone churches and roaring waterfalls. Or book a few nights in the airy Limalimo Lodge (from $140). It opened in March in the Simien Mountains, which are threaded by trekking routes and populated by animals, like Ethiopian wolves and gelada monkeys, that are found nowhere else in the world. —K.S.
---
10. Portland, Oregon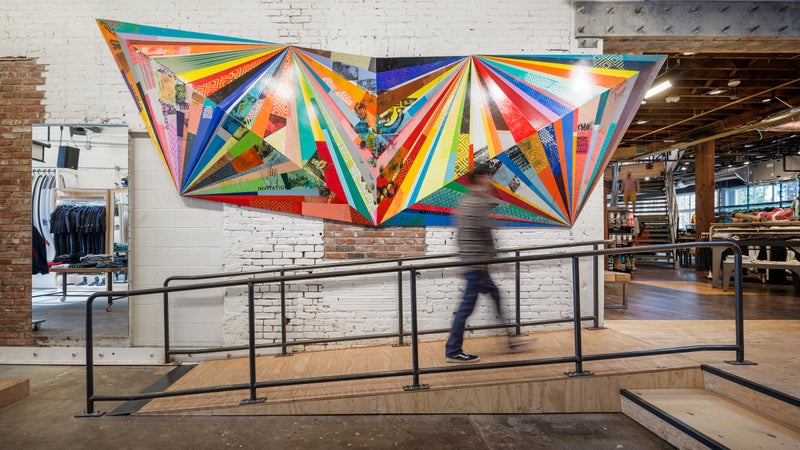 Specifically the Central Eastside. Once an industrial zone packed with old warehouses, it's now one of the city's coolest spots. Yes, that sounds like a setup for a Portlandia sketch. But the stunning new location of outfitter Evo is giving the area adventure cred. And after you browse skis, you can catch acts like Neko Case at Revolution Hall, a remodeled brick high school, or get the four-course chef's menu at Clarklewis, situated in a former loading dock. —M.M.
---
11. French Broad River, North Carolina
The beauty of traveling by canoe is that you can carry a lot of beer. There's probably no better place in the country to test out this theory than the mild 45-mile stretch of the French Broad that flows past the Southern outposts of three of America's most cherished craft breweries. Put in at Oskar Blues in Brevard, hit Sierra Nevada midway through the trip, and take out at New Belgium on the edge of downtown Asheville. Three days, three killer breweries, and island camping, thanks to the French Broad River Paddle Trail, a newly established series of campgrounds along the way. —G.A.
---
12. Smith Island, Maryland
Some of the most determined watermen in the world live on Smith Island, 12 miles off Maryland's coast. Shaped by Chesapeake Bay tides, this small patch of dry ground set in salt marsh offers access to a natural maze of kayak trails that cut through the sea grass. Undaunted by rising sea levels, the 300 or so remaining islanders stay true to age-old traditions, fishing for oysters and crabs while speaking the 400-year-old dialect of their Welsh and English ancestors. Catch the daily ferry on the mainland at Crisfield ($26 round-trip), then check out the island's cultural center, where you can rent bikes and kayaks. Stay the night at the Smith Island Inn (from $125), and don't skip a slice of ten-layer Smith Island cake, Maryland's official dessert. —Andrew Evans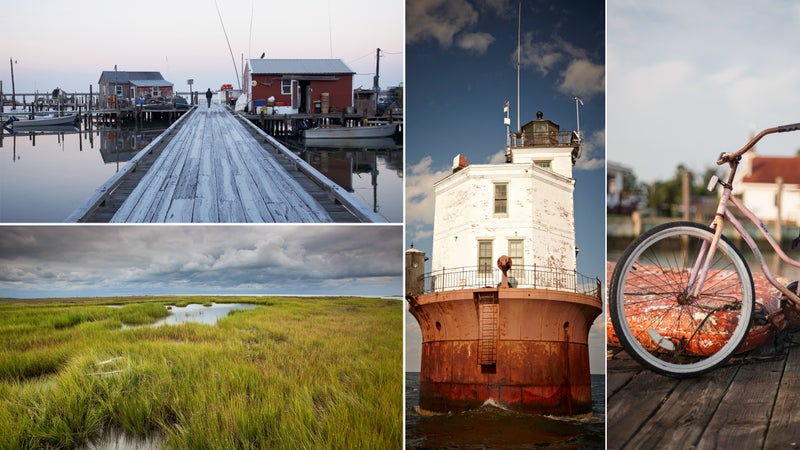 ---
13. Nevada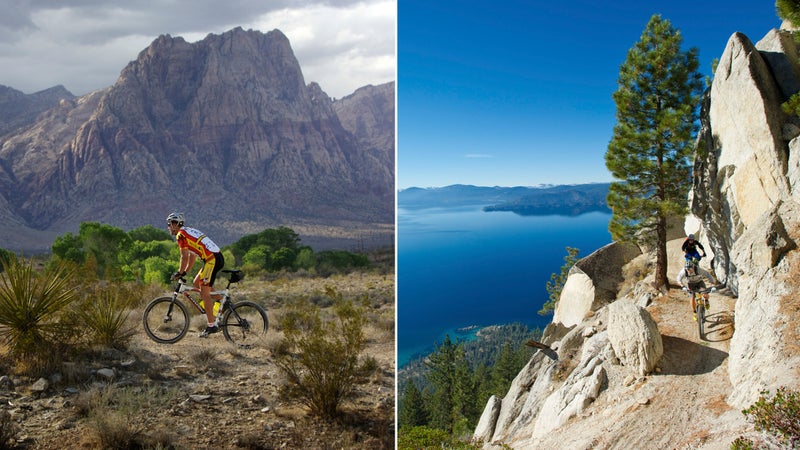 It's fair to say that Nevada's mountain-biking scene is exploding—from the 539-mile Trans-Nevada Trail, which starts at Lake Tahoe and spans the entire width of the state, to miles of new trails being constructed in the state's 48 million acres of Bureau of Land Management wilds. Start your tour of the best stuff 36 miles south of Las Vegas and ride 35 miles of smooth, flowy intermediate singletrack at the Bootleg Canyon bike park, which has received the Epic distinction from the International Mountain Bicycling Association. Then get farther afield in tiny Caliente, 150 miles northeast of Vegas, where IMBA plans to create 42 miles of trails this year. The group's ultimate goal is to build a 150-mile system. Until then, the gravel riding in the area's surrounding four million acres of BLM land is spectacular, and the 15 new campsites at Kershaw-Ryan State Park just south of town are quiet and tucked away at the base of a 700-foot canyon ($17). —S.P.
---
14. San Lorenzo Mountain Lodge, Dolomites, Italy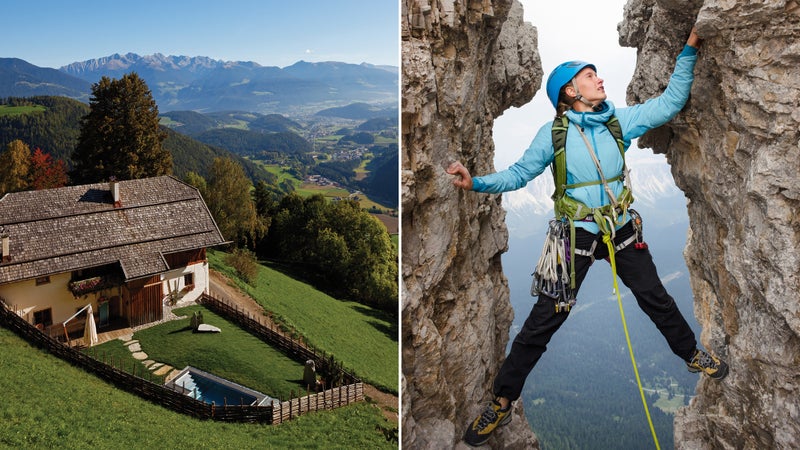 Giorgia and Stefano Barbini, two Italian fashion-industry veterans, reimagined a 16th-century hunting lodge into the type of place their friends would visit, preserving its Alpine charm while updating it with creature comforts like heated floors and, naturally, a heli-pad to access distant peaks for -hiking and skiing. Back at the lodge, Giorgia prepares dinner in the wood-fired stove while Stefano selects the evening's pairings from the stable turned 1,500-bottle wine cellar. From $2,300 for up to ten people. —J.M.
---
15. Wrangell–St. Elias National Park, Alaska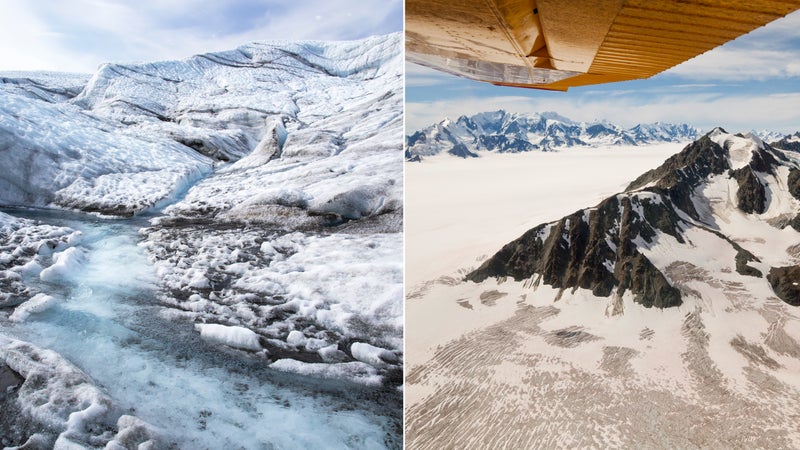 On St. Elias Alpine Guides' new pack-raft traverse across Alaska's Wrangell–St. Elias National Park, the action starts the moment the bush plane drops you at Nizina Lake, where you'll blow up your pack raft and paddle across the water, dodging icebergs fallen from the Nizina Glacier. Then you'll backpack for the next several days, until you reach the braided White River. From there it's all downhill: a four-day, 60-mile Class II trip that ends with a pickup in Canada's Yukon. From $4,000. —Chris Solomon
---
16. Scotland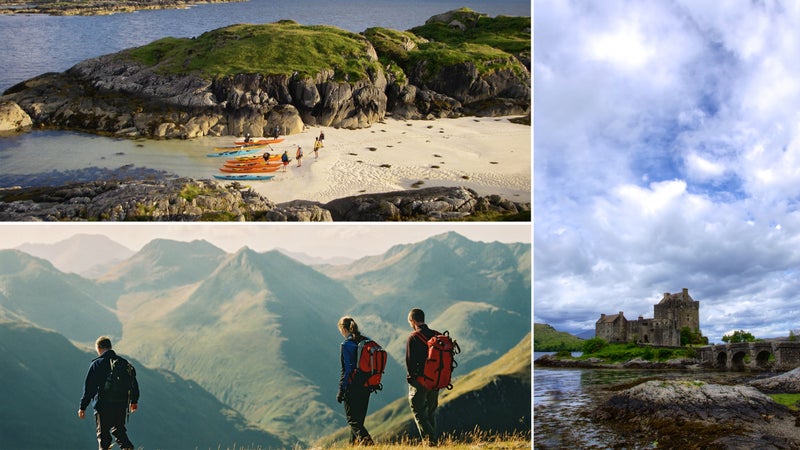 If John Muir and James Bond got together and dreamed up an adventure, it would look a lot like Outside GO's Camps to Castles journey across Scotland. You'll experience the spectacular Highlands and then unwind in 007-worthy castles, complete with roaring fireplaces and aged Scotch (which Ian Fleming aficionados know is Bond's true drink of choice). You'll arrive in Edinburgh and shake off jet lag with a hike to the top of Arthur's Seat, a dormant volcano that affords Instagram-perfect views of the capital. The next day, you'll head to the Highlands, taking a boat ride to the Strait of Corryvreckan for a spin in one of the world's largest natural whirlpools, off the coast of Islay. The village of Glencoe will be your base for mountain-biking singletrack and scrambling up rugged peaks. And you'll want to burn as many calories as possible, since dinners at Glencoe Country House have a reputation for decadence—think roast rump of lamb and sticky toffee pudding. In the morning, you'll kayak past otters and eagles en route to a secluded beach where camp tents and a roaring fire await. After a night in the wild, check in at Fonab Castle, then fish for salmon on the River Tay and take in views of Loch Faskally. From $5,450 for ten days. —J.M.
---
17. Nepal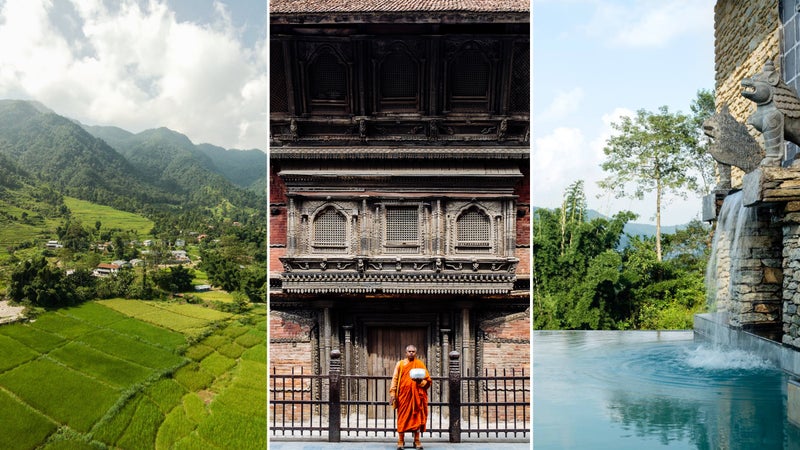 Go now. Much of the country was unaffected by the 2015 earthquake, and just 15 percent of the trekking routes were damaged. With tourism down by almost 40 percent, there's actually elbow room on the routes up to Everest Base Camp ($3,799 with REI Adventures). Visitors to Kathmandu can watch the painstaking restoration of historic monuments while staying at Dwarika's Hotel, a monument unto itself (from $220). The quake hasn't stopped exciting new developments, either. Pavilions Himalayas (from $250), a sustainable resort less than five miles from Pokhara, sits in a lush valley on a working organic farm and will eventually donate up to 70 percent of its profits to charity. From there you can hike Himalayan foothills or set out on a dawn birdwatching tour. Mountain bikers with big lungs: consider H&I Adventures' 12-day tour up trails between 5,000 and 13,000 feet in the Annapurna and Lower Mustang regions (from $3,350). —S.P.
---
18. Northshore, Louisiana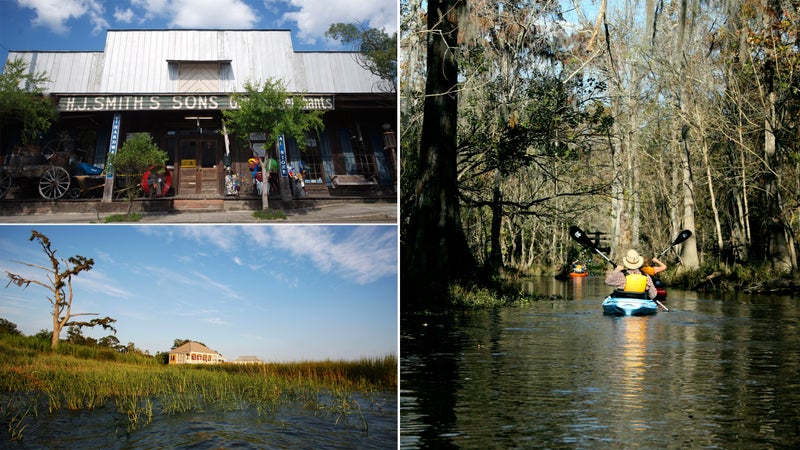 For Bayou charm, skip bland, boozy Bourbon Street and the voodoo tourist traps of New Orleans and head across the causeway to the other side of Lake Pontchartrain. The Northshore region was rocked by Hurricane Katrina but has undergone a serious rebirth in the past couple of years. In Covington, rent a set of wheels from Brooks' Bike Shop and hop on the Tammany Trace, a 27-mile rail trail that weaves through the wetlands. Pull off in Abita Springs, where Abita Beer is brewed with the namesake springwater. If it's a Saturday night, stick around for a bluegrass show at the Abita Opry. If not, head back to Covington to fill up on salumi and mussels at Del Porto, then sip a Sazerac at the Cypress Bar in the century-old Southern Hotel. —Cheney Gardner
---
19. Antarctica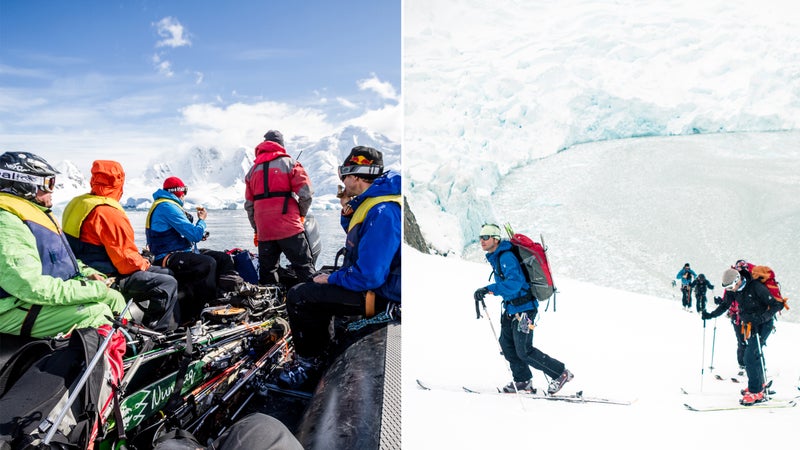 One can only imagine what Ernest Shackleton would think of the continent's transformation into an adventure travel hub. Now skiers can carve empty slopes with ski mountaineers Andrew McLean and Chris Davenport on a 13-day cruise with Ice Axe Expeditions (from $8,995, plus a $1,000 backcountry-skiing fee). Shackleton buffs can join all-star explorers Conrad Anker and Tim Jarvis on a 20-day trip that sails to Elephant Island, where his expedition took refuge after their ship sank (from $14,995). The seriously hardy can fat-bike to the South Pole on TDA Global Cycling's 18-day, 69-mile December Adventure. The $70,000 price tag is staggering but includes a Specialized fat bike to take home. Or opt for Outside GO's seven-day adventure on a 68-passenger icebreaker. You'll sea-kayak to remote inlets, hike to rugged peaks, and, if you dare, cannonball into the frigid ocean (from $11,595). —S.P.
---
20. Colombia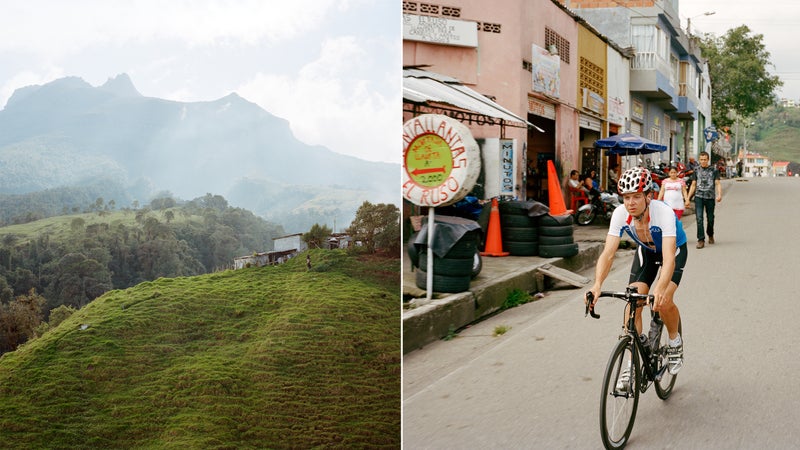 The country's passion for cycling is superheated at the moment, thanks to Nairo Quintana's second-place finish at the 2015 Tour de France. And adventure companies like Pure Colombia are offering new routes into forgotten corners of the Andes and across the coastal plains. Tackle the Alto de Letras—Colombia's signature ride and what's said to be the longest paved climb in the world at 51 miles. Or opt for something mellower: pedal a chunk of Colombia's coffee region, riding narrow, low-traffic streets past colonial villages, plantations, and high-elevation jungles. Make sure to fuel your ride with an agua-panela, hot sugarcane water mixed with melted cheese, known to locals as Colombian Gatorade. —G.A.
21. Santa Barbara, California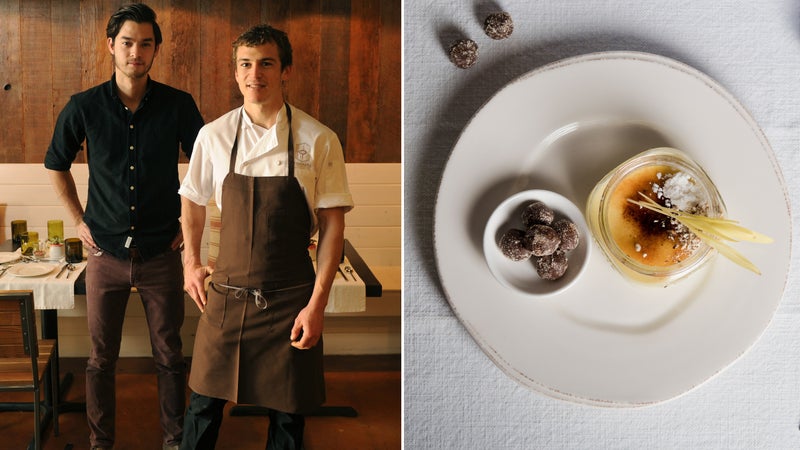 Santa Barbara usually brings to mind retirees on picture-perfect beaches. But the town of 90,000 is becoming younger, more active, and more interesting. Handlebar Coffee Roasters, off downtown's State Street, was started by two former pro cyclists and is the de facto meeting spot for the new breed of Santa Barbaran—the type that's fueling up for a trail run in the Los Padres National Forest or a ride into the Santa Ynez Mountains. At night you'll find the same crowd at downtown bistro Barbareño, which opened two years ago under the leadership of a twenty-something manager and wunderkind head chef. The team mixes can't-miss dishes with a sense of humor: the Egg McMuffin is an ode to the sandwich invented in 1971 at a McDonald's just down the road. —J. Wesley Judd
---
22. Australia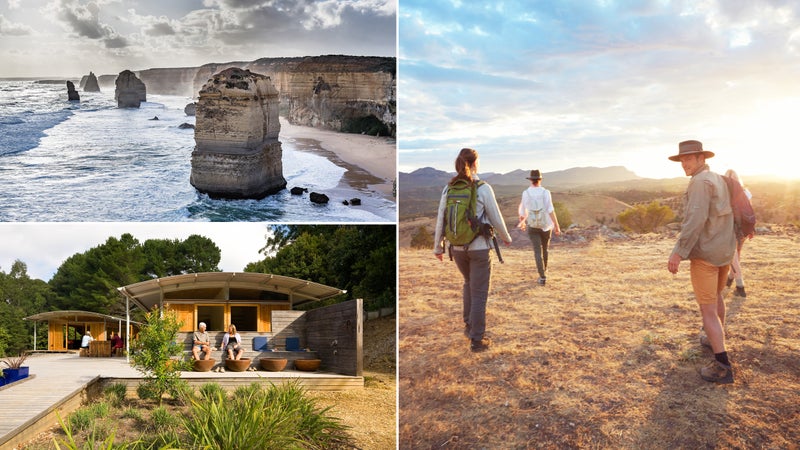 Trekkers often overlook Australia because they're dazzled by the descriptions of the routes in New Zealand (plus that whole Lord of the Rings thing). But Oz offers some of the best hiking routes on the planet. A particular stunner is Victoria's four-day guided Twelve Apostles Lodge Walk, a moderately difficult trail that covers 34 beautiful and remote miles hugging mainland Australia's southernmost coastline along the Bass Strait. Guests stay at an eco-lodge designed for trekkers, with a foot spa and an impressive collection of wines. From $1,432. —S.P.
---
23. Hokkaido, Japan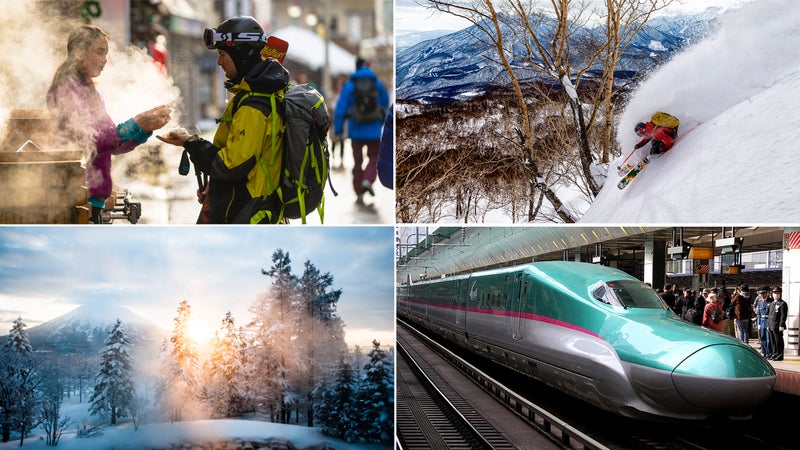 The far northern island of Hokkaido is known for hot springs, temples, serious powder in the winter, and alpine hiking in the summer. Getting there used to require a ferry or pricey flight. The new Hokkaido Shinkansen bullet train, scheduled to begin service in March, will take you from Tokyo to Hokkaido in just over four hours, reaching speeds of nearly 200 miles per hour and traveling through the longest undersea train tunnel in the world. —G.G.
---
24. South Africa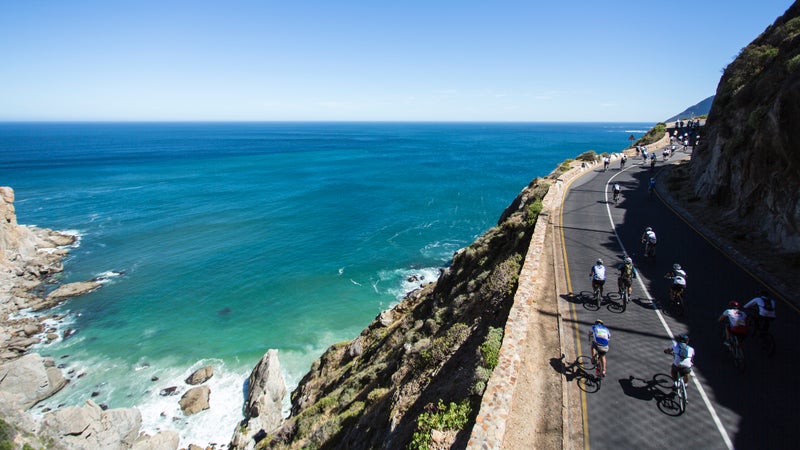 Because the country offers incredible wildlife and wine—but also because it hosts world-class races. On March 6, ride along-side 35,000 others in the 67-mile Cape Town Cycle Tour. Surfers, SUPers, and longboarders can sign up for the second annual Tiger's Milk Surf Classic, August 19 to 21, at Muizenberg Corner, 16 miles south of Cape Town. Worth noting: last year's inaugural event was cut short due to a great white shark sighting. The hottest new stage race is the three-day, 99-mile Lormar Endurance Mountain Bike Tour. You'll skirt the local high point—8,209-foot Compassberg—and pass through a game reserve filled with wildebeests, springbok, gemsbok, and zebras. —S.P.
---
25. Fäviken, Järpen, Sweden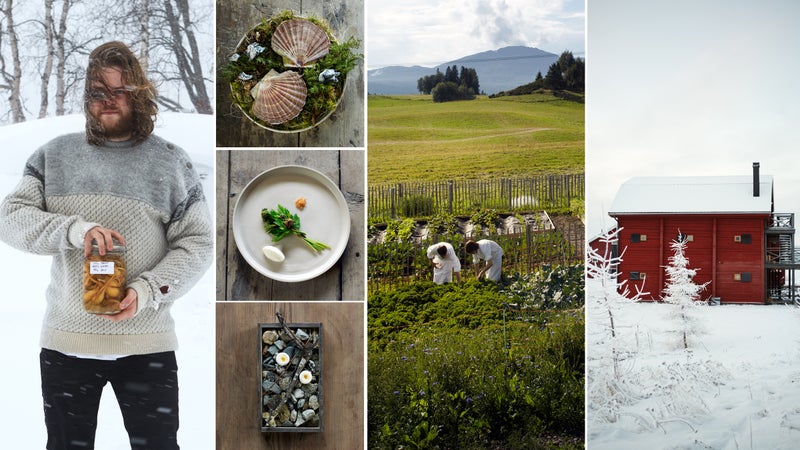 Remote and well regarded—it's number 25 on the San Pellegrino list of the 50 best restaurants in the world—Fäviken is set in an 18th-century barn on a 24,000-acre hunting estate 374 miles north of Stockholm. It's worth the journey. The 30-course meal, orchestrated by head chef Magnus Nilsson, is farmed, foraged, and hunted on or near the estate. From drippingly fresh scallops cooked over juniper branches and birch coal to pine-bark-syrup ice cream, every bite is original. The best strategy to get one of its coveted 16 seats? Call on April 1 for a reservation for May through December, and spend the night in one of the restaurant's five rustic bedrooms. Dinner, $258; accommodations, $292. —S.P.
---
26. Mealy Mountains National Park, Canada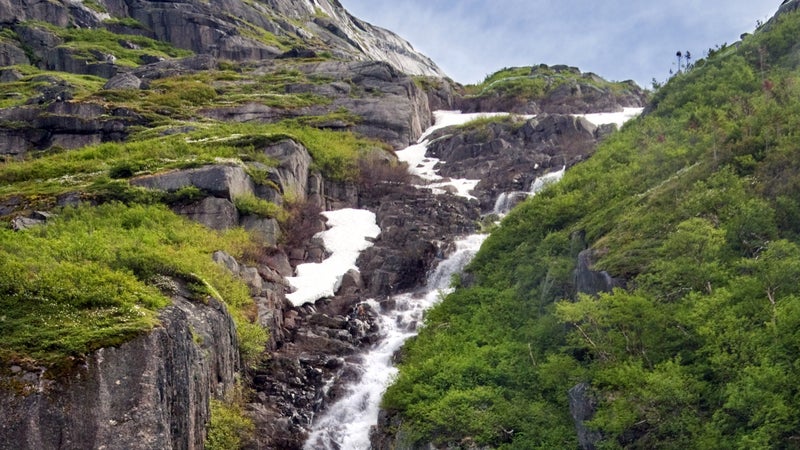 Canada's western half has long dominated the dreams of adventure travelers, but this year all eyes are on Newfoundland and Labrador with the opening of 4,130-square-mile Mealy Mountains National Park. Officially titled the Akami–uapishku-KakKasuak–Mealy Mountains National Park Reserve, it will be the largest in eastern Canada and comanaged by Parks Canada and the Innu people, who will develop aboriginal cultural experiences for visitors. The terrain ranges from rivers full of wild Atlantic salmon, rugged mountains capped with snow, sub-arctic tundra, boreal forest, and sandy ocean beaches that marauding Vikings called the Wonderstrands when they sailed past 1,000 years ago. Wildlife highlights: caribou, wolves, black bears, and martens, just to name a few. Base at the Innu-owned Park Lake Lodge (from $2,190 for three days) or land a salmon at the fly-in fishing camp Rifflin' Hitch Lodge ($6,465 for three days). —G.G.
---
27. The Hotel ­Habana Riviera Bar, Havana, Cuba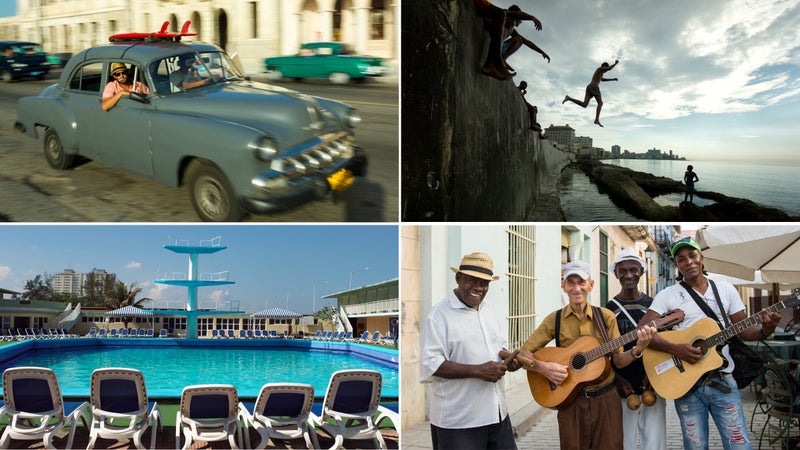 Havana is a city of ghosts, of absent gods and buried criminals. Take a seat in the Riviera Hotel's lobby bar—a tiny black curve with just four or five stools—and listen for the sounds of the past: the roulette wheel, the clacking of poker chips, the murmuring crowds and celebrity high rollers. The principal owner at the time, Meyer Lansky, was the American Mafia's main man in Cuba. His aerospace pleasure palace opened with a performance by Ginger Rogers in December 1957. Barely a year later, Fidel Castro took power, the casino tables were tipped over, and the hotel nationalized, the brief moment of corrupt glory over. But you can still have the memories. The hotel's interior is stuffed with rich marble, golden latticework, and Enzo Gallo sculptures. The bar is now a quiet space, backstopped by an epic picture window full of ocean. There's usually baseball on, and the Daiquiri Natural is good, year on year. —Patrick Symmes
---
28. WeeCasa, ­Lyons, Colorado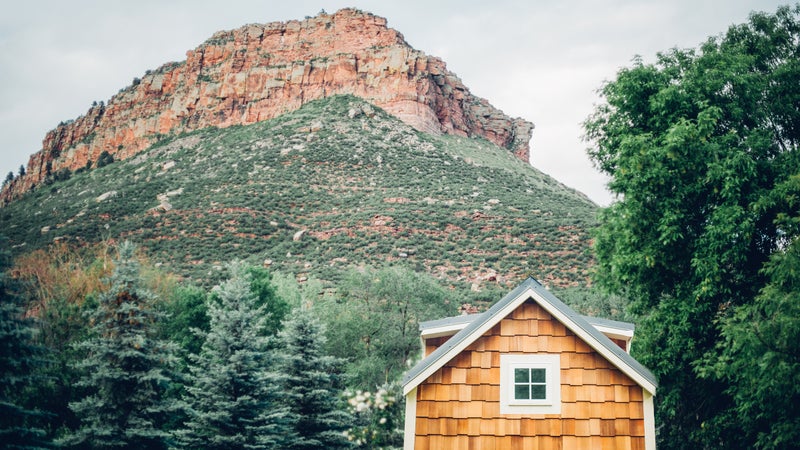 Test-drive living small at this tiny-home resort. There are 12 rentals on-hand, clustered along the banks of the North St. Vrain River in Lyons, 30 minutes from Rocky Mountain National Park and a quick bike ride from the Oskar Blues brewery. From $189. —G.A.
Trending on Outside Online