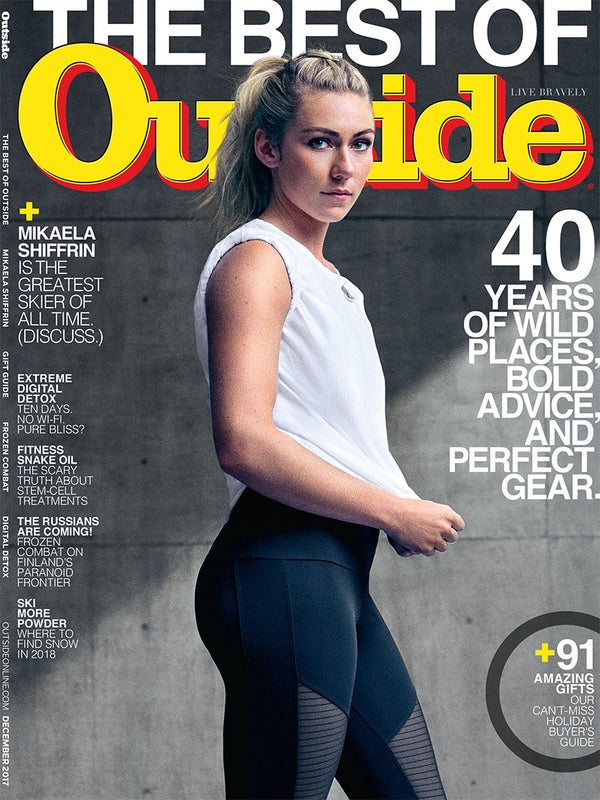 Outside Magazine, December 2017
---
"Don't Worry About It and You'll Be Great, Said Nobody Ever.": Mikaela Shiffrin is not up for a beer. Or a movie, or a game of spoons. The alpine racer isn't dusting the competition by slacking off. She's putting in the work, and then she's taking a nap. —Elizabeth Weil
Information Freeze: For those who truly can't cut the cord, a British tour company will transport you to the frozen wastes of Siberia, hook you up with some nomadic reindeer herders, and let you enjoy the silence, the darkness, and the digital void. —Aaron Gulley
Walleye World: Pack your ice cleats when you head to Minnesota's 27th annual Ice Fishing Ex­travaganza, where 10,000 hearty anglers compete for a $150,000 purse. You might also want to bring warm mittens, a thermos, and a 30-pack of Coors Light. —Ian Frazier
Red Dawn in Lapland: On the 833-mile border between Finland and Russia, a band of elite Finnish soldiers are preparing to defend the country if the Russian bear decides to charge. With tensions still high after the Kremlin's invasion of Crimea and Ukraine, David Wolman heads to Europe's northern frontier for a course in winter warfare. —David Wolman
Dispatches Special
The Best of Outside—40th Anniversary Edition: Here's to the people, places, ideas, and things that we've fallen most deeply in love with over the past four decades, from the athletes redefining human endurance (salut, Kilian Jornet!) to the dream dest­inations that con­tinue to replenish our mojo (cheers, New Zealand!) to our favorite performance cookie (welkom, stroopwafel!). + Susan Casey, Hampton Sides, Bill Gifford, Dan Duane, and Ian Frazier lay bare their obsessions.
Destinations
The New Rules of Skiing: An epic powder season demands a strategy up front. Then you can get busy carving first and last tracks, warming your core with slopeside ramen, and lining up season-pass discounts from coast to coast.
Bodywork
In the Lead: Is stem-cell therapy the future of orthopedics or a marketing-driven Wild West? A little of both.
Tools: Packable workout gear to keep you fit on the road.
Anger Management: Rage rooms offer up the cathartic release of smashing stuff. You got a problem with that?
Fuel: Mike Wardian's recipe for winning marathons dressed as Spider-Man.
Essentials
Special Holiday Gift Guide: This year, Santa has packed his bag with toys for every room. From beer to bikes, jackets to jerky, flannel to French roast, he's brought 91 perfect presents for your favorite adventurer's gear shed, garage, kitchen, and even doghouse. Plus, the best goodies from companies that give back.