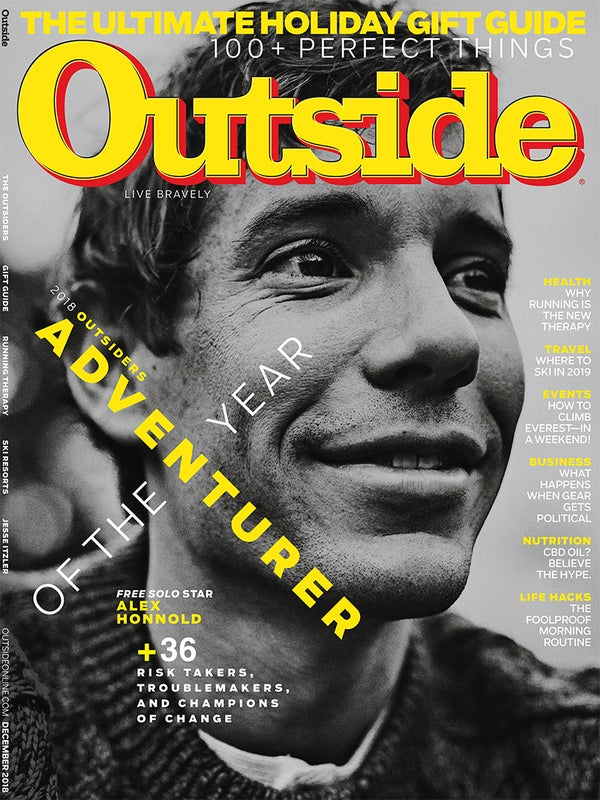 Outside Magazine, December 2018
---
Features
The Outsiders: We bring you the year's boldest athletes, activists, entrepreneurs, inventors, artists, and lifesavers. From Alex Honnold, whose climbs of El Capitan left us all gasping for air, to the women surfers breaking barriers on the world's biggest waves, to the Navajo runners uplifting Native American communities, these are the visionaries who inspired us most.
The 12,000-Step Program: When you've already made it big as a runner (20-plus New York Marathons), an entrepreneur (Zico coconut water, Marquis Jet), and a rapper ("Shake It (Like a White Girl)"), the next logical project is Mount Everest. That's why Jesse Itzler has created 29029, an endurance-hiking event that replicates the peak's vertical footage. —Tom Vanderbilt
You're With Us or Against Us: When Dick's Sporting Goods announced that it would reduce gun sales in the wake of the Parkland school shooting, CEO Edward Stack said he wanted to start a con­versation about gun safety in America. What he got instead was a firestorm. —Craig Fehrman
Breakdown: Neither massage nor physical therapy—nor magnesium, potassium, bone broth, acupuncture, or myofascial release—could heal what began as a simple calf tear. So what's a middle-aged amateur athlete to do when he can no longer run from the pain? —Christopher Solomon
Dispatches
Big Idea
Keep Skiing Weird: We need to stop moaning about big resort conglomerates and start being thankful for much needed job security for lifties—and way cheaper passes for everyone. —Marc Peruzzi
Exposure
Spotlight: Raw, messy, and full of energy, these photographs of skateboarding over the years capture the sport's gritty heart.
Travel
Ski Resorts: Sixteen locals reveal secret stashes, untracked basins, and low-key watering holes, from Squaw Valley to Sunday River. And, one word for skiers whose passes include foreign destinations: Go.
Gear
Holiday Gift Guide: Sleek canvas backpacks and flasks full of whiskey. Slippers and art books and plaid cotton field shirts. Leather-trimmed coolers and grills with teak shelves. These are a few of our favorite things.
Fitness
Wellness: Running alongside your shrink? Proponents claim the combination of talk therapy and exercise can break down walls.
Laird's Laws: Make your bed, people! Smart starts for a productive day.
Fuel: CBD-infused snacks may reduce inflammation while satisfying the munchies.
Training: Fitness studios are turning rowing into the new SoulCycle.