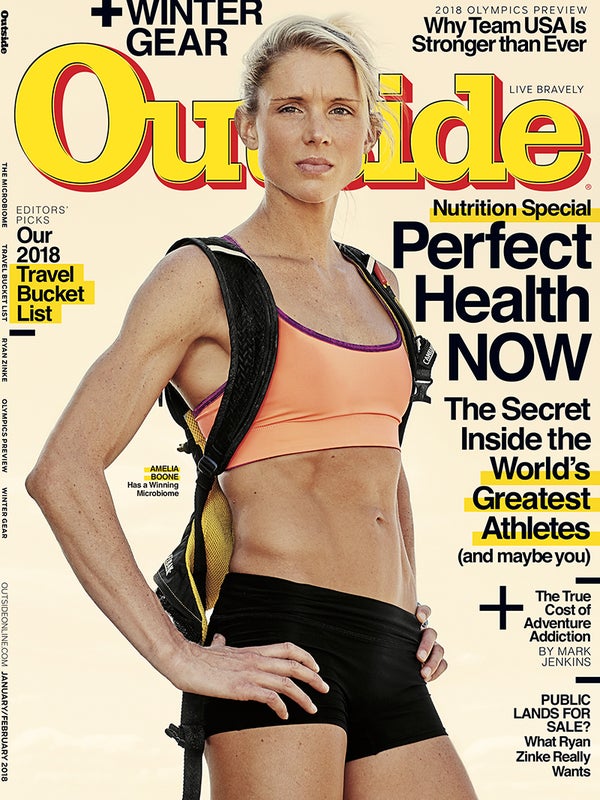 Outside Magazine, January/February 2018
---
Daddy Has to Go: No matter how many times Mark Jenkins tells his wife that his latest dangerous expedition will be his last, he's soon scaling peaks again thousands of miles from home. Trapped in a whiteout on the Chinese mountain Nyambo Konka, he reflects on the costs—and benefits–of adventure to his family. —Mark Jenkins

Weightless: When Joe Jackson moved in to care for his kayaking buddy Matt Thomas, who was paralyzed in a mountain biking accident, he got a crash course in the grinding minutiae that make his friend's daily life so hard. But then they discovered that soaring beneath a paraglider could help Thomas finally feel free. —Joe Jackson

This Man Flies His Own Flag: Interior secretary Ryan Zinke came into office saying that he wanted to operate in the outdoor tradition of Teddy Roosevelt. But during a year marked by controversy, a shift to the right, and major disputes about our public lands, he's become one of the Trump administration's most polarizing figures. —Elliot D. Woods
Chinese Downhill: In the run-up to the Beijing Winter Olympics, the Communist Party is firing its economic rocket boosters to create nearly 1,000 new ski resorts, part of a glorious plan to mint 300 million winter-sports enthusiasts by 2022. —Tim Neville
Bodywork Special
No Gut, No Glory: Scientists are calling the human microbiome the forgotten organ. And their discoveries about the trillions of bacteria living inside us may revolutionize how we think about diet, performance, and endurance. So in the name of citizen science, we subjected ourselves and seven elite athletes—including skier Cody Townsend—to microbial analysis, with eye-opening results. —David Ferry
The Contenders: With a deep roster of talent ready to slide and soar onto the podium, Team USA might want to bring a few extra bags for all the bling.
Rising Stars: Kikkan Randall and her cross-country sisters are the cold-weather version of U.S. women's soccer: fun-loving winners pushing for equal rights along the way.
Design: Paralympic snowboarder Mike Schultz manufactures his prosthetics—and his competitors'.
Tech: The performance boosts of virtual reality and brain stimulation.
Broadcast Notes: Bode Miller won't be racing, but we'll still get to hear him run his mouth on NBC.
Gear: What's in slopestyle favorite Jamie Anderson's luggage.
Drawing Board: Snowboarder Chris Corning unpacks how he'll land the world's first quad cork in competition.
Drink: Meet makgeolli, Korea's favorite rice wine.
Destinations
2018 Adventure Bucket List: To get at the real journeys of a lifetime, we called on the experts—the Outside writers and outfitters who've traveled the world. Here are their dream trips, from floating Idaho's Selway River to hiking Scotland's Outer Hebrides.
Base Camp: The Ocean Nova is the best way to cruise Antarctica.
Essentials
Wanted: Filson's Ranger pack salutes public lands.
Upgrade: Ski-season necessities for both ladies and gents.
Lowdown: Your goose is cooked. New synthetic fill to rival the feathery stuff.
Stress Tested: Winter tech to beat the cold.
Style
Women's Fitness: When temperatures drop, we rise.
Plus

Exposure/Parting Shot
Between the Lines