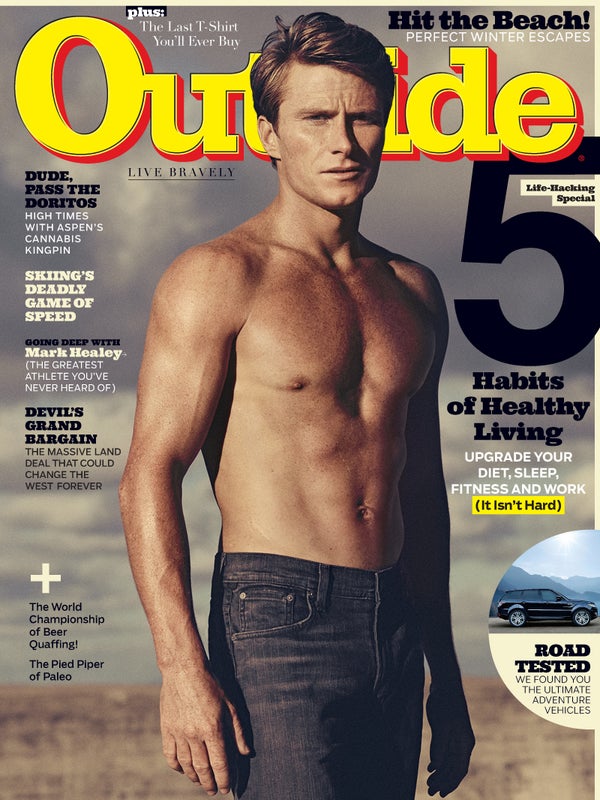 Outside Magazine, March 2016
---
Love Me Some Plus-Size
Waves and fish, that is. From the age of 14, when he was a freckled runt surfing 30-footers at Waimea, Mark Healey has sought out oceanic thrills. Now he's freediving beneath the swells, tagging hammerhead sharks in the name of science. By Thayer Walker
Haute Times
Potrepreneur Jordan Lewis landed in Aspen, Colorado, with a dream: grow and sell the finest organic marijuana in the country. But even as Silverpeak Apothecary set a high bar as the state's toniest weed store, his downvalley neighbors wanted his business to go up in smoke. By Charles Bethea
The Devil Is in the Details
What will it take to end the wilderness wars over federal lands? Some serious horse trading, believes Utah congressman Rob Bishop, the Republican working to bring environmentalists, ranchers, Native Americans, and energy companies under the same tent. By Christopher Solomon
Carb Unloading
For years, runners and triathletes pounded pasta and sports drinks to improve performance. Then came Mark Sisson, the paleo prophet whose Primal Blueprint converted millions by promising to burn fat, bust inflammation, and boost energy. T.J. Murphy asks: Will it work for me?
DISPATCHES
First Look: Simone Origone drives 160 miles per hour. On skis.
Games: Jackson Hole, Wyoming, hosts the world championship of beer chugging.
Gear: Jungmaven's new hemp T-shirt will last a decade—or longer.
Media: E.O. Wilson makes a moral case for setting aside half the planet.
DESTINATIONS
Beach Adventures: The piña coladas can wait when you're surfing, fishing, or kiteboarding some of the best spots on earth, from the Outer Banks to the Seychelles.
Go List: New England cabin porn, cheap airfare, and a crowdfunded travel jacket.
Base Camp: Safari living at India's Jamtara Wilderness Camp.
ESSENTIALS
Cars and Trucks: A sporty diesel Range Rover. A mightily efficient Chevy truck. A hybrid Volvo SUV. The options for rolling to and from your favorite playgrounds has never looked better.
Style: Tough watches for the modern explorer.
BODYWORK
Life Hacking: Sure, you could stick with your old routine. Or you could break out of your rut with our experts' healthier, more effective ways to eat, sleep, focus, and train.
Plus
Exposure
Parting Shot