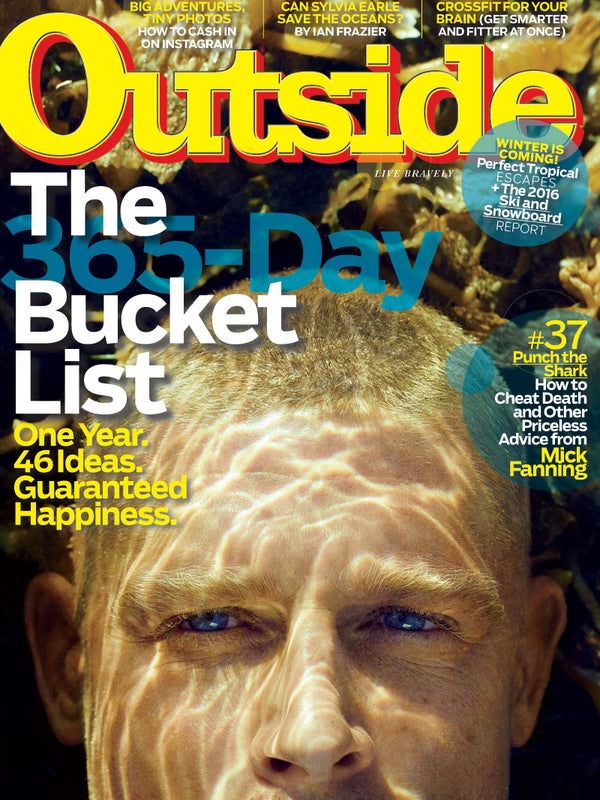 Outside Magazine, November 2015
---
​Our 2015 Life List is a user's manual for all the travel, fun, and affiliated delights you can cram into a year, from rocketing down an Olympic bobsled run to sleeping atop a giant fir tree. Plus: shark-defying surfer Mick Fanning shares his philosophy of living large by embracing risk. By Kate Siber
Pics or It Didn't Happen
Social-media sites like Instagram give top adventurers huge new audiences that companies are eager to reach. Grayson Schaffer tags along on a backcountry ski trip in Alberta, where a morning huck becomes an afternoon upload that hits screens all over the world.
The Greatest Boat Race Ever Dreamed Up Over Beers
It seemed like a pretty good idea at the time: $10,000 to the first crew who can coax a nonmotorized vessel from Port Townsend, Washington, to Ketchikan, Alaska, through 750 turbulent miles of British Columbia's Inside Passage. Yacht racing was never like this. By Abe Streep
Earle Power
Our correspondent goes deep with Sylvia Earle, a legendary scientist whose career of exploration, advocacy, and engineering has opened millions of minds to the threats facing our overfished and polluted seas. The man-made pressures never let up. Fortunately, neither does she. By Ian Frazier
DISPATCHES
First Look: Skateboarding's next superstar is six-year-old Fox Rio.
Primer: The newest tool in avalanche control? Bomb-carrying drones.
Business: A comfy shell that could revolutionize the apparel industry.
Media: Jonathan Franklin's thrilling new book 438 Days, about Salvador Alvarenga's time spent lost at sea.
Covet: Why Sony's new mirrorless camera will end the DSLR's grip on adventure photography.
DESTINATIONS
Central America: Great trips in one of the hemisphere's hottest travel regions.
Active Cities: Oakland, California—like Brooklyn with mountain-bike trails.
Go List: A rally-driving school, a surfboard-shaping getaway, and a portable device to jump your vehicle.
BODYWORK
In the Lead: How a Boston startup is trying to cure muscle cramps.
Grooming: Take care of your feet.
Do It Better: Strategic movement to make you smarter.
STYLE
Ready for Fall: Cool-weather wear.
ESSENTIALS
Wanted: Backcountry climbing skins inspired by fish scales.
Skis and Snowboards: The best of both worlds for 2016.
Upgrade: New in-bounds touring gear.
Plus
Exposure
Parting Shot