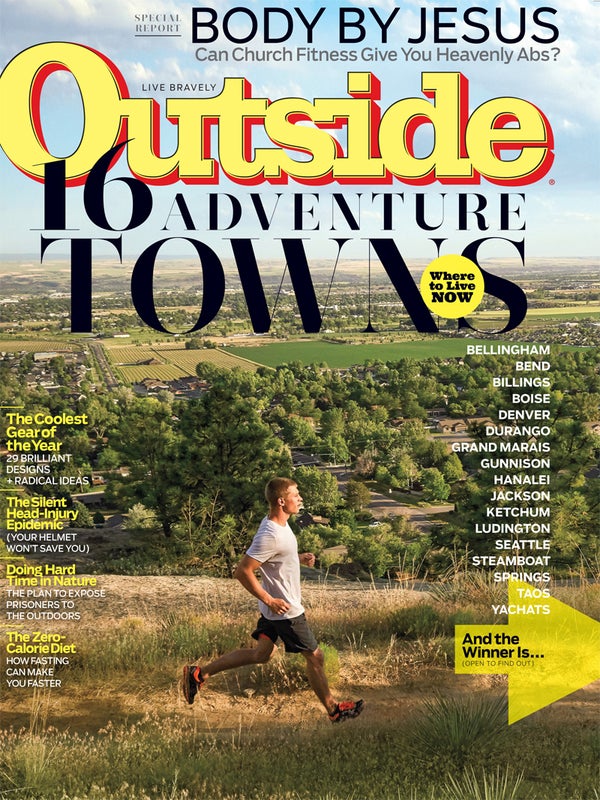 Outside Magazine, September 2016
---
Best Towns 2016
Nearly 700,000 votes later, Billings, Montana, is this year's winner, thanks to its ridiculous fishing, backcountry access, and affordability. We've also got the lowdown on what makes our other 15 finalists great, from Seattle's ferries to Hanalei's surf.
Righteous Abs
How much would Jesus lift? More than you might think. Christians are celebrating their faith in newly physical ways as evan­gelical churches inspire their congregations to stay healthy and get ripped. By Erin Berisini
Impact Zone
The degenerative brain disease CTE isn't confined to the football field. As BMX legend Dave Mirra's recent suicide demonstrates, concussions are exacting a deadly toll among action-sports and adventure athletes, too. By Dan Koeppel
The Great Escape
Time spent in nature has ther­­apeutic benefits for everyone from veterans to at-risk youth. Now researchers think it can help those who've spent years cut off from the outdoors—ex-cons. By Brian Mockenhaupt
​DISPATCHES
First Look: Kelly Slater's big-bucks battle to win the artificial-wave race.
Food: From Phat Ladies to Murder Points, southern oysters are sweeter.
Gear: Running shoes are getting ­personal.
Bikepacking: After rolling 5,000 miles, one couple is helping to define cycl­ing's hottest trend.
ESSENTIALS: Design + Tech Special
­Bulletproof. Packable. ­Connected. When cutting-edge engineering meets the outdoors, the result is 29 breakthrough products to help you survive everything from a freezing bivvy to your daily commute.
BODYWORK
In the Lead: The benefits—and ­pitfalls—of intermittent fasting.
Performance Enhancer: How caffeine and cardio help drive climber Sasha DiGiulian up the wall.
Active Cities: Las Vegas, Nevada.
Fuel: The latest all-natural protein powders have ingredients you can actually pronounce.
Plus
Exposure
Parting Shot