The Future Is Female and These 40 Women Are Proof
In honor of Outside's 40th anniversary, we're selecting our all-time favorite gear, places, accomplishments, and people. This month, we rounded up 40 women who have made the biggest impacts on our world.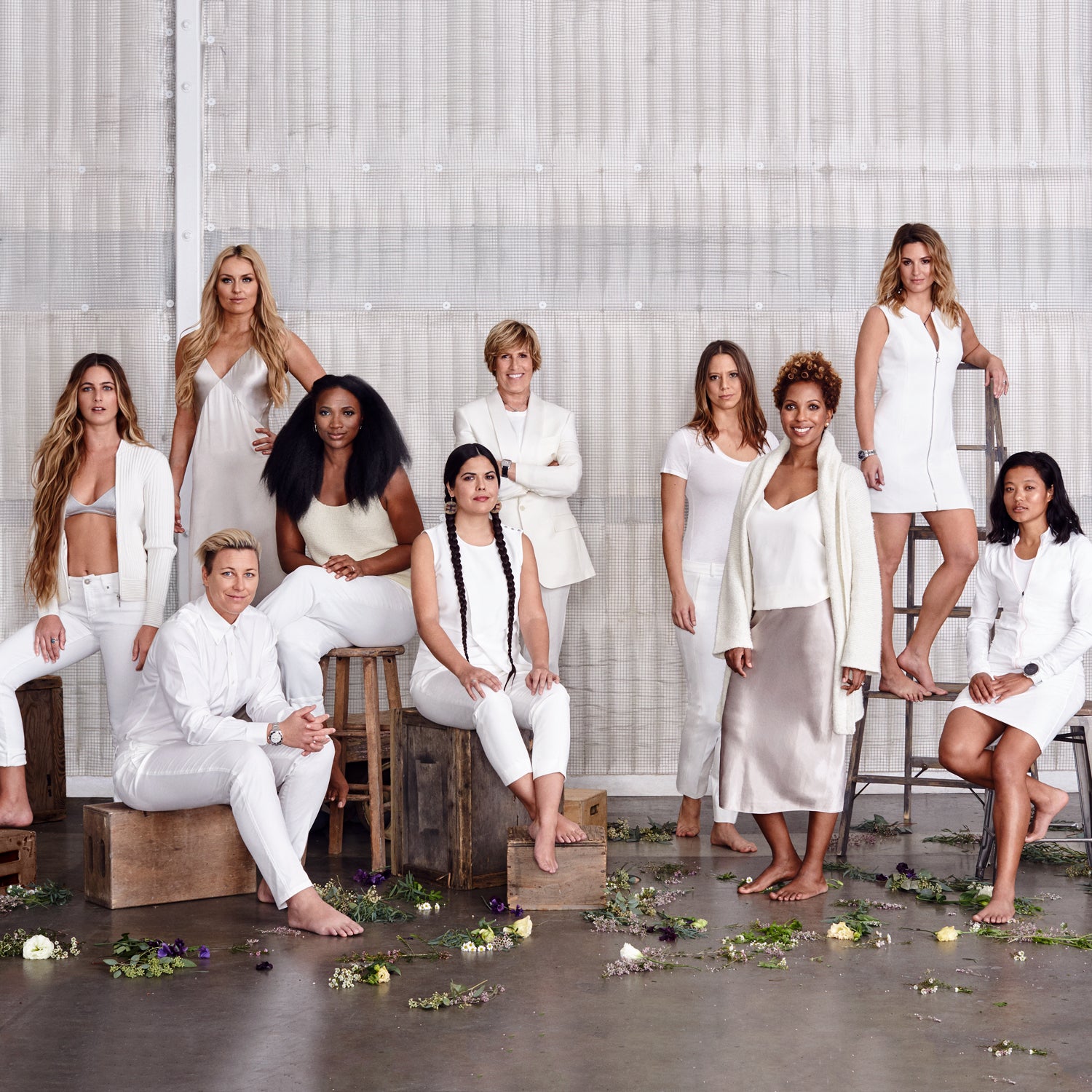 Annabel Mehran(Photo)
Heading out the door? Read this article on the new Outside+ app available now on iOS devices for members! Download the app.
---
This month, we're honoring the women who have advanced and challenged the outdoor world through their leadership, innovation, and athletic feats. The list that follows is far from comprehensive, and it is, of course, subjective: there are dozens of people who easily could have made the cut that we simply did not have room for here. (We cover some of them in our May issue, on newsstands now.) Our readers will recognize many of the names below. Others, they will not. But don't expect this to be the last time they appear in Outside as they continue to shape our world.
---
Tara Houska
Tara Houska has been involved in a dizzying number of efforts. The tribal-rights attorney is the national campaigns director for the indigenous-led environmental justice organization Honor the Earth. Houska has also served as adviser on Native American issues for Bernie Sanders' campaign, co-founded Not Your Mascots to fight the appropriation of indigenous culture, and protested the Dakota Access pipeline at the Standing Rock Indian Reservation. —Erin Berger
---
Kathrine Switzer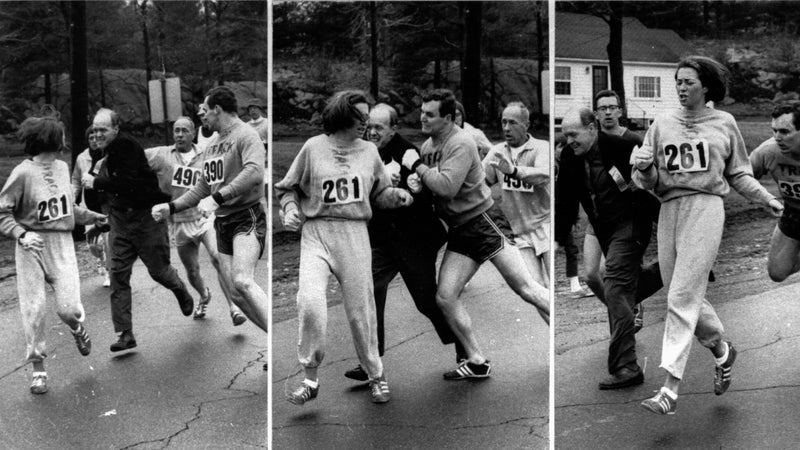 Kathrine Switzer made history in 1967 as the first woman to run the Boston Marathon. Since then, she's dedicated her life to the sport and making it more accessible to women. Switzer's latest venture is a foundation called 261 Fearless, with a mission to bring running to groups of women around the world. (The number 261 is a nod to Switzer's original Boston Marathon bib number.) Five decades after her first time at Boston, Switzer still doesn't feel burnt out on running. As she told Outside earlier this month, "Running has always been my touchstone. It's always been my soul. It's given me back the day. It helps me to sleep. It brings me back to myself. Want me to keep going?" —Molly Mirhashem
---
Camille Seaman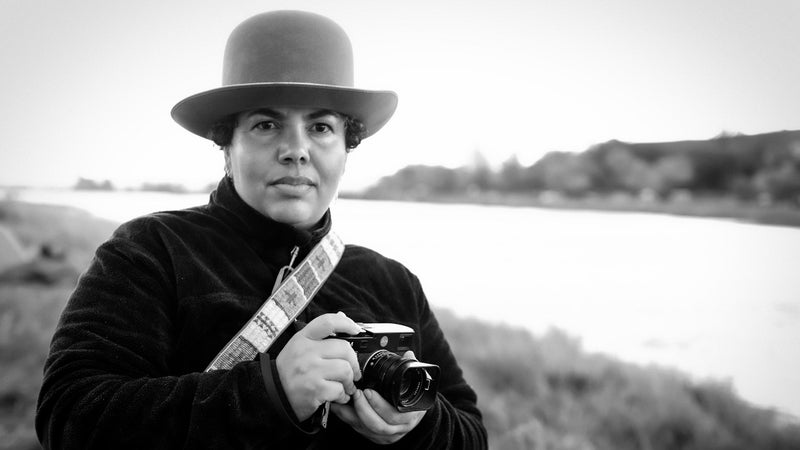 Camille Seaman masterfully blends the beautiful and the political in her famous iceberg photos. Hang them on your wall, and then launch into a conversation about climate change and the rapidly melting ice cap. As a Native American, Seaman says the icebergs also hold spiritual value. Recently, she has been working on a portrait project about Native Americans across the country called We Are Still Here. The project intends to demythologize native communities and let them represent themselves in front of the camera. During the Standing Rock protests, Seaman set up a portrait booth to photograph the water protectors and videotaped many of them afterward, asking what message they'd like to send to their descendants 200 years from now. —Jakob Schiller
---
Lindsey Vonn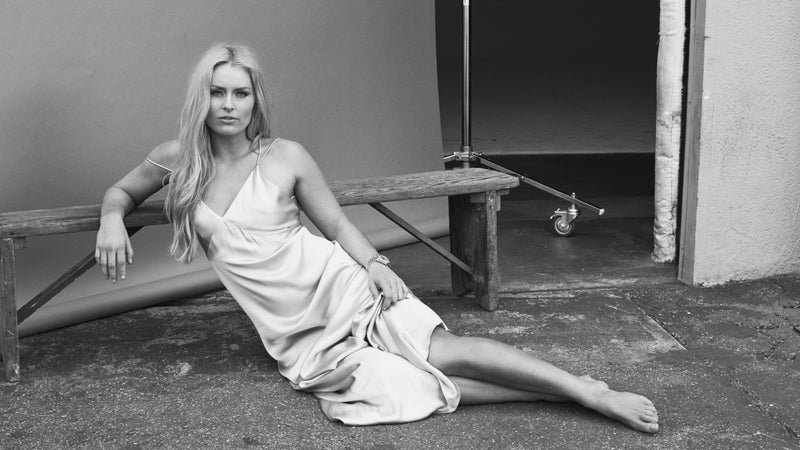 Linsey Vonn is the best ski racer who's ever lived. If that sounds hyperbolic, look at the numbers: 77 World Cup wins, nine Olympic and world championship medals (three of them gold), 138 podium appearances, and four overall World Cup titles. At press time, Vonn was a mere nine victories away from breaking Ingemar Stenmark's World Cup record, a milestone that would quash any lingering doubts about her total dominance—over men and women. Her brand of skiing is Nascar driver meets BASE jumper—a combination of aggression, recklessness, and nuance that makes her a high-speed master of the downhill and super-G. —Axie Navas
---
Mary Oliver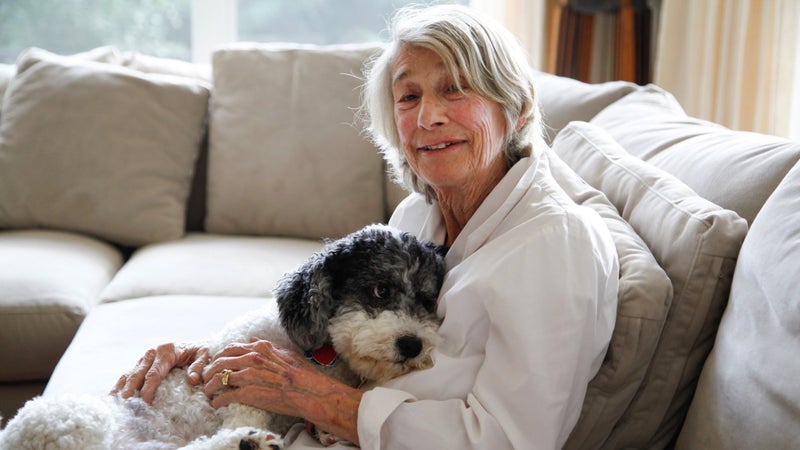 If there were a Poet Laureate of the Outdoors, there is a good chance Mary Oliver would have held the title for the past 50 years. The natural world is the blood that courses through her body of work—32 collections and counting. Oliver's poems are filled with owls and ponds and trees and birds and sunrises and fields and a great many dogs. "Now through the white orchard my little dog / romps, breaking the new snow / with wild feet," she writes in "The Storm." This is the beauty of her work: it's a scene that anyone can recognize, displayed through a particular Oliverian lens that makes it somehow better, more beautiful, perfect. —Jonah Ogles
---
Marianne Vos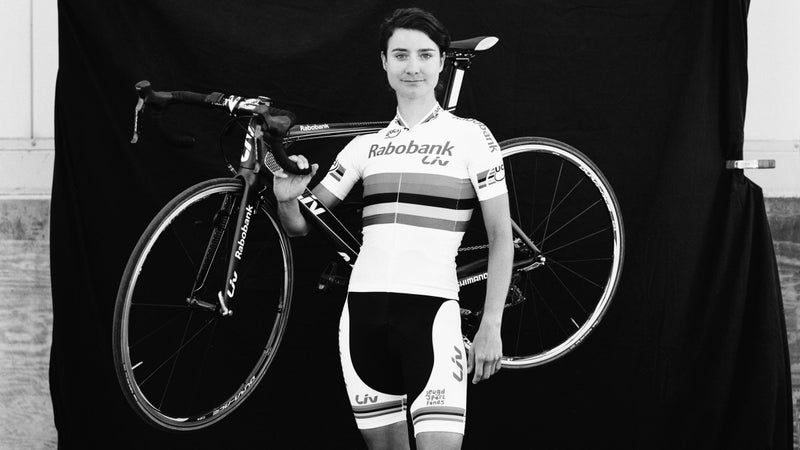 You've probably heard of Eddy Merckx, the Belgian road and track racer who won 11 Grand Tours and almost every major one-day race. But you might not have heard of Marianne Vos, the Dutch pro cyclist who/s arguably just as winning as the Cannibal, closely nipping on the heels of his legacy. Vos has mastered more disciplines, with wins in road, cyclocross, mountain, and track, and she's earned 22 single-day events victories, not counting the three general classification wins at the women's Giro de Italia. Plus, unlike 71-year-old Merckx, Vos is still racing. —A.N.
---
Vanessa Garrison and Morgan Dixon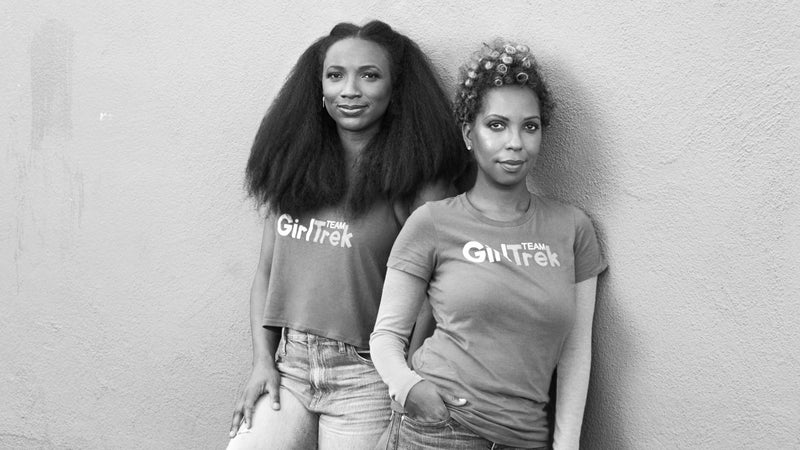 When Vanessa Dixon co-founded the Washington, D.C.–based nonprofit GirlTrek in 2012 with Morgan Garrison, the two had only one goal: to get women to walk for 30 minutes each day. Now nearly 100,000 walkers strong, GirlTrek is a forceful national health campaign. Though all are welcome, GirlTrek focuses on African American women, who are the highest-educated ­demographic in the United States, according to the Department of Education, and also the least likely to spend their free time on physical activity. As Garrison and Dixon point out, that's because they're too busy juggling work, family, and community. —E.B.
---
Angel Collinson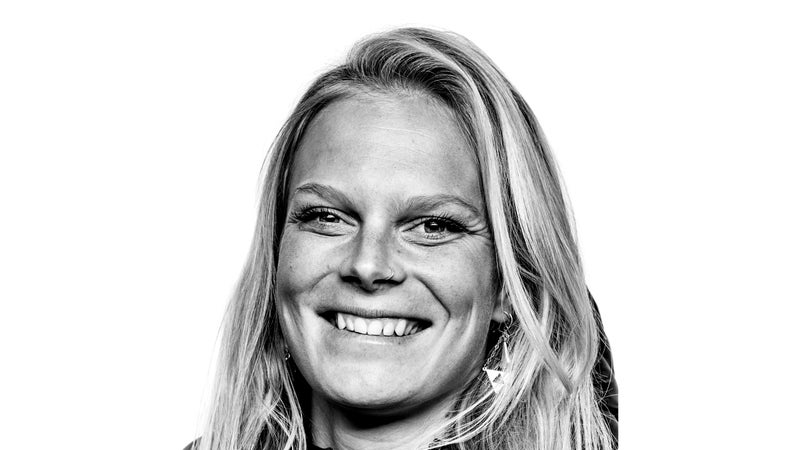 Look up "badass" in the dictionary and there's a photo of Angel Collinson. The native of Snowbird, Utah, is one of the world's best freeskiers: in 2010, at age 19, Collinson took home the overall women's title on the Freeride World Tour. She did it again in 2011, and four years later won Best Female Performance and Best Line (a first for a woman) at the Powder Awards. Collinson has played a huge role in getting the women's big-mountain events on equal footing as the guys', all while keeping her sense of humor (just try to find a photo of her without a massive goofy grin) and kindness. —A.N. 
---
Serena Williams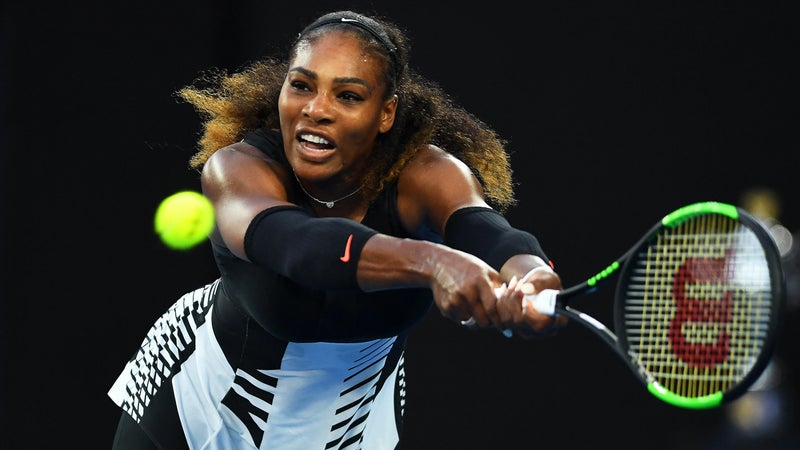 In January, Serena Williams won her 23rd Grand Slam title, pulling ahead of Steffi Graf for the all-time record. Of course, she has ruled the game as Queen of the Court for far longer. Before Williams, tennis matches were won with finesse, speed, and dance-like grace. Williams has all of those things, but she's added power, endurance, and tenacity into the mix. Her next opponent: discrimination—often in the form of unequal pay—toward women in all sports. —Carly Graf
---
Rue Mapp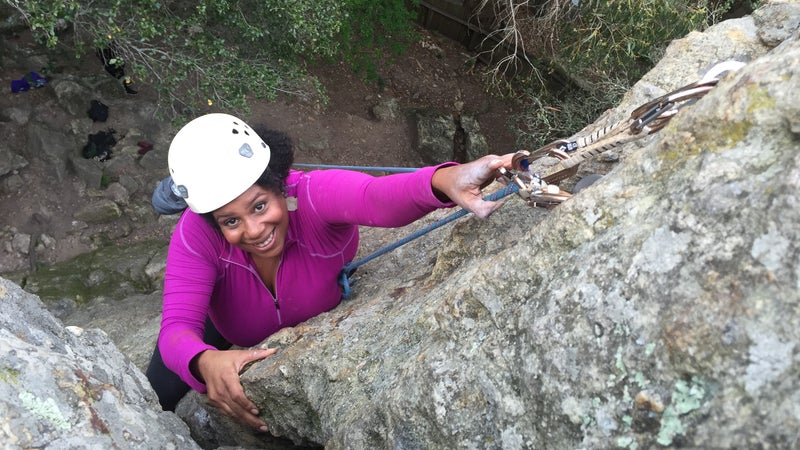 Need a little motivation? Remember that you have the same number of hours in a day as Rue Mapp. She is first and foremost the founder and CEO of Outdoor Afro, an organization that fosters community and leadership among African American nature lovers. What started as a blog back in 2009 is now a network of 65 leaders and countless outdoor meetup groups and has been recognized by the White House. Mapp is also a commissioner for California State Parks and Recreation, member of the Outdoor Industry Association's board of directors, founding member of the Next 100 Coalition, writer, and public speaker. In other words: Mapp is one of the foremost leaders making the outdoors a more inclusive place. Now what's your excuse? —E.B.
---
Abby Wambach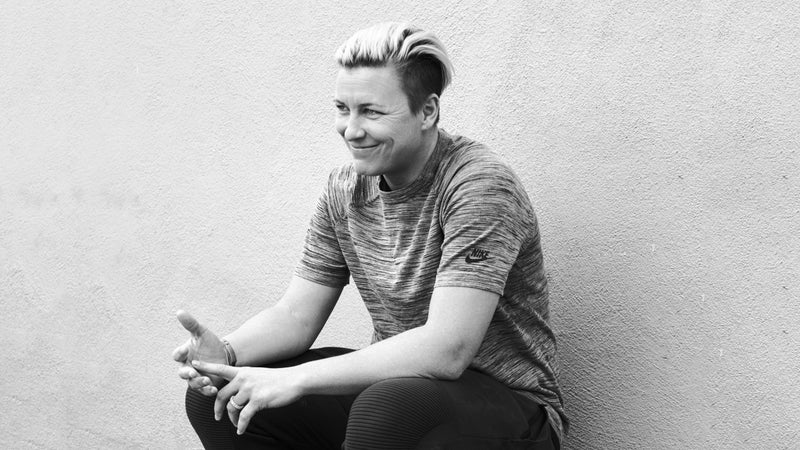 Abby Wambach's preretirement soccer career wasn't half-bad: two Olympic gold medals, one long-awaited World Cup title, and 184 goals—the most scored by any player, male or female, in international competition. Not to mention a series of vocal efforts for gender and pay equality in her sport and beyond. But shortly after hanging up her cleats, Wambach found herself in a dark place. She felt stuck in a corroding marriage. She was living "in terror and fear of shedding my identity as a soccer player." For Wambach, stepping away from competition has been about making changes. She got divorced. She wrote a memoir, Forward. On her book tour, she met bestselling author Glennon Doyle Melton, and now the two are engaged. Wambach recently moved cross-country, to Naples, Florida, to live with Melton and her three children and plans to help coach Melton's 11-year-old's girls' soccer team. —Juliet Macur
---
Mikaela Shiffrin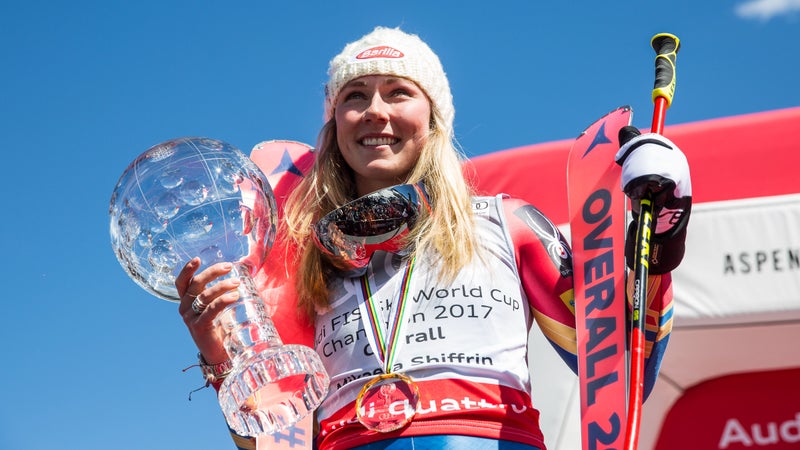 We've gotten so used to Mikaela Shiffrin winning that we almost expect her to finish a slalom course with a two-second lead over the next-place finisher. (Yeah, that's happened.) She's a technical ski-racing expert, with a total of four Olympic and world championship gold medals to her name. Just last month, Shiffrin cinched the overall World Cup title. Oh yeah, and she's only 22. —A.N.
---
Junko Tabei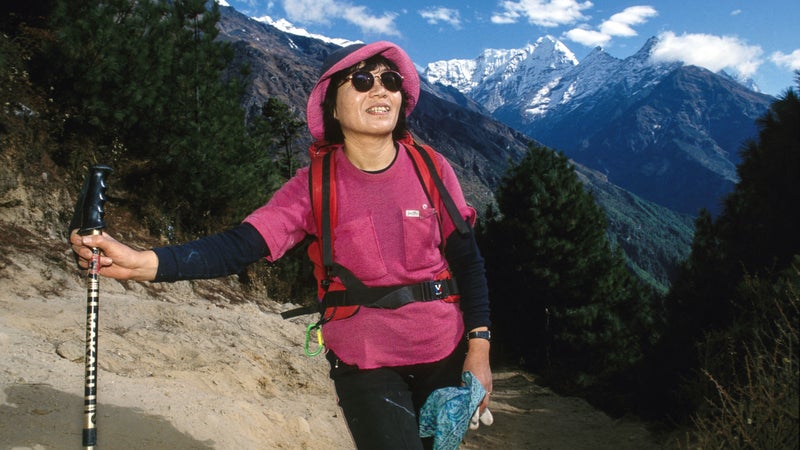 When Junko Tabei passed away in November 2016, many in the outdoor world failed to notice. This is a severe oversight. The Japanese climber became the first woman to summit Everest in 1975. After Dick Bass thought up the Seven Summits in 1985, Tabei decided to tick off the ones she hadn't climbed and became the first woman to claim that achievement as well. (She reached the top of Carstensz Pyramid in 1992 to complete the seven.) But even that wasn't enough. By the time Tabei died, she had reached the highest peak in 56 countries. —J.O.
---
Kit DesLauriers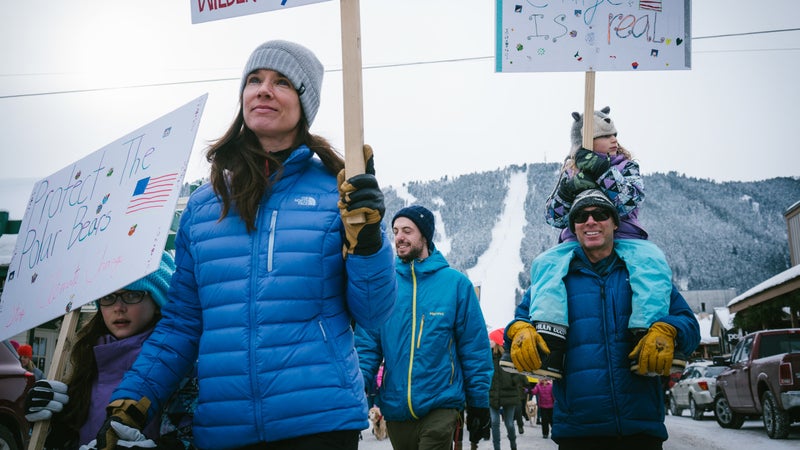 When Kit DesLauriers was 15, she visited Telluride, Colorado, for the first time, and the mountains lit a path before her. A self-described Rocky Mountain girl born to New Englanders, DesLauriers graduated from college with a 4.0 grade point average and immediately moved to Telluride with the intention of getting into those peaks that stole her heart. In 2006, DesLauriers, along with her husband, Rob, and professional photographer and climber Jimmy Chin, skied from the top of Everest, completing DesLauriers' quest to be the first person to ski off all Seven Summits. Since then, she's skied and measured the highest points of Alaska's Brooks Range and co-authored a scientific paper about the region. —Charlie Ebbers
---
Diana Nyad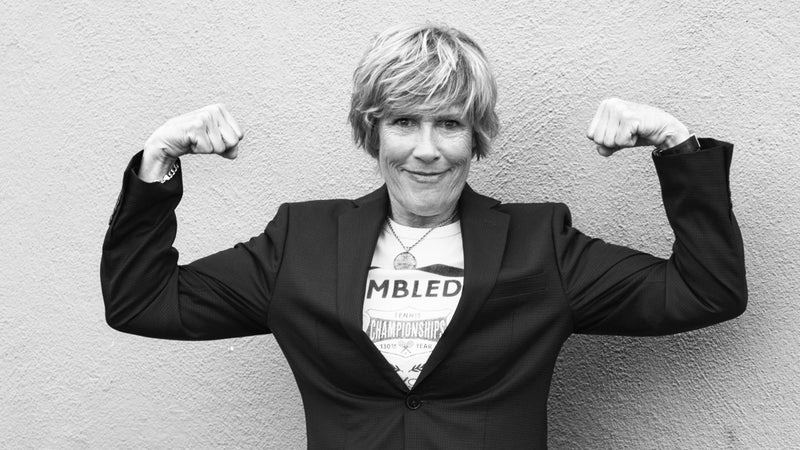 Diana Nyad's 111-mile swim from Cuba to Key West places her firmly in the pantheon of ultra-endurance athletes. Between her first attempt, at age 28, and the last four—all after the age of 60—Nyad suffered near fatal box jellyfish stings, the crushing force of a Gulf Stream that blew her dozens of miles off course, hypothermia, third-degree burns from saltwater chafing, vomiting from ocean swells, and the threat of shark attack. Six weeks after her historic landing in Florida, Nyad swam 48 hours straight in an outdoor pool in Manhattan to raise more than $100,000 for victims of Hurricane Sandy. —Stephanie Pearson
---
Gwen Jorgensen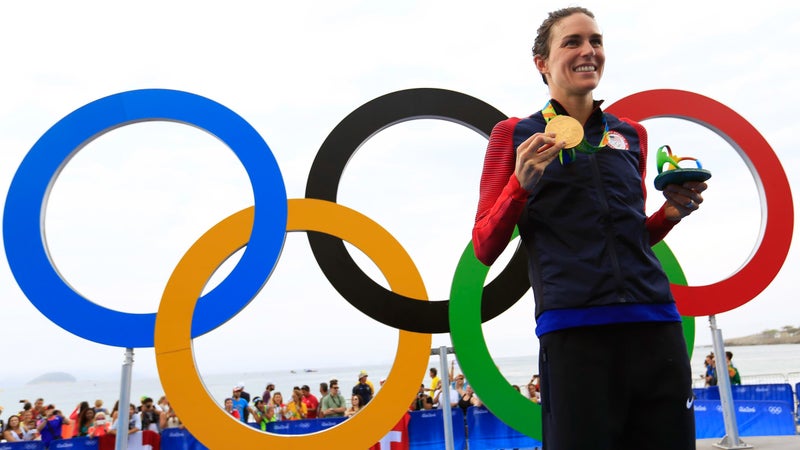 At the Rio Olympics last year, 30-year-old Gwen Jorgensen took home gold in the triathlon. But rather than sitting back and enjoying her glory, Jorgensen immediately took on another enormous challenge—she ran her debut marathon, the New York City Marathon, less than three months after Rio. Jorgensen is constantly setting extremely high standards for everything she tackles. After a less-than-satisfying race in New York (2:41:01, good for 14th place), she told Outside, "I'm not sure what I would have been happy with. I know I gave it my best, so that's all I can ask of myself, but I still wanted to be better. I think that's what makes me an elite athlete." —M.M. 
---
Lynsey Addario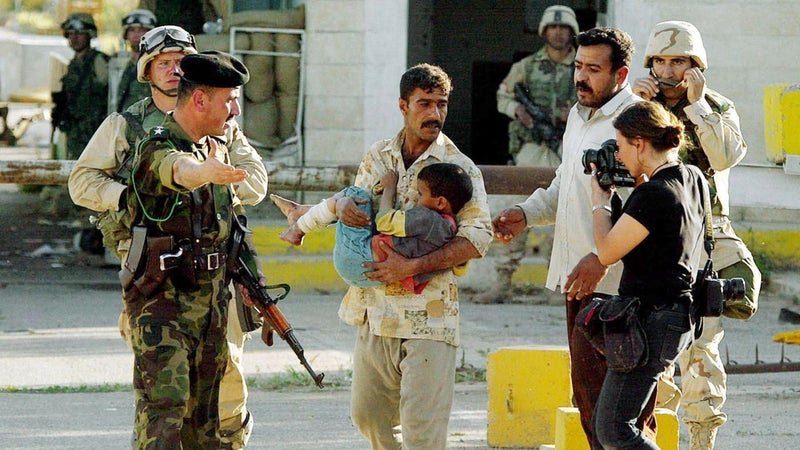 Lynsey Addario's photos are riveting. The 43-year-old professional photojournalist turned her lens on war-torn regions and displaced peoples after 2001, when she got the call to return to Afghanistan to capture American troops entering the country. Addario has worked for the New York Times, National Geographic, and Time. "Photography becomes a way for her to travel with a purpose—a singular ambition that shapes and drives her," reads her website. —A.N. 
---
Paige Alms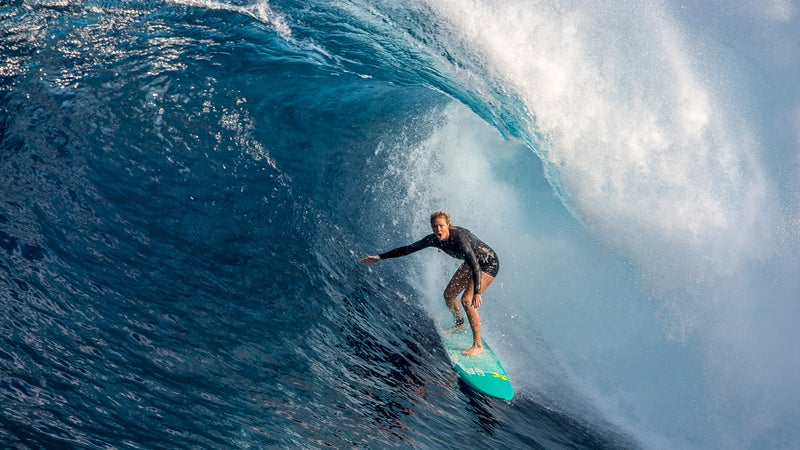 Arguably the best female big-wave surfer in the world, Paige Alms was born in British Columbia but moved to Maui with her family when she was nine years old. By 15, she was charging big days at the island's outer reef breaks. In 2015, Alms pulled into a 20-foot barrel at Jaws on Maui's North Shore. Surfer magazine called it "one of the most significant tubes in the history of women's surfing." —Matt Skenazy
---
Kate Brandt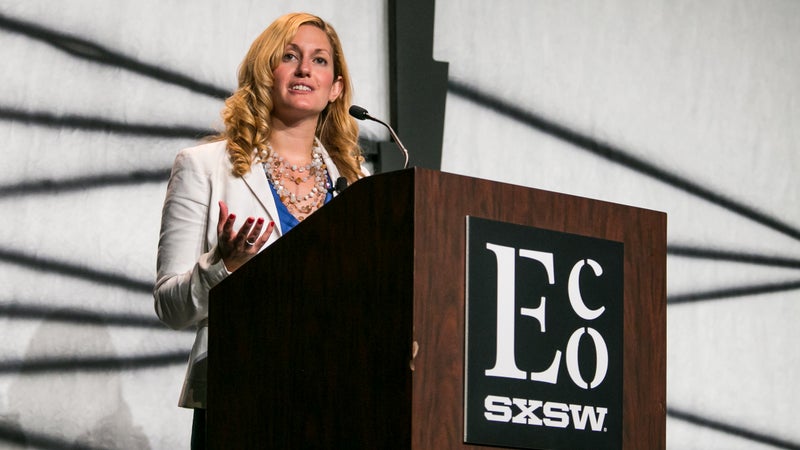 In 2014, President Barack Obama appointed Kate Brandt to downsize the federal government's carbon footprint as the country's first chief sustainability officer. In 2015, Google hired Brandt to lead the company's sustainability efforts. Some of her current goals include powering the tech giant on 100 percent renewable energy and making water-sucking data centers more environmentally friendly. —C.E.
---
Shelma Jun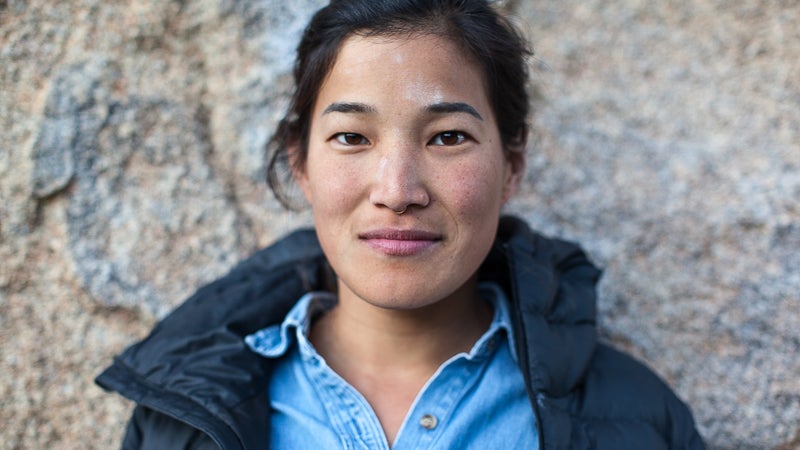 In March 2017, more than 300 women gathered in Bishop, California, to boulder, climb, take clinics, and hang out. They were there for the second annual Women's Climbing Festival, launched by 34-year-old climber and organizer Shelma Jun. The Southern California native grew up at the skate park and in the waves, but a shoulder surgery barred her from high-impact sports and led her into the climbing gym. Jun found the sport was not immune to sexism and sought out other women to create supportive environments in which to climb. An Instagram account of Jun and her girlfriends climbing outside evolved into an online platform called Flash Foxy for connecting female climbers. "I started Flash Foxy as a celebration of all the awesome women in my life who inspired me, supported me, and enriched my relationship with climbing outdoors," Jun says. Through that was born the Women's Climbing Festival, which, after selling out in one minute this spring, is expanding to a second location in Chattanooga this fall. —Luke Whelan
---
Michelle Obama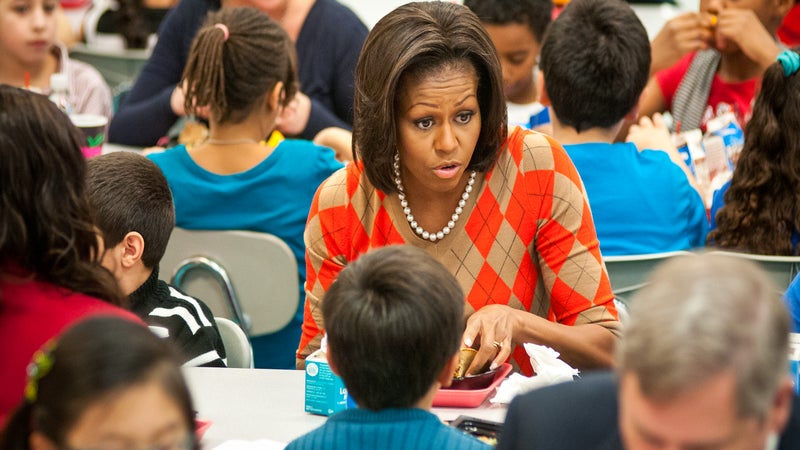 Yeah, folks in the outdoor world are just as much in love with her as everyone else. During Michelle Obama's eight years in the White House, the former First Lady managed to make eating kale cool and PE class as fun as dancing with Beyoncé. These efforts were part of her Let's Move! campaign, which brought healthier lunches to more than 50 million schoolchildren across the country. The initiative also included Let's Move! Outside, rolled out by the Department of the Interior, with the goal of encouraging kids to become active in the outdoors. The Obama family visited Yosemite and Grand Canyon, and Michelle's campaign provided free national park passes to every fourth grader in the country. —L.W. 
---
Ashima Shiraishi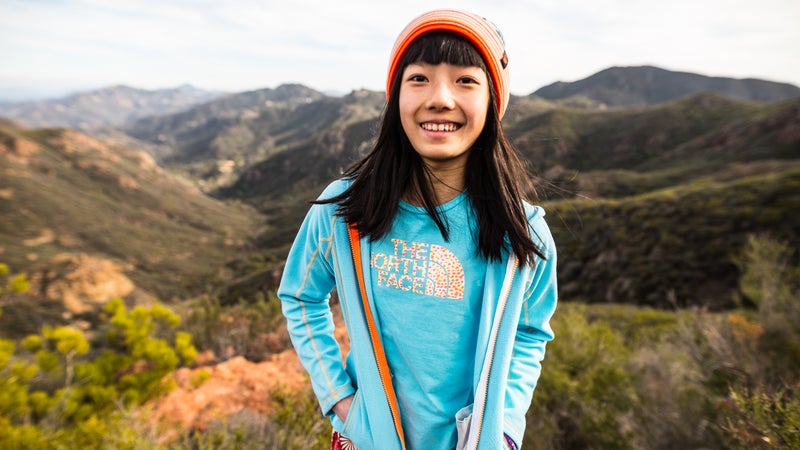 The 16-year-old phenom is already one of the world's best rock climbers, having hoisted herself up what is widely considered one of the hardest sport routes on earth before she was old enough to get her driver's license. Ashima Shiraishi is also the only female climber with a V15 boulder problem under her belt, and she recently nabbed a sponsorship from Coca-Cola. —Greg Thomas
---
Melissa Arnot Reid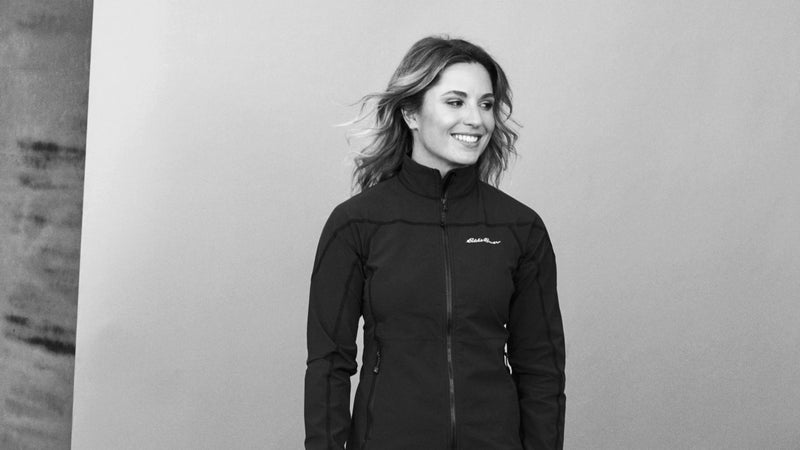 Melissa Arnot Reid has worked as a guide for RMI and other outfitters, as well as for her own guiding service, which she started in 2010. She takes clients up Rainier, Aconcagua, and Everest, among other peaks. In the past decade, Arnot Reid has become one of the best in the world at what she does, which, if you ask her, is walking uphill slowly. She has summited Everest six times, more than any other American woman. Her most recent ascent, last spring, was without the aid of supplemental oxygen—something that only 165 people, seven of them women, have done. Arnot Reid is the first American woman to do so and survive the descent. —Anna Callaghan
---
Tammeca Rochester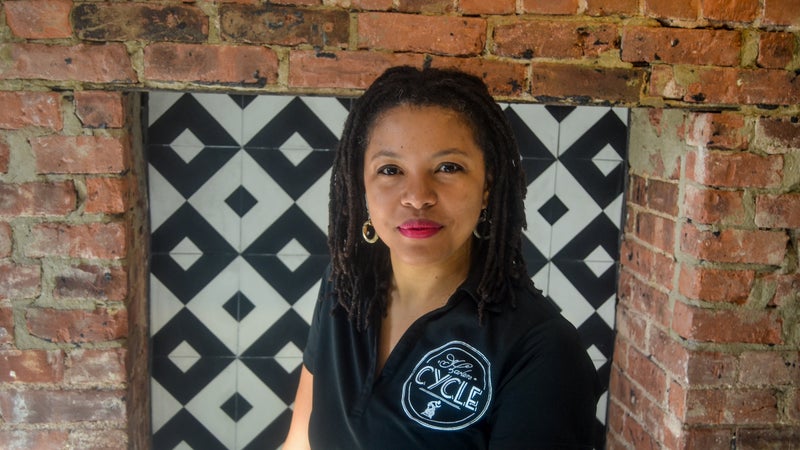 Tammeca Rochester started Harlem Cycle in April 2016 with a distinction so simple it shocked a lot of people: it's the first spin studio in Harlem. Anyone familiar with New York City's spin-crazed fitness scene might find that hard to believe. But Rochester saw the studio as a much-needed alternative to the ubiquitous classes that are often pricey and intimidating. "Going to these studios downtown, I was always the only [black woman]," Rochester told New York magazine last year. "I wanted to create a studio that was open to everyone—race-wise, health-level-wise." That's apparent in everything from the small classes (20 people max) and intro-level offerings to the music and decor inspired by the Harlem Renaissance and, yes, the price: $25 for one class, to SoulCycle's $34. Rochester is leading the charge to make the fitness studio more than just a club for the in-crowd—and creating a lot more healthy, happy people in the process. —E.B.
---
Allyson Felix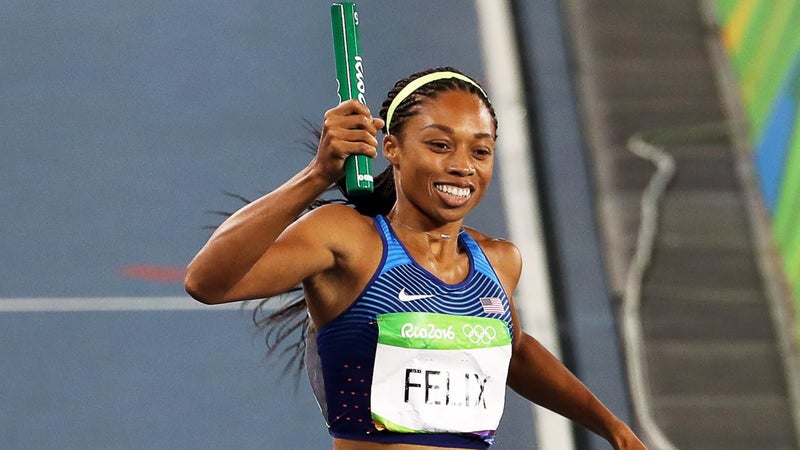 American sprinter Allyson Felix's resume is resoundingly impressive: she's a nine-time Olympic medalist (six gold and three silver, which ties her with Merlene Ottey as the most decorated track and field Olympian of all time), six-time U.S. National Champion in the 200 meters, three-time U.S. National Champion in the 400 meters, and four-time recipient of the USATF's Jesse Owens Award, designating her as the Athlete of the Year. But perhaps what's most impressive about the 31-year-old L.A.-born runner is that amid today's never-ending doping controversies, Felix has managed this level of dominance clean. Ahead of the 2016 Beijing Olympics, Felix became a member of U.S. Anti-Doping Agency's Project Believe, which meant frequent testing leading up to the games. "I like to focus on bringing out a really positive image to the sport and investing in the next generation, so that's where I focus my sights on," Felix told USA Today last year. —Wes Judd
---
Lynn Hill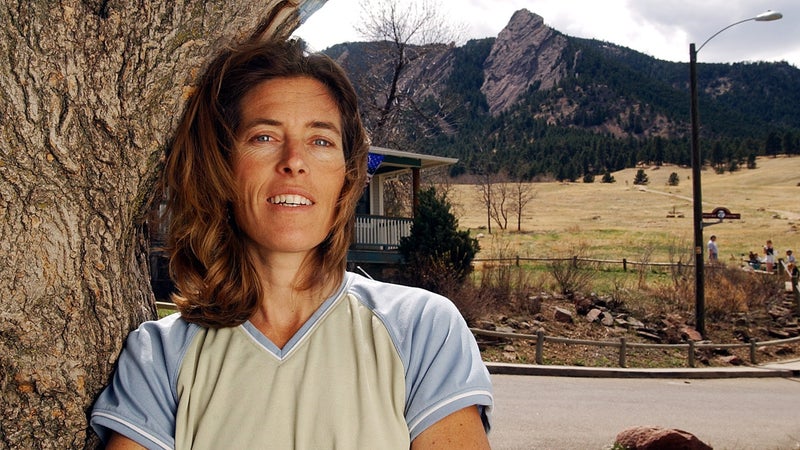 In 1993, the Nose of El Capitan in Yosemite Valley had never been climbed without the use of artificial aid, despite attempts by some of the world's best climbers. The first ascent was considered one of the Valley's last great prizes. Lynn Hill, then 32 years old and already an internationally famous competition climber, had attempted the route four years earlier with British climber Simon Nadine but failed to work through all 32 pitches. But that September, Hill tried again, this time with Brooke Sandahl. After dreaming that she freed the route, Hill went up and did just that, becoming the first person—man or woman—to do so. "It goes, boys," she famously quipped after the climb. It was a giant leap forward for female climbers and more than 20 years before Beth Rodden and her then-husband Tommy Caldwell made the second and third free ascents. —M.S. 
---
Sally Jewell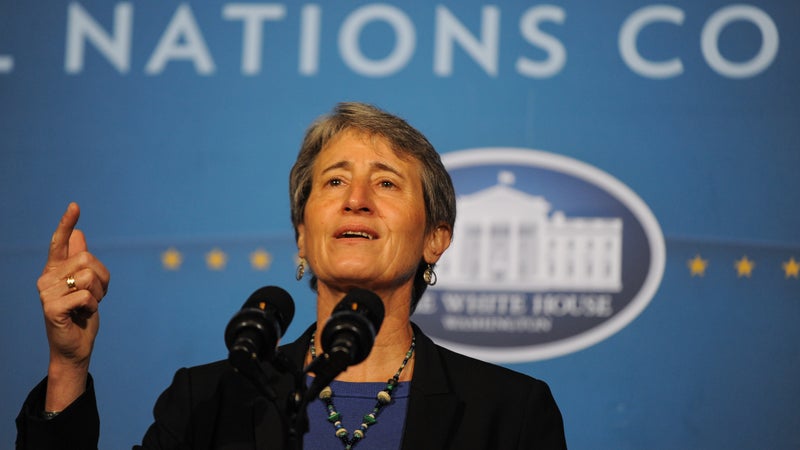 The former secretary of the interior under President Obama is a dyed-in-the-wool outdoorswoman armed with corporate business savvy. After turning REI into a multibillion-dollar company during her 17-year tenure as its CEO and a three-year stint managing the country's 640 million acres of federal lands, Jewell recharged by road-tripping with her husband across the lower 48 back to their home state of Washington. —G.T. 
---
Mira Rai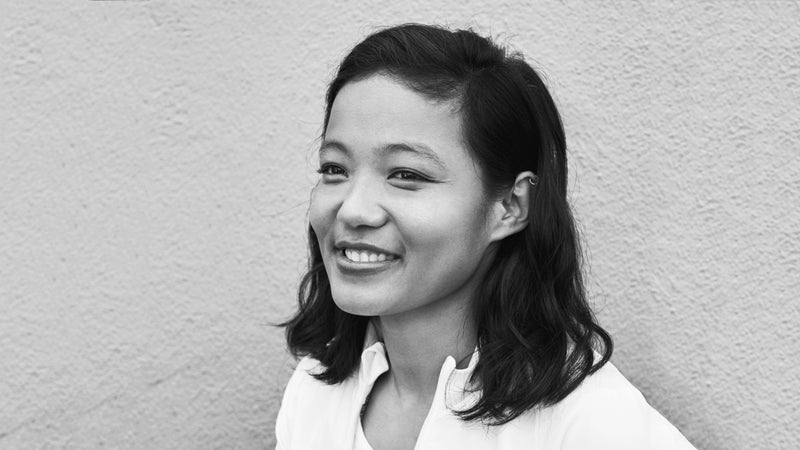 Mira Rai's story is almost impossibly scripted. Raised in a rural village in eastern Nepal, the ultrarunner spent her childhood hiking barefoot along mountain trails with her mother, sometimes 14 hours a day, to buy rice at the market and bring it home to sell. When she was 14, Rai left her home in Nepal to join the Maoist rebel army, where she trained in shooting, trail running, and karate. (She saw no military action.) Fast-forward to 2014, when at age 25, Rai accidentally ran her first ultramarathon. "I didn't realize it was a race," she says, flashing a blazing grin. Rai showed up for a trail run in Kathmandu and bolted 50 kilometers (31 miles) through a slicing hailstorm with no food or water. She won the female division—and was the only woman to complete the course. —Katie Arnold
---
Rebecca Rusch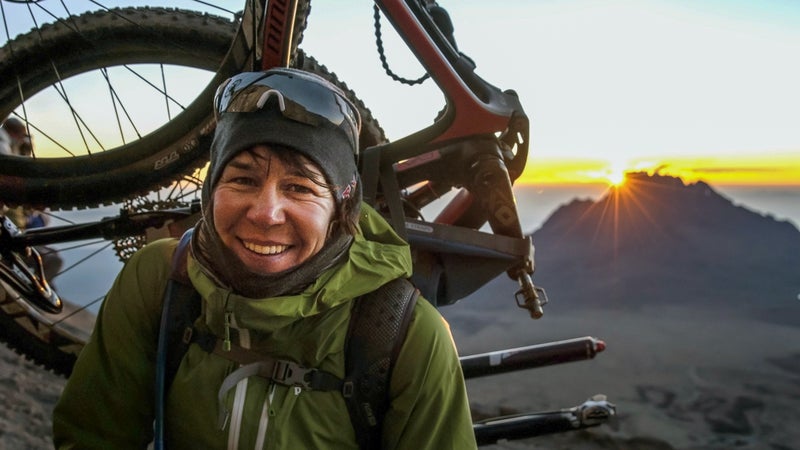 It would be easy label Rebecca Rusch simply as "mountain biker." She's a seven-time world champion, has won the infamous Leadville Trail 100 MTB race a record-tying four times, and last year, with teammate Patrick Sweeney, was among the third party ever to summit Mount Kilimanjaro on bikes. Rusch has also won world and national championships in cross-country skiing, orienteering, whitewater rafting, and adventure racing, and has a first female ascent climbing El Capitan in Yosemite. At 48 years old, Rusch continues to crush. With a refined, patient approach to racing, she's beating men half her age. "All these guys will go out hot [in endurance bike races], and hours later I catch them," she told Outside. "They always ask, 'Why do you start so slowly?' And I answer, 'Why do you finish so slowly?'" —Wes Judd
---
Kris Tompkins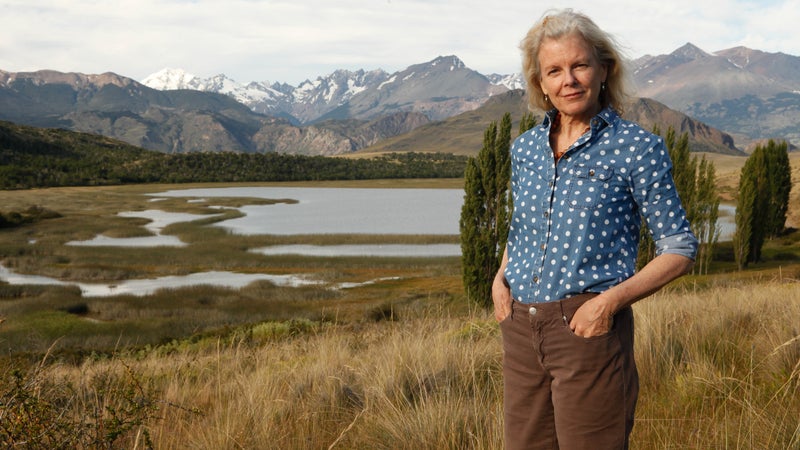 Kris Tompkins has worn a lot of hats. After ski-racing competitively in college, she worked for Patagonia back when it was called Chouinard Equipment. As CEO of Patagonia for 20 years, she oversaw its growth into a successful brand, focused the company's environmental ethic (launching the ongoing initiative to donate a portion of profits or sales to NGOs), and championed on-site childcare. Even after retiring in 1993, Tompkins essentially became a full-time conservationist: she moved to Chile with her late husband, Doug Tompkins, and purchased hundreds of thousands of acres of land for protection. In March, Tompkins donated one million acres of land to the Chilean national park system (the largest such donation in history), spurring Chile to add another 10 million acres. Her big-picture goal? Protect at least half of the earth's land and water. We don't doubt she means business. —E.B. 
---
Beth Rodden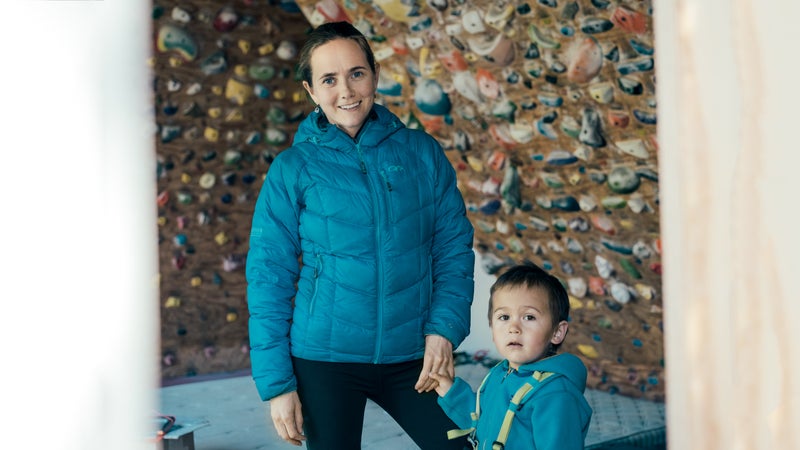 Before 16-year-old Ashima Shiraishi and 19-year-old Margo Hayes were crushing some of the hardest routes in the world, there was Beth Rodden, the original teenage climbing phenom. In 1998, while just 18 years old, Rodden became the youngest woman to climb a 5.14a. And that was after just three years in the sport. Rodden would go on to tick off some of the hardest trad routes in the world, including Meltdown, which until recently was the hardest route in Yosemite and, despite numerous attempts, has yet to be repeated. —M.S. 
---
Lucy Walker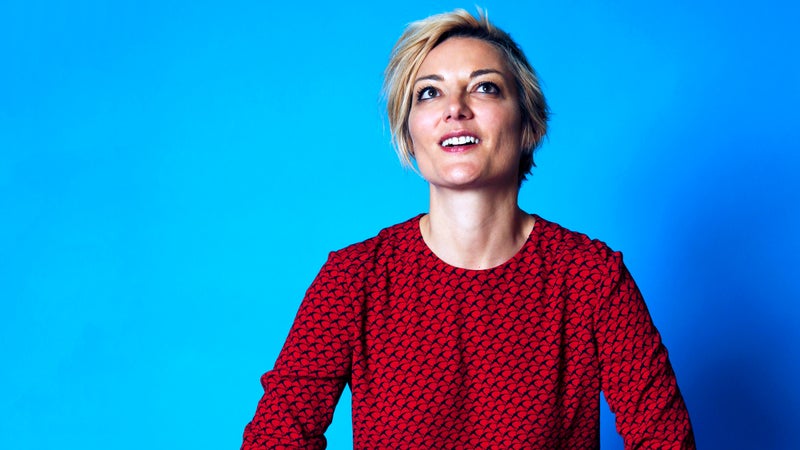 British film director Lucy Walker is the creative mind behind countless documentaries, including the acclaimed Waste Land and Blindsight, a story about six blind Tibetan teenagers who attempt to climb a 23,000-foot peak in the Himalayas. In 2013, Walker shocked the action-sports industry with her film Crash Reel. Premiering at the Sundance Film Festival, it follows professional snowboarder Kevin Pearce's recovery from a traumatic brain injury. The film spotlights the danger of action sports and makes the case that sports like snowboarding and mountain biking are as destructive as the NFL. The film inspired our investigative report on the subject, "After the Crash." —Ben Fox
---
Donna Carpenter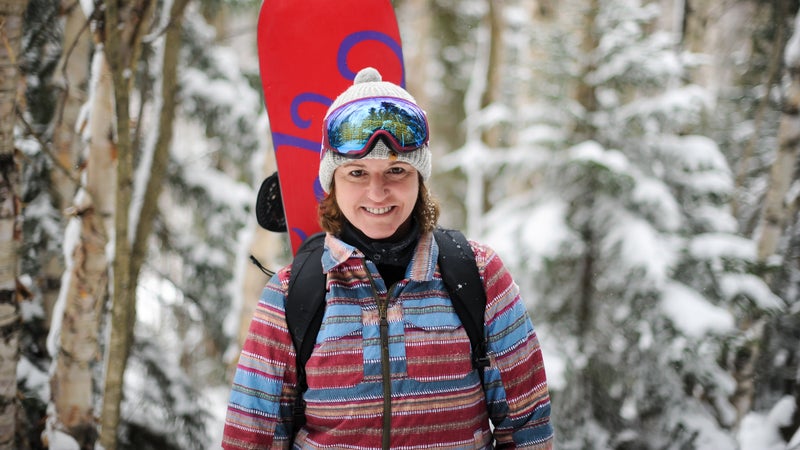 Donna Carpenter is just plain cool. The original "Burton girl," she met her husband, Jake Carpenter, in 1981, four years after he'd founded his eponymous snowboarding brand. Currently Burton's CEO, Carpenter has spent the past year restructuring the business, promoting and hiring people—mostly women—to get the brand back to its former glory. She oversees the company's biannual Women's Leadership Day in Vermont, so it was no surprise when, this past January, Carpenter offered to cover food and lodging for any employees interested in attending the Women's March in Washington, D.C. Not a surprise, but still cool. —B.F. 
---
Wasfia Nazreen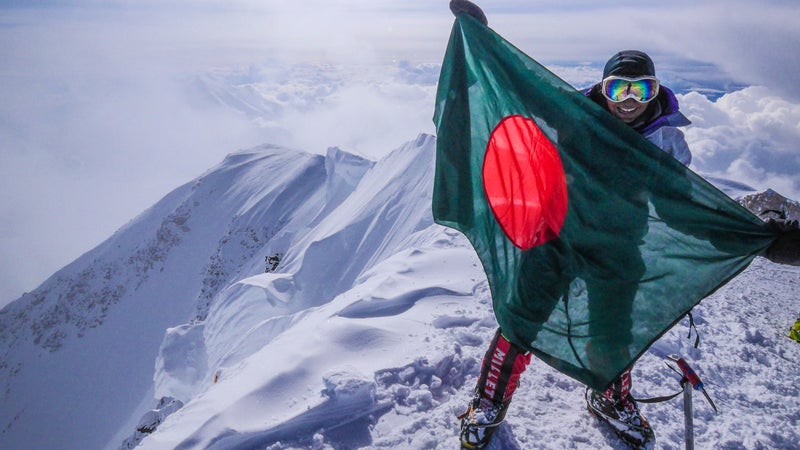 Wasfia Nazreen is the first Bangladeshi to climb the Seven Summits, but rather than rest on her laurels, Nazreen is parlaying her exposure into a bid to get girls outdoors. Her foundation, Osel, focuses on training adolescents in Bangladesh, Nepal, and Tibet to become the next generation of expedition leaders in the Himalaya. —G.T.
---
Sally Bergesen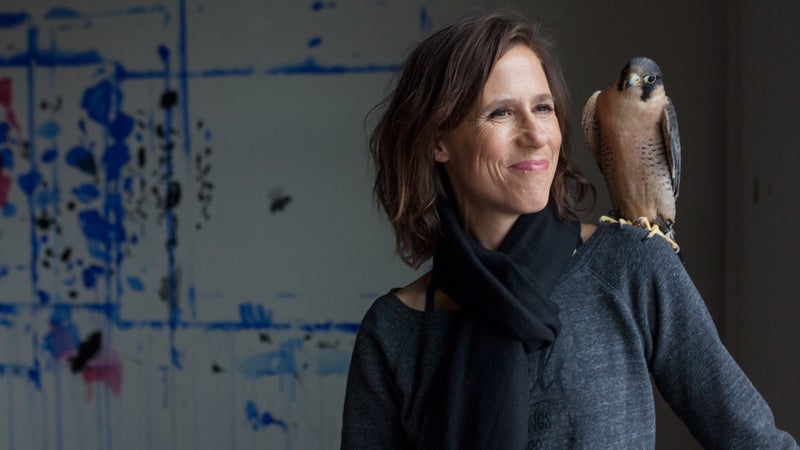 As the founder and CEO of the women's running company Oiselle, Sally Bergesen has earned a reputation for being outspoken and strong-willed. Since founding the brand in 2007, she's raised the bar for quality women's running apparel and taken a prominent, fiery stand against track and field sponsorship rules that she considers detrimental to athletes and the sport. In a 2016 Outside feature, Bergesen described Oiselle's identity as "low-key, committed to an ­active life, with a New York aesthetic and a feminist bent." Even while luring high-profile names like Kara Goucher, Lauren Fleshman, and Kate Grace into the Oiselle ranks over the years, Bergesen still strives to keep the brand accessible to the everyday, middle-of-the-pack runner. —M.M.
---
Erin Trieb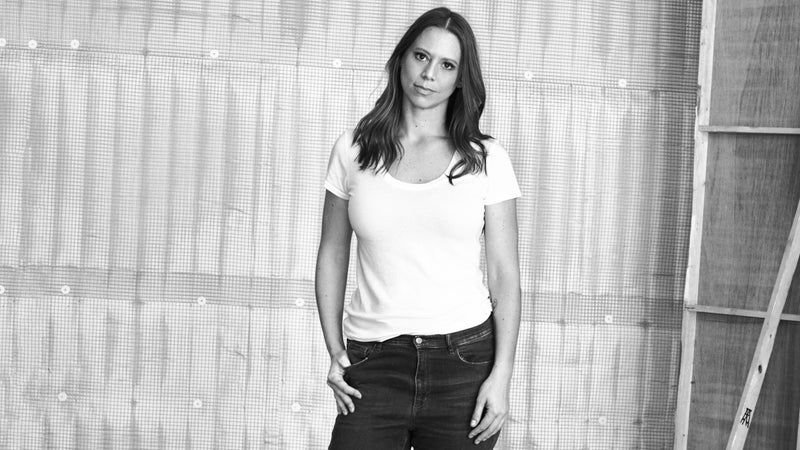 Professional photographer Erin Trieb is on the road six to eight months a year, and since 2004, she has been covering conflict and social issues around the world, frequently embedding with U.S. soldiers in Afghanistan. Her photographs—including a stunning series on the Kurdish female fighters known as the YPJ battling ISIS in Syria—have been published everywhere from Rolling Stone to the Times of London. In 2011, Trieb launched the Homecoming Project, using her images to bring attention to PTSD and other issues that returning veterans face. The project has been exhibited 50 times and received prominent media exposure. —Mary Turner
---
Rose Marcario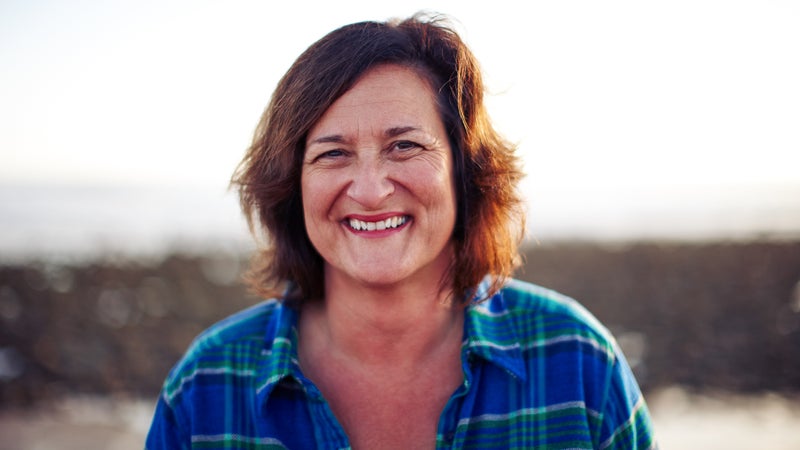 After a come-to-Jesus departure from the world of private equity in 2008, Patagonia CEO Rose Marcario has shaped the California-based apparel brand into an industry leader in sustainability. In addition to restructuring Patagonia's supply and labor chains to obtain B Corp certification, Marcario oversaw the inauguration of $20 Million and Change, a venture capital arm aimed at finding and assisting startups with an ecological purpose. "Rose understands the need for revolution," Patagonia founder Yvon Choinard told Fortune in 2015. "She's the one who's ­going to lead us there." —Reid Singer
---
Jane Goodall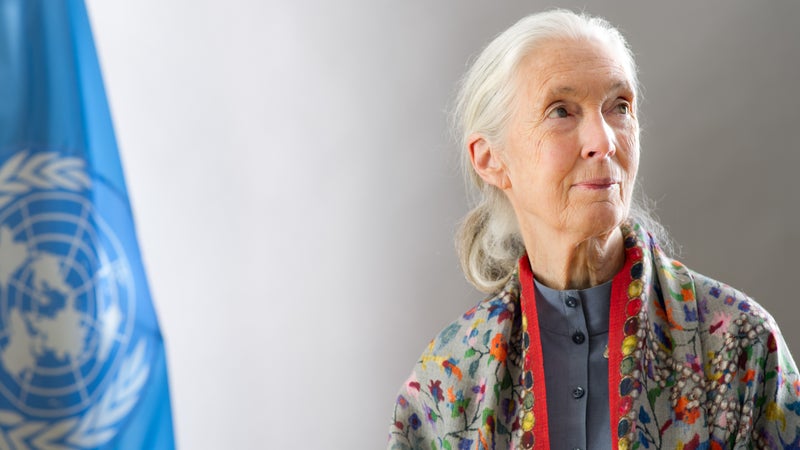 In 1960, Jane Goodall made her second journey to Africa and changed the face of primatology forever, and not just for her discoveries that chimpanzees create and use tools, hunt, eat meat, have distinct personalities, or form strong, lasting family bonds—all revolutionary findings. It's also how Goodall defied the scientific conventions of the times and immersed herself in their world as a fellow primate rather than a distant observer. It's how, when she later attended Cambridge to pursue her PhD, Goodall was told she did everything wrong and yet she persisted. And it's how she has inspired so many people to follow in her footsteps. Today, Goodall is as busy as ever, traveling 300 days a year, speaking and encouraging her audiences to fight for environment. Twice a year, Goodall still finds time to return to her research station in Tanzania's Gombe Stream National Park to observe the great-grandchildren of the chimpanzees that first accepted her into their lives. —Nick Hunt
---
Stacy Sims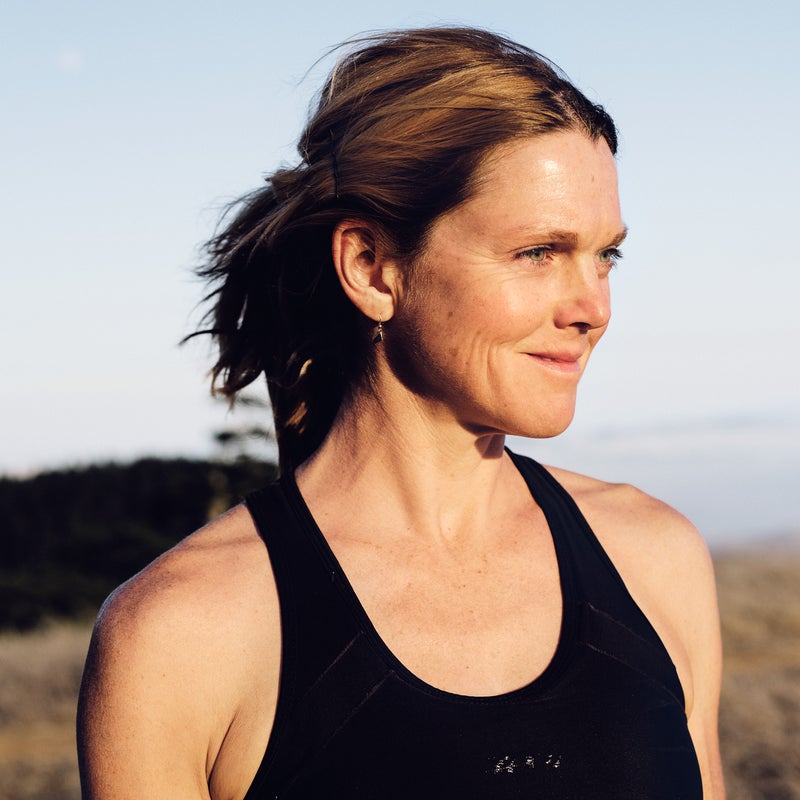 When it comes performance fueling, women "are not small men." This is the message in Roar: How to Match Your Food and Fitness to Your Female Physiology for Optimum Performance, Great Health, and a Strong, Lean Body for Life, the new book from University of Waikato exercise physiologist and nutrition scientist Stacy Sims. It's the culmination of her nearly two decades studying female athletes and their athletic feats. Years ago, Sims realized that most nutrition research had been done on men, and it was assumed that one could extrapolate this data to women. Through her research, Sims, an elite athlete herself, has made a career of disrupting this assumption. She's even created sports hydration and recovery drinks specifically for women. —W.J.
---
Emily Erickson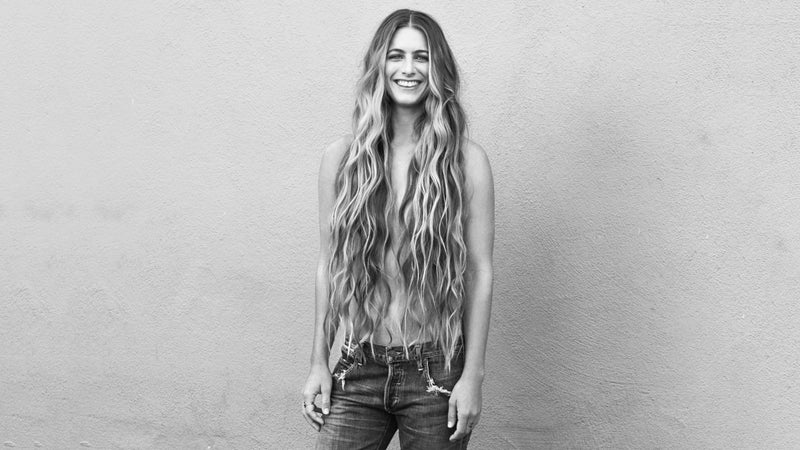 Emily Erickson's introduction to surfing began at Sunset Beach on Oahu's North Shore, which some would argue is like starting your climbing career on Mount Everest. "Because my dad surfed there, I never thought it was impossible," she says. "There were no limits." As a child in Hawaii, Erickson watched her father, Roger, a big-wave legend and former North Shore lifeguard, ride giant swells while she played in the sand. At 17, she began learning about the ocean and its moods on a boogie board. A year later, her father gave her his 10'6″ big-wave gun. Erickson was hooked. "Nothing hit me as hard as surfing did," she says. —Shelby Stanger
Lead Photo: Annabel Mehran
Trending on Outside Online