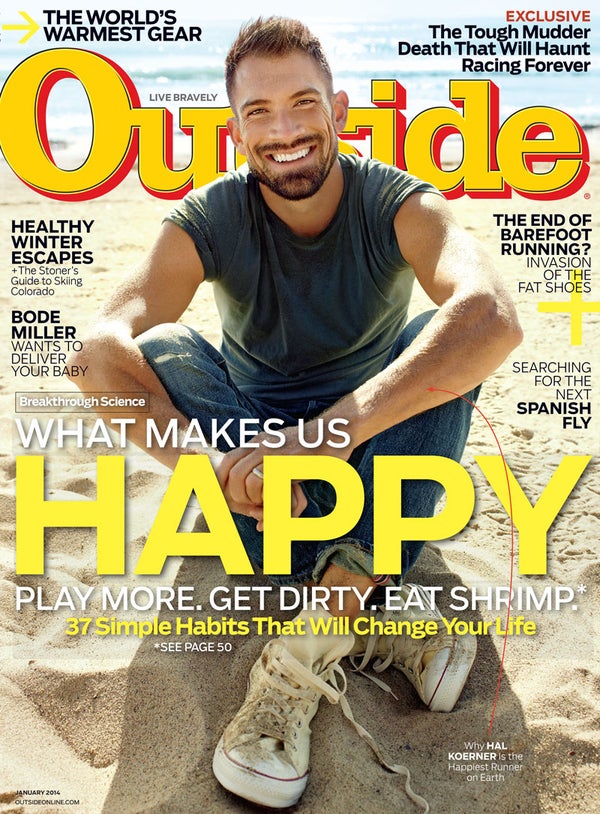 Outside Magazine, Jan 2014
---
The Pursuit of Happiness
Scientists are ­discovering what many of us have known for years: the keys to joy and wellness lie in healthy doses of sunlight, exercise, and outdoor play. Kick off your New Year with these life-changing strategies. Plus: The perma-grin secrets of ultrarunner Hal Koerner.
It's Miller Time
Bode is back—and in love. The newlywed has weathered knee surgery, a bitter child-custody battle, and the death of his brother, Chelone. But now, with pro volleyballer Morgan Beck by his side, he's hungry for more Olympic gold. By Rachel Sturtz
Fukai Yuki Saiko!
That's Japanese for "great, deep powder." And it's what you'll find every January in the fabled resort of Niseko, which typically sees nearly 15 feet during the first month of the year. Is there such a thing as too much snow? Eric Hansen investigates.
Dr. Feelgood
Who tracks down all the exotic plants that boost our vitality and turn us on? Chris Kilham, medicine hunter, that's who—and he's happy to tell you all about it. Steve Hendricks joins the horny explorer in the Amazon on a search for the next hot thing.
Man UNDER
At a Tough Mudder event last April, Avishek Sengupta stepped off an obstacle called Walk the Plank and disappeared into a murky pool. Eight minutes later, a rescue diver brought his limp body to the surface. His death has racers questioning the safety of one of the country's fastest-growing sports. By Elliott D. Woods
DISPATCHES

First Look: Just when you thought minimalist running shoes had taken over, the ultra-cushy Hoka One One bigfoots the party.
Primer: The best little stoner town in Colorado.
Rising Star: For skier and model Sierra ­Quitiquit, the snow always comes first.
Epic: Lonnie Dupre's quest to tackle Denali—alone, in the dead of winter.
Media: McKenzie Funk on the profiteers who stand to get (really, really) rich from global warming. Plus, Antarctica on your coffee table.
Covet: Sledding, all grown up.
DESTINATIONS
Training: Hit reset this New Year with a fitness-focused vacation, from cycling in the Canary Islands to spa time in sunny Mexico.
Base Camp: Off the grid in Jordan, the Middle East's oasis of peace.
Weekend Plan: Round up friends. Book hut. Ski powder. Rebook next year.
Go List: 'Tis the season for good rum; how to avoid ATM fraud; and a 3G-enabled, waterproof, pocketable point-and-shoot.
ESSENTIALS
Tech: Nikon's AW1, the first everything-proof interchangeable-lens camera.
Spectrum: From down super-puffies to breathable shells, jackets for every winter sport.
Stress Tested: Next-gen portable chargers keep your gadgets juiced on the go.
Base Layers: The art and science of layering, explained.
plus
EXPOSURE
BETWEEN THE LINES
PARTING SHOT